In chapter 14, Abraham became involved in a large battle and returned victorious. He was met by a character known as Melchisedec, the king of a city called "Peace" or "Salem." He was also the priest of the MOST HIGH GOD. This phrase provides us with some linkage with the God that both Abraham and Melchisedec worshiped. This phrase also separates these two men from the common pagan worshipers who surrounded them.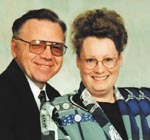 By Robert McFarland
To View the Entire Article, Click Here
To Download the Entire Article Directly to Your Computer, Click Here
To View the Outline, Click Here
To View the PowerPoint, Click Here

There is a perspective that teaches the trinity began at the council of Nicaea in A.D . 325. This is commonly considered through much of the current Christian ranks today. One would readily agree that there are several scriptural problems that immediately surface when an attempt is made to explain the trinitarian position. The official explanation is rendered that God is . . .
God the Father, one person;
God the Son, one person;
God the Holy Ghost, one person.
Somehow, these three divine persons are really one God. There are a considerable number of definitions and explanations of this triune mentality, a great host of literature has been written, and a large number of meetings have been called, all for the purpose of attempting to obtain a logical understanding of this statement that "these three are one." So rather than add another piece of literature, we felt it would be more appropriate to research the subject and attempt to discover the first recorded instance of worshiping a trinity of gods and the possibility of linkage between those early records and what we have today.
There is a great resource book that has been passed through the generations, and we have copies in our possession this very day: the Holy Bible. In some of the earliest records we find an unusual statement issued by God concerning His thoughts about a man called Abraham. We understand the master plan of God concerning the longevity of His relationship with Abraham, as He concludes with this statement:
"For I know him, that he will command his children and his household after him, and they shall keep the way of the LORD, to do justice and judgment; that the LORD may bring upon Abraham that which he hath spoken of him" (Genesis 18:19).
What was different about Abraham that caused the Lord to need to know him? And why was Abraham considered any different from any of the other good people on the earth at this time? Retro-researching this subject or question, one will go to the recorded beginning of Abraham in the Scriptures to determine what sort of relationship God was striving for. The Book of Genesis begins the story of Abraham and his dialogue with the Lord which instructed him to relocate to another land:
"Now the LORD had said unto Abram, Get thee out of thy country . . . and from thy father's house, unto a land that I will shew thee" (Genesis 12:1).
Abraham followed the direction of the Lord and relocated from Eastern Iraq to the present-day State of Israel. The story continues that Abraham entered the land, and his first recorded act was to erect an altar. (I believe we are safe to presume that he offered sacrifice on that altar):
To View the Entire Article, Click Here
To Download the Entire Article Directly to Your Computer, Click Here
To View the Outline, Click Here
To View the PowerPoint, Click Here