Joy Haney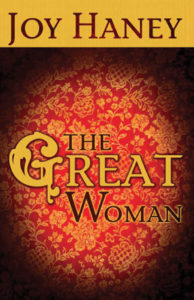 When the Shunammite woman's boy was dead on the bed, she did not let her circumstances dictate to her to speak doubt, but instead she spoke faith to her hus­band, "It shall be well" (II Kings 4:23). She spoke faith to Gehazi when he asked her, "Is it well with thee? is it well with thy husband? is it well with the child? And she answered, It is well" (II Kings 4:26).
"Faith always takes the first step forward. It is a soul sense, a spiritual foresight, which peers far beyond the physical eye's vision, a courier which leads the way, opens the closed door, sees beyond the obstacles, and points to the path which the less spiritual faculties could not see.""
Her faith took her forward, onward toward her miracle, but her faith did not keep her from speaking her heart to the only one who could help her.
Notice when she got to the source of the original promise her true feelings emerged. She was a des­perate woman. She caught Elisha by the feet and Ge-hazi was going to thrust her away, but Elisha said, "Let her alone; for her soul is vexed within her: and the LORD hath hid it from me, and hath not told me" (II Kings 4:27).
She was very honest and forthright with the man of God. Her broken heart was crying out in despera­tion. "Then she said, Did I desire a son of my lord? did I not say, Do not deceive me?" (II Kings 4:28).
As the Shunammite spoke faith to all she met, until she got to the source of the originator of the promise, so must women today speak faith to all they meet. But when they get in their prayer closet and begin to pray to the promise Giver, they should speak their hearts. They also can say, "Do not lie to me! Your Word says," and then begin to remind God of
His promises.
His promises are true and unfailing! Isaiah 55:11 declares: "So shall my word be that goeth forth out of my mouth: it shall not return unto me void, but it shall accomplish that which I please, and it shall prosper in the thing whereto I sent it."
Faith, mighty faith, the promise sees,
And looks to that alone,
Laughs at impossibilities,
And cries, "It shall be done!"
She had faith in the word of the prophet. She be­lieved they were words from God. Her actions were based on her belief in that word. Initially she perceived that he was a "holy man of God" (II Kings 4:9), and the word that he spoke, she believed.
The second time Elisha told her to do something, she did it, but all the while she was doing what he told her to do, she had a calendar and she was marking off each day. Her faith was so strong in his words that at the exact time the seven years were up, she packed her belongings and she and her household went back to Shunem.
She was not just going, but she was on a mission. This is proven in II Kings 8:3: "And it came to pass at the seven years' end, that the woman returned out of the land of the Philistines: and she went forth to cry unto the king for her house and for her land."
She did not want to go back to her homeland empty-handed, so she decided to go straight to the highest authority—the king—to ask for what she had lost during the seven years' famine.
Somehow word must have come to her that some­one had taken over her property while she was in an­other country. Initially she had not chosen to go to the foreign land; she was told to go by the prophet. She did not choose her circumstances, neither the result of those circumstances, but she was not content to lose it all.
She cried, "Give me back!" This means something was taken from her. Twice in her life, she cried, "Give me back!": first when her son died, and second when she lost her house and land during the famine.
In the beginning she had not asked for the son; he was a gift to her for her kindness. Neither did she ask for the famine to come; it just came. Both situations robbed her of that which was hers. One was precious and the other was all she had; it was her place of abode, that which was familiar and comforting to her.
She told her household, "We're going back, and I'm going to see the king."
We are instructed to do the same thing in Hebrews 4:16: "Let us therefore come boldly unto the throne of grace, that we may obtain mercy, and find grace to help in time of need."
A throne means there is a king. We have to go see the King! We must bow before our King of kings, grab His feet, and say, "As the Lord God liveth, I'll not let you go. I have to have my miracle! Give me back what I've lost."
Our King is Jesus, and we are told that He is touched by our infirmities. "For we have not an high priest which cannot be touched with the feeling of our infirmities; but was in all points tempted like as we are, yet without sin" (Hebrews 4:15).
It is time to cry, "Give me back!" "Give me back my children! Give me back that which has been taken from me. "
At another point in time, another woman went to Jesus and cried, "Give me back my daughter!" Jesus felt her pain. She had gone to Him asking for mercy for her daughter who was grievously vexed with a devil. The daughter's torment disrupted the whole family. It was a constant situation that pierced the heart of the mother.
It was always there. She could not make it go away. That's when she heard of Jesus, the only one who could help her.
It was not Jesus' compassion for her that granted her miracle; it was her faith. Even after Jesus ignored her, then told her it was not time for the Gentiles, she just worshiped Him and kept asking. He was im­pressed with her reasoning and recognized that this mother was not going to give up until she got what she wanted. "Then Jesus answered and said unto her, 0 woman, great is thy faith: be it unto thee even as thou wilt. And her daughter was made whole from that very hour" (Matthew 15:28).
Jesus was impressed with her faith. He called it great! In this instance, it was an event recorded in the New Testament, a mother who cried out for her daugh­ter. In the Old Testament, it is the recording of the ac­count of the Shunammite mother crying out for her son. Both women in different eras of time, both crying for something to be given back to them; both of them re­ceived that for which they desperately cried. Their faith, persistence, and determination were honored in both situations.
There was another instance where faith was man­ifested in such a way that it caused Jesus to marvel. This is recorded in the incident of the healing of the centurion's servant. When Jesus went to Capernaum, a centurion went to Him and said, "Lord, my servant lieth at home sick of the palsy, grievously tormented" (Matthew 8:6).
Jesus said, "I will come and heal him."
"The centurion answered and said, Lord, I am not worthy that thou shouldest come under my roof: but speak the word only, and my servant shall be healed. For I am a man under authority, having soldiers under me: and I say to this man, Go, and he goeth; and to an­other, Come, and he cometh; and to my servant, Do this, and he doeth it" (Matthew 8:8-9).
This is when Jesus marveled! "When Jesus heard it, he marvelled, and said to them that followed, Verily I say unto you, I have not found so great faith, no, not in Israel" (Matthew 8:10).
Luke's rendition of the story records that Jesus turned the man around for all the people to see: "When Jesus heard these things, he marvelled at him, and turned him about, and said unto the people that fol­lowed him, I say unto you, I have not found so great faith, no, not in Israel" (Luke 7:9).
Can you imagine! Jesus had never seen this kind of faith in all the hundreds of thousands of people, and possibly millions of people.
The result of this faith: "And Jesus said unto the centurion, Go thy way; and as thou hast believed, so be it done unto thee. And his servant was healed in the selfsame hour" (Matthew 8:13). His faith caused the ser­vant to be healed.
This man believed so much in the power of God that He did not need Jesus to touch His servant, only to speak a word and the servant would be healed. He did not ask Jesus to come to his house because he felt un­worthy for one so great to enter through his doorway. He did not want to impress Jesus with fine furniture and his place of abode. It was not about himself; it was about the power that Jesus had to heal a beloved ser­vant. Jesus marveled at this.
A word spoken: that is all the centurion asked. He believed the Word of God had such great power that it could heal long distance as stated in Psalm 107:20: "He sent his word, and healed them, and delivered them from their destructions."
Faith is the vision of the heart.
It sees God in the dark, as in the day.
Because he believed, the Word was sent and there was a healing. There are many times when nothing makes sense, everything is chaotic, and things look dark, but there are promises in the Bible that apply to these very situations. It is crucial that the Word is be­lieved and stood upon during these times.
We must commit our way to God and believe that there will be a miracle in spite of what we are facing as so ably stated in the following paragraph:
And there are times and circum­stances in the believer's life when, if he would keep himself from sinful doubts, if he would keep himself from falling into despair, he must, as it were, shut his eyes, lay the bridle on the neck of Providence, commit his way to God, and however things may look, make this his comfort,
"He will never leave me, nor forsake me." In such circumstances the only thing is to trust in God; "Walk by faith, not by sight."- KENNETH SYLVAN GUTHRIE
The above article, "A Women of Faith" was written by Joy Haney. The article was excerpted from chapter three in Haney's book, The Great Women.
The material is copyrighted and should not be reprinted under any other name or author. However, this material may be freely used for personal study or research purposes.