By Chester Mitchell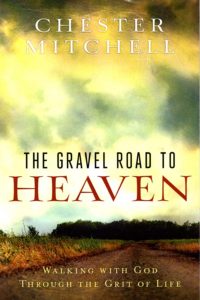 To Order More, Click Here
(GOD'S SOLUTION TO THE LONGING OF OUR HEARTS)
Everything about your family spells success. The house, the car, the beautiful daughter, and the handsome son all lend credibility to the idea that you're a family to be respected. And your family's long-standing membership in the local church is just more proof that yours is the family to be envied. There's just one problem.
Beneath the facade you and your husband are exhausted. You're emotionally drained after years of working 40-plus hours a week to maintain the image. Your kids are now grown and you're on the verge of divorce. You stay together because managing the image seems easier than dealing with the reality.
What's the solution for this couple and for all of us who have learned to live with the superficiality curse? The secret is answering the Holy Spirit's call to a deeper life. But how do we get there?
Just maybe you have found with the dilemma of dealing with the facade. You hate your job, but your image and sense of worth have meshed with what you do. Who you are has been lost in a mirage of emotional bareness.
Your friends admire your success, but deep down you feel the bite of "golden handcuffs" that have caused you anxiety.
Because of your bondage, you've been unable to open your heart to God and unreservedly follow the calling of your heart. This could be the moment when you resolve the tension between your job and the true calling of your soul.
In the previous chapter we read about the prophet Ezekiel's journey with the man who led him into the deep waters. In the beginning, the water measured to his ankle. After some distance, it measured to his knee. Later, it was to his waist, and finally the water overwhelmed them. They were in over their heads.
The story is a metaphor for the life we have been called to live. God invites each of us to live with him in a deep relationship, but each of us must accept the Spirit's prompting.
God's promises for a deeper life:
"Oh, the depth of the riches of the wisdom and knowledge of God! How unsearchable his judgments, and his paths beyond tracing out" (Romans 11:33—NIV).
"I pray that out of his glorious riches he may strengthen you with power through his Spirit in your inner being, so that Christ may dwell in your hearts through faith. And I pray that you, being rooted and established in love, may have power together with all the saints, to grasp how wide and long and high and deep is the love of Christ" (Ephesians 3:16-18—NIV).
The key to a life of spiritual depth goes beyond church calisthenics. The history of the Christian Church has been:
Revival is where most denominations find their roots. They were born in the flames of a spiritual awakening. Next there was organization. They recognized their need for structure, and thus they formulated rules and procedures. The problem was that after a while, the rules replaced the relationship with Christ. In a short time, their book of rules outgrew the Bible. After organization, they focused on education. They established institutions of learning. With each generation, they were further removed from their founding passion to know Christ. In the end they became spiritually dead. They preserved their form but lost their function. Stained-glass windows replaced the stains of the cross. Culturally relevant but spiritually anemic. Like Revelation says, not hot and not cold: "I know all the things you do, that you are neither hot nor cold. I wish that you were one or the other! But since you are like lukewarm water, neither hot nor cold, I will spit you out of my mouth!" (Revelation 3:15-16—NLT)
KEYS TO A DEEPER SPIRITUAL LIFE:
Author Eugene Peterson calls discipleship "that long obedience in the same direction." If you're like me, you're exhausted by the manuals and the 10-step programs. When Jesus called His disciples, He didn't call them to an exhaustive study of manuals. He invited them to live with Him, eat with Him, and listen to Him. It was in that living laboratory of life that they ultimately took on His character, His calling and His mission of changing the world. Discipleship is when we become, in Peterson's words, "climbing companions" (Matthew 5:1-2—The Message).
So likewise, whosoever he be of you that forsaketh not all that he hath, he cannot be My disciple (Luke 14:33).
We walk deeper with God through intimacy. The very word suggests that to be intimate with someone, I must first be "into" him or her. Intimacy doesn't happen when people are distant. The implication is that we're close. We spend time together. We have a "heart" relationship. We can be intimate with God only by being into His Word, into His character, into His presence, and allowing Him to invade the secret spaces of our hearts and minds. Intimacy sets its own pace. It can't be hurried. It has own agenda.
Abide in me, and I in you. As the branch cannot bear fruit of itself, except it abide in the vine; no more can ye, except ye abide in me (John 15:4—KJV).
If ye abide in me, and my words abide in you, ye shall ask what ye will, and it shall be done unto you (John 15:7—KJV).
Suffering is the choice instrument of God for those who are serious about walking with Him. He uses it to test us, to temper us, and to invite us to become like Him. When Christ concluded His suffering, the father exalted Him and gave Him power. God can trust us with power only after we have suffered with Him. (Philippians 2:6-10).
I want to know Christ and the power of his resurrection and the fellowship of sharing in his sufferings, becoming like him in his death (Philippians 3:10—NLT).
We step into the deeper life with God when we allow Him to lead us step by step through the waters of our impossible situations. The journey to a deeper life is initiated by God and sustained each step of the way by trusting His hand to steady us and the Holy Spirit to guide us. The David who stood over the lifeless head of Goliath was far deeper than the shepherd boy singing in the wilderness. Why? God had sustained him in the face of adversity.
These see the works of the LORD, and his wonders in the deep (Psalms 107:24—KJV).
Ultimately, what we really want to know is that we are indeed walking with God. We want a sense that our spiritual lives are better this year than they were last year. We want to know that God is with us, leading us to a place we could not have arrived at on our own. We want to know that our level of faith is deeper than when we began our spiritual walk. We want a sense that if we continue walking with God, we will know Him better, hear His voice more clearly and ultimately arrive at a place that we could not have found without Him.
The answer to all our questions is an ever-deeper relationship with Jesus Christ. My prayer is that you will resist the temptation of the temporary and accept God's invitation to walk away from the shallows into a life of deep spiritual fulfillment.
A STEP ON THE JOURNEY:
I CAN EXPERIENCE THE "DEEP WATER" OF SUPERNATURAL LIVING:
When I release yesterday's failure so I can embrace God's PROMISES
When my obedience is not dictated by my paradigm but by God's PLAN
When I leave my "comfort zone" so I can maximize my POTENTIAL
The above article, "Answering the Call of the Deep" is written by Chester Mitchell. The article was excerpted from the 19th chapter of Mitchell's book The Gravel Road to Heaven.
The material is most likely copyrighted and should not be reprinted under any other name or author. However, this material may be freely used for personal study or research purposes.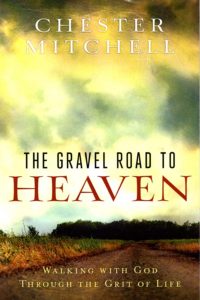 To Order More, Click Here