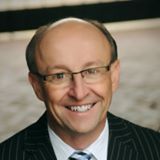 Better Than A BREAKTHROUGH
Here is one thing I know about God's sovereignty. It's that I do not understand it at all. His ways are beyond my ways. His thoughts are greater than my thoughts. Try as we might, God's ways are past finding out. After experiencing many of the highs and lows that life has to offer, I am convinced
that sometimes God chooses a course of action just because He's God. One person gets a miracle while another goes out into eternity. As ministers of Christ, we weep with them that weep and rejoice with them that rejoice. Weddings and funerals and baby dedications and hospital visitation make up
many of the weekly experiences of the man of God. It would seem that the more we experience these aspects of the clergy, the more we would notice a pattern in the providence of God.
Not so. God chooses whom to heal, what to heal and when to heal. There are dear saints that I know who have been faithful yet have endured much suffering. Recently, a dear saint who not too long ago lost her husband commented that she was attending her third funeral in the same week. I sometimes wonder how people like her find the strength to continue.
In March, I rejoiced to see my daughter baptized. In the same month, I lost my mother to heart disease. As you might imagine, these events were over-whelming. Still today, I cannot comprehend some of the times when God heals. I do not fathom when He blesses in what may be considered a less-deserving situation. For some, there is a break-through; yet for others, there is something altogether different.
1 Peter chapter 1, verse 7 says, "That the trial of your faith, being much more precious than of gold that perisheth, though it be tried with fire, might be found unto praise and honor and glory at the appearing of Jesus Christ." This verse reassures me that God has a reason even when there is no apparent explanation. There are situations in our lives that God reserves in us to refine us like gold. We are like a plant that is pruned so that it can shoot forth with new growth. We all want to grow, but none of us want to be pruned. Sometimes when we cry out to God for a breakthrough, the Lord chooses to give us something better.
In Psalm chapter 23, verse 4, David declared, "Though I walk through the valley of the shadow of death, I will fear no evil. For thou art with me." In the last several months, the Lord has challenged me about always seeking a breakthrough. Whether for myself or for others, we must remember that He knows best. No doubt, it is the will of God that we will always be triumphant. Yet, even in the midst of trials, God has a positive experience for us. What is better than a breakthrough is, as David said, a walk through. When in the course of life we find ourselves engulfed in tribulations, the image of His hand in ours becomes larger. It is in times like these that we want to yield to the sovereign will of God. No, we do not enjoy the circumstances that we must sometimes face. But knowing that there is a God who walks with us gives us a greater fellowship than a breakthrough could ever afford. What's better than a breakthrough is what Paul spoke about in Philippians chapter 3, verse 10. He aid, "That I may know him, and the power of His resurrection, and the fellowship of His sufferings, being made conformable to His death."
When we experience the power of His resurrection, we rejoice in victory. Power is the focal point of resurrection. Yet, power and fellowship have as little in common as resurrection and death. When every prayer is answered to our liking, we are cheated out of the very essence of God. While many crave the power that comes with anointing, we should also desire the fellowship that comes with identifying with Christ's sufferings. As our Lord hung on the cross, the nails and the bleeding caused Him pain. Consider though that in the agony of His death, God was still attentive to our need for fellowship. He said, "John, behold thy mother. Woman, behold thy son." Christ was aware of our need for one another. As well, He was aware of our need for Him. He said, "Father, forgive them. For they know not what they do." As ministers, our job is to bring people together and to bring them closer to God. That is why we weep with them that weep and rejoice with them that rejoice. It is the reason for weddings and funerals and baby dedications and hospital visitation. Though we may never understand all of God's ways or thoughts or His sovereign will, we have something better than this knowledge could ever bring. We have a trust that He will be with us through every situation. What we have is better than a breakthrough.