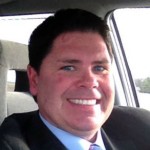 "The setup is gigantic!", exclaimed Bro. Michael Oliver. People are instantly drawn to the site by a sound system, flags and signage, and all of the concessions, inflatable tents, water slides, obstacle courses, bounce houses and interactive events. Wow! The Block Party approach has become the number one focused day for an annual outreach in many churches. It has been proven over the last four years in churches across the Midwest. People have been filled with the Holy Ghost and baptized in Jesus' name, and these events have created a valuable database for churches to use for every ministry. From hundreds to thousands of people have gathered for these events.
Bro. Oliver, owner of Block Party Amusements, a rental company for props for such an event, firmly believes we can first entice guests to come, befriend them, show them, and then lead them. "People must see that we are a people who were lost too, but now we are found. This event will unify your church, because at the end of the day, everyone will feel they have participated in evangelism," said Bro. Oliver. He continued, "When one of these guests comes to repentance, the entire church explodes, because they had a part. They become convinced that inviting someone to church is not all that difficult." He explained, "Through this event, the church body has established hundreds of connections and has become the talk of the town! The Mayor's office, local and city governments want to get on board. Your church becomes known to the community as a church that gives. Suddenly you are called on for many occasions, because you're the only pastor they know." The cost of a block party can easily be raised through offerings, sponsorships, or entry fees, collected from other groups wanting to participate.
Block Party Amusements has recently added Laser Tag as a new element of this ministry. It transforms your gymnasium, woods, parking lot, or field into an incredible outreach and pays for itself. It can raise money for building funds and youth functions, etc. Churches can pre-sell family fun-day passes as a fund raiser, and can be done locally in schools. You may sell #10 wrist bands or $30-$40 family passes. It can be used after youth rallies, as youth camp tournaments, or as a men's outreach. Block Party Amusements provides the bunkers, 25 laser tag guns, a scorpion laser show, fog machines, strobes, black lights and more, and can be used in daylight or dark settings.
In an event, it is possible to raise over $5,000 in a four-hour setting, as well as pay for itself.  This works well with Block Party set-up & Laser Tag. "We just raised over $8,000 for the local football sign-ups, and this concept works for anyone," said Bro. Oliver. The Block Party events have proven themselves many times over for churches. Many pastors can testify to the success they have seen through Block Party Ministries. Some of those include Bro. Jack Cunningham, Bro. John Martin, Bro. Timothy Bailey, Bro. Chuck Carr, and Bro. William Sciscoe. Various districts have used Block Party Amusements in Youth Camps in Arkansas, Illinois, Indiana, and other states.
Bro. Oliver is based out of River of Life church, under Pastor John Martin, in Muncie, Indiana. He has been a full-time evangelist for three years and looks forward to working in the southern states of Mississippi, Florida, Louisiana and Texas through the winter months of 2011&2012. He may be contacted by email at revmike@flash.net or website blockpartyamusements.com, or by cell at 317.339.7432. Follow him on Facebook for updates and travel schedules.
By Linda Schreckenberg