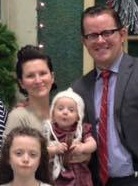 By James Chessor 
Years ago, a Catholic nun worked at a men's prison. One day an inmate asked her to buy him a Mother's Day card for his mom. She did, and many of the other inmates heard about what she had done.
After a few days, she was overwhelmed with the same request from other inmates. She then contacted Hallmark, who kindly donated a few large boxes of Mother's Day cards. The warden made arrangements. Every prisoner could now send a card to his mother. The idea was a hit!
Sometime later, the nun looked ahead in the event calendar. She decided to give Hallmark another call and made a request for some Father's Day cards. Hallmark agreed again. The arrangements were made by the warden, and again every inmate could send a card. To the nun's surprise, not one single inmate wanted to send his father a card. Not one. How sad and revealing this instance was. According to Irving Kristol, "Almost two-thirds of rapists, three-fourths of adolescent murderers, and three-fourths of long term prison inmates were abandoned by their fathers." Another study revealed that 92 of prison inmates hated their fathers.
Is it possible? Could more favorable fathers drive crime rates down?
Does a dad have this much influence in a child's life?
Absolutely they do. Fatherhood is a calling that will undoubtedly affect the next generation.
Consider the Savior and Lord Jesus Christ. Before he was born, the angel visited Joseph. The angel warned him that someone was after the young child. The angel appeared to Joseph and gave him a warning about his family. He was told, "Flee with your family." Joseph obeyed, took his wife and the child and escaped to safety. The family needed a father. A father who would provide, protect and lead. Is it not astounding that God himself did not want to be raised in a fatherless home? The circumstance was difficult for Joseph, but he still had an obligation to his family. Families are under attack, and it is no time to abandon ship, men. We must stay the course and be the men God wants us to be.
You may ask yourself, "Can I make that much of a difference?" Yes, dad! You can make a difference. Consider Father Abraham. He was instructed to take his son up the mountain to sacrifice. Imagine the impact upon the young Isaac. God called Abraham to sacrifice, but he desired Isaac to come along. We all know the outcome. It was a test. Abraham thought he was going to sacrifice his son, but the angel stayed the knife and provided a lamb. It was a marvelous moment for Abraham, but think about Isaac for a moment. He had a front row seat to witness first-hand the blessing his dad received. Abraham passed the most difficult test of his life with his son right beside him. Dads, be spiritual. Go ahead and climb spectacular heights with God, but do not leave your children behind. Take them with you.
The first two weeks of every year, my family is privileged to preach in Gilbert, Louisiana. I love spending these two weeks with Bishop Virgil Harris and the congregation in Gilbert. There is one thing I will always remember about this church, and it is their prayer rooms. Each night before each service, there is a mighty prayer meeting. You can hear the roar when you enter the building. The thing I admire most about these prayer rooms is they are filled with people of all ages. I watch as fathers bring their children and grandfathers bring their grandchildren. I have seen children that could be no older than three kneeling and praying beside their parents or grandparents. What an opportunity.
We need to expose our children to the things of God. Those same children I see praying in the prayer room are the ones worshiping in the sanctuary. Dads, take your children with you while they are still young. Don't climb without your family in hand. Can you imagine the story Isaac would be able to share all throughout his life? "My dad once took me up a mountain out of obedience and was willing to give it all, but the angel intervened!" Some may not realize it, but Isaac heard the same voice and shared this experience. Abraham was his hero.
Our generation is in desperate need of heroes. It needs a modern day, world changing dad. Can one man make a difference in a child's life? Yes, dad makes a difference. Heroes are not those hitting the game winning home-runs or buzzer beating three pointers. They are not scoring the game-winning touchdown. Society's real heroes are kissing their children before they go to bed and praying with them. They are taking their little girls on daddy/daughter dates and their little boys on fishing trips.
Rebekah had the influence of a godly father, and her actions proved it. Her qualities were noticeable, and she was always going the extra mile. The servant noticed this, and he asked, "Whose daughter art thou?" In others words, "Who do you belong to?" There was something distinctive about her, something that made her different and noticeable. She responded, "I am the daughter of Bethuel." Bethuel meant "man of God" or "dweller in God." Based on this account, I have to believe that her dad made a difference in the type of woman she became. He was a God dweller.
You are irreplaceable. I know it is a busy time. You must make a living for your family, but don't allow it to take you away from your family. Your family would rather have less money and more of you than more money and less of you. You only have a few years with your children. Make them count. Take them with you. Hunt with them. Play with them. Lead them in prayer and worship. Pray with them. Before you make the next trip to an altar, take that little one with you. She may not understand now, but she will soon enough.
James Chessor is a full-time evangelist, and he serves as the National Secretary for the Ministry Department of the ALJC.