Many years ago we announced a healing service. I ate something and got food poisoning. I was so sick, vomiting, etc. I could not even stand up. From my house I could see people beginning to come for the service. I saw my old superintendent, Bro. S. L. Wise. I prayed, "God what am I going to do? I am sicker than anybody—no one is coming tonight sicker than I am."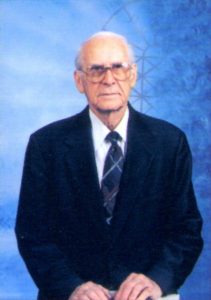 By T. W. Barnes
To View the Entire Article, Click Here
To Download the Entire Article Directly to Your Computer, Click Here
To View the Outline, Click Here
To View the PowerPoint, Click Here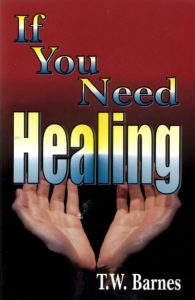 Divine health is not essential to salvation, but it is a good thing to have. No one is going to die and go to hell if they do not have divine health. In Mark 4:8: we read the words of Jesus: "And other fell on good ground, and did yield fruit that sprang up and increased; and brought forth, some thirty, and some sixty, and some a hundred. "If we can stay well sixty percent of the time it sure would be nice if we could get it up to ninety percent of the time. I would like it to be one hundred percent, wouldn't you?
It is a good thing to strive for good health. If you don't ever make it, die reaching for it. Paul said I want to be perfect, but I have not made it yet, but I am still trying. What a good attitude to have.
We find a few people down through the ages that seem to have divine health. Israel had it for a while. Moses had it. He was 120 years old, his eyes were not dimmed, and God took his life. He was not sick when he died. Joshua at eighty-five was a strong and healthy warrior. He lived to be 110. He must have had divine health. Job was probably seventy-five years old when the devil jumped on him. He got sick and lost everything he had. But he must have found divine health; after this he had twice as much as he had before and he lived 140 years. He found out how to have divine health.
Jesus had it. He would have never died. Man killed him and He let him do that. The apostles must have all had it, they all died a martyr's death except John, and he lived to be ninety. They boiled him in oil trying to kill him, but could not kill him.
God is no respect of person. If you have faith, look for divine health, believe for it, and you can have it. The spirit of the Lord will move upon you through the gift of faith when you get this revelation of divine health He will teach you to pray and to walk in His spirit. He will teach you first of all to confess your sins and forsake them. Make things right.
James 1:6: "But let him ask in faith, nothing wavering. For he that wavereth is like a wave of the sea driven with the wind and tossed." James 5:16: "Confess your faults one to another, and pray one for another, that ye may be healed. The effectual fervent prayer of a righteous man availeth much."
Once I became so dizzy, I lay in the bed with everything going round and round. When I stood up, I would have to stand a while before I could walk. This went on for some time. I did not tell anyone about it. I went to conference thinking I am not going to let this get me down. I had to be careful at conference how I lay down, got up, and stooped over. While there someone came up to me and said, "I am so dizzy and feel like I am about to faint, and I need prayer." I told him, "I am having the same problem." When I prayed for him, God healed me. That is what James is talking about; pray one for another that you might be healed.
To View the Entire Article, Click Here
To Download the Entire Article Directly to Your Computer, Click Here
To View the Outline, Click Here
To View the PowerPoint, Click Here