Don't Let The Opportunity Pass You By!
Rufus M. Parker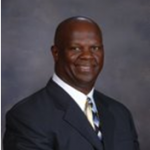 Opportunity! Someone said that opportunity is like a big fish: If you use the wrong line, it will get away. With op­portunity, you never know if you will get another chance. Opportunity usually knocks only one time, and if you do not open the door, you might have missed your chance.
Jesus stated, "Behold, I stand at the door, and knock: if any man hear my voice, and open the door, I will come in to him, and will sup with him, and he with me" (Revelation 3:20). Jesus will knock, but if you don't recognize His voice and open the door, you might miss your chance to re­ceive what He is offering you.
The Bible says, "As we have therefore opportunity, let us do good unto all men, especially unto them who are of the household of faith" (Galatians 6:10). We need to seize every chance we get to do good to our brothers and sisters, as well as to others.
Scripture says, "And he came to Nazareth, where he had been brought up: and, as his custom was, he went into the synagogue on the sabbath day, and stood up for to read. And there was delivered unto him the book of the prophet Esaias. And when he had opened the book, he found the place where it was written, The Spirit of the Lord is upon me, because he hath anointed me to preach the gospel to the poor; he hath sent me to heal the brokenhearted, to preach deliverance to the captives, and recovering of sight to the blind, to set at liberty them that are bruised, to preach the acceptable year of the Lord. And he closed the book, and he gave it again to the minister, and sat down. And the eyes of all them that were in the synagogue were fastened on him. And he began to say unto them, This day is this scripture fulfilled in your ears. And all bare him witness, and won­dered at the gracious words which proceeded out of his mouth. And they said, Is not this Joseph's son? And he said unto them, Ye will surely say unto me this proverb, Physi­cian, heal thyself: whatsoever we have heard done in Caper-naum, do also here in thy country. And he said, Verily I say unto you, No prophet is accepted in his own country. But I tell you of a truth, many widows were in Israel in the days of Elias, when the heaven was shut up three years and six months, when great famine was throughout all the land; but unto none of them was Elias sent, save unto Sarepta, a city of Sidon, unto a woman that was a widow. And many lepers were in Israel in the time of Eliseus the prophet; and none of them was cleansed, saving Naaman the Syrian" (Luke 4:16-27).
Many had an opportunity to have every sickness taken care of, but they let the opportunity pass by them. Every lame man could have walked. Every blinded eye could have been opened. They missed their opportunity because they saw Jesus as a carpenter's son, not as the Messiah for whom they were waiting. God was for them, but they refused Him. God wanted to help them, but they were fearful of being kicked out of the synagogue. God reached, but they turned. God wept, but they laughed, not realizing that opportunity was slipping away right before their very eyes.
Scripture states that He did not many miracles in His hometown because of the people's unbelief. (See Matthew 13:58.) The woman with the issue of blood is brought forth in many sermons to illustrate her faith and belief in Jesus' ability to heal. But something else is also revealed. She was not about to let her opportunity to be healed slip away. She did not know if she would ever get another chance even to see, let alone touch, Jesus. All she knew was that her condi­tion had worsened and that she was not getting any better. Neither the crowd nor the multitudes could stop her from seizing her opportunity to have her need met. Not even oth­ers who wanted to be close could stop her from her zeal to touch Him. Notice that when she touched Him, Jesus stopped. With much fear she came and told Him every­thing, only to find that Jesus was not against her but He was for her. Oh! What an awesome story to build our faith and strengthen our resolve! If we, too, would just forget about the crowds and multitudes and press our way to Him, we could seize the opportunity to be healed, to be delivered, to be set free, to be made whole.
Somewhere between the resurrection of Jesus and the Day of Pentecost, many people missed their opportunity to be filled with the Holy Ghost. He had been seen by over five hundred brethren according to the apostle Paul's ac­count in I Corinthians 15: 5-6. However, Luke's account of the upper room states, "And in those days Peter stood up in the midst of the disciples, and said, (the number of names together were about an hundred and twenty)" (Acts 1:15). There were about 120 in the upper room when the Holy Ghost was poured out, which means that 380 were not there and they missed their opportunity. I have to wonder: How many people have prayed and asked God to heal them or do something special for them, but when Jesus showed up, they were too busy, away from where they should be, or possibly did not recognize His voice so they did not open the door and they missed their opportunity?
In Acts 19:1-7, we see twelve men who knew about Jesus but did not know about the infilling of the Holy Ghost or baptism in Jesus' name. Scripture says, "And it came to pass, that, while Apollos was at Corinth, Paul having passed through the upper coasts came to Ephesus: and finding cer­tain disciples, he said unto them, Have ye received the Holy Ghost since ye believed? And they said unto him, We have not so much as heard whether there be any Holy Ghost. And he said unto them, Unto what then were ye baptized? And they said, Unto John's baptism. Then said Paul, John verily baptized with the baptism of repentance, saying unto the people, that they should believe on him which should come after him, that is, on Christ Jesus. When they heard this, they were baptized in the name of the Lord Jesus. And when Paul had laid his hands upon them, the Holy Ghost came on them; and they spake with tongues, and prophe­sied. And all the men were about twelve." They saw an op­portunity to receive something they had not heard about, and they seized that opportunity.
The eunuch in the desert saw an opportunity to be bap­tized after Philip had explained to him about Jesus Christ and about being born again of the water and the Spirit. When the eunuch saw water, he wanted to seize the oppor­tunity, and he said, "Here is water; what doth hinder me to be baptized? And Philip said, If thou believest with all thine heart, thou mayest. And he answered and said, I believe that Jesus Christ is the Son of God. And he commanded the chariot to stand still: and they went down both into the water, both Philip and the eunuch; and he baptized him. And when they were come up out of the water, the Spirit of the Lord caught away Philip, that the eunuch saw him no more: and he went on his way rejoicing" (Acts 8:36-39). When man sees an opportunity to add spiritual things to his life, God will make a way, even in desert places. Have you allowed your opportunity to be baptized slip away before? Why not seize the opportunity before it is too late, and be baptized in the saving name of Jesus Christ today?
We should always look for the opportunity to do things that will enhance the kingdom of God. Giving of our time, talents, and treasures are op­portunities that we can all use to work for the Lord.
The Bible says, "And they came to Jericho: and as he went out of Jericho with his disciples and a great number of people, blind Bartimaeus, the son of Timaeus, sat by the highway side begging. And when he heard that it was Jesus of Nazareth, he began to cry out, and say, Jesus, thou Son of David, have mercy on me. And many charged him that he should hold his peace: but he cried the more a great deal, Thou Son of David, have mercy on me. And Jesus stood still, and commanded him to be called. And they call the blind man, saying unto him, Be of good comfort, rise; he calleth thee. And he, casting away his garment, rose, and came to Jesus. And Jesus answered and said unto him, What wilt thou that I should do unto thee? The blind man said unto him, Lord, that I might re­ceive my sight. And Jesus said unto him, Go thy way; thy faith hath made thee whole. And immediately he received his sight, and followed Jesus in the way" (Mark 10:46-52).
Here we see Bartimaeus, the son of Timaeus, sitting by the wayside as Jesus passed by. When he heard who it was, he began to cry out to Him to have mercy on him. The crowd told him to hold his peace, but somewhere deep in­side this man was a hunger and zeal to be healed. He was not moved by the crowd to hold his peace because he knew he might never get the opportunity again. Do you allow the crowd to control you when you are in the presence of the Lord? Do you allow others to stop your praise when God touches your life? Sometimes we have to raise our voices above the crowd to prevent our opportunity from slipping away. Jesus comes into our midst to see what we will do. Will we let Him slip away in the crowd, or will we cry out to Him for His help? If He is for us, then He does not want us to let any opportunity to be with Him slip by.
It came even to pass, as the trumpeters and singers were as one, to make one sound to be heard in praising and thank­ing the LORD; and when they lifted up their voice with the trumpets and cymbals and instruments of musick, and praised the LORD, saying, For he is good; for his mercy endureth for ever: that then the house was filled with a cloud, even the house of the LORD; so that the priests could not stand to minister by reason of the cloud: for the glory of the LORD had filled the house of God (II Chronicles 5:13-14).
The above article, "Don't Let the Opportunity Pass You By!" was written by Rufus M. Parker. The article was excerpted from Parker's Book, If God Be For Us, Who Can Be Against Us?
The material is copyrighted and should not be reprinted under any other name or author. However, this material may be freely used for personal study or research purposes.