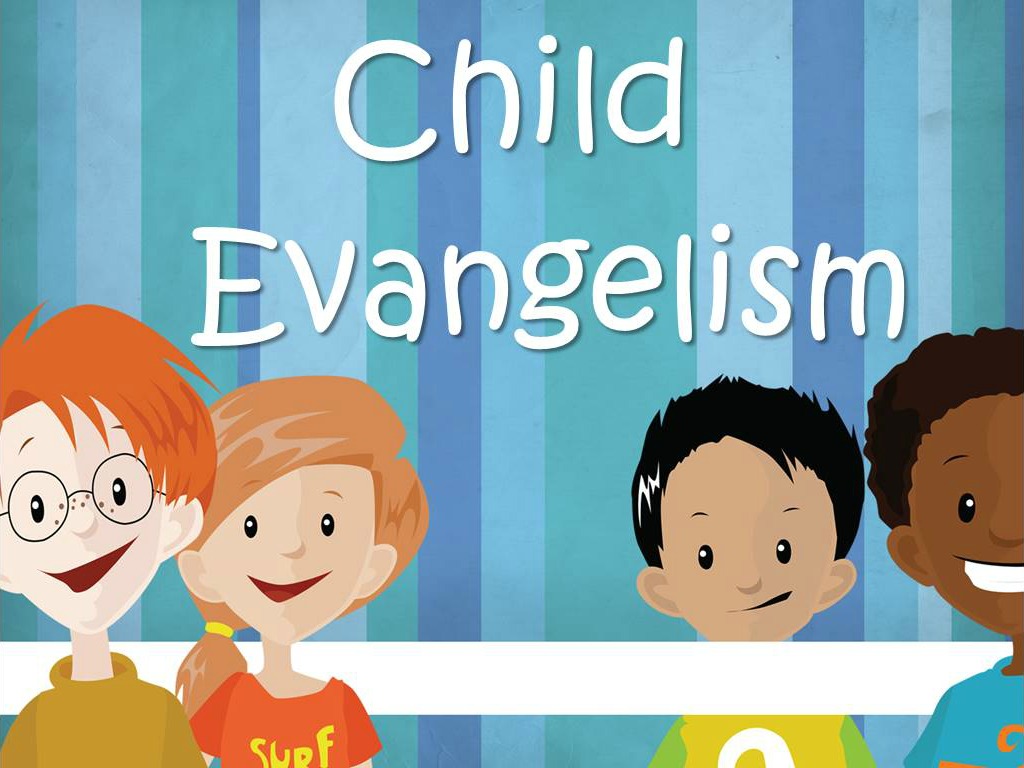 To View the Outline, Click Here
To View the PowerPoint, Click Here
THE IMPORTANCE OF CHILD EVANGELISM:
Scriptural Reference:
"But Jesus said, Suffer little children, and forbid them not, to come unto me: for of such is the
kingdom of heaven." (Matthew 19:14).
The importance of Child Evangelism cannot be overestimated. We can understand the
importance of it when we study the Scripture where Jesus instructed His disciples to permit the
little children to come unto Him.
By Child Evangelism we simply mean that type of special ministry needed to win the heart of a
child for Jesus. The child is saved in exactly the same way an adult is saved, by being born
again. A child must repent, be baptized in the Name of Jesus, and receive the Holy Ghost,
exactly the same as an adult. However, we must understand how to reach children, gain their
attention, hold their special interest, and win them for Jesus. This definitely calls for a special
type of ministry.
Let us list a few reasons why Child Evangelism is so important:
Many children die the same as adults. In fact although the average life expectancy is
getting longer, yet only a small percentage reach old age. Out of 100,000 children at the
age of three years only 59,000 are alive at fifty years of age or a little more than half.
As a rule children are more easily led to Christ than adults.
They are likelier to stay converted than those converted later in life.
They make better Christians since there is not so much to unlearn.
Their lives are before them; they may devote their entire lives in the service of the Lord. An
elderly person may be saved but he has nothing to offer the Lord except a wasted life.
There is untold potential in the life of a child – for good or for bad. It staggers the
imagination to think what this world would be like if everyone were converted as a child.
The importance of Child Evangelism becomes especially significant when we consider the
present day trend in the secular school system. The mind of the average child is constantly
bombarded and brain washed with the false theories of evolution. If children are not
reached with the Gospel, there is little hope for the future. The reason for so much crime
and violence is that we are raising a generation of agnostics.
WHO MAY BECOME A CHILD EVANGELIST?
The answer to this question is that almost everyone may be a Child Evangelist. The
qualifications are few for certainly a person does not have to have many talents to win the soul
of a child for the Savior.
There is no age limit here. He may be a child himself or he may be a grandfather and restricted
to a wheel chair. Let us list a few necessary requirements: (1) He must be filled with the Holy
Ghost; (2) He must love children; (3) He must know God's Word; and (4) He must be able to
identify himself with children.
To View the Outline, Click Here