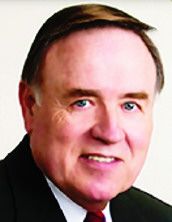 By Kenneth F. Haney
It was John the Baptist who announced Jesus in thundering tones. "… He [Jesus] shall baptize you with the Holy Ghost and with fire: Whose fan is in his hand, and he will thoroughly purge his floor, and will gather the wheat into his garner; but the chaff he will burn with fire unquenchable" (Luke 3:16-17).
God uses fire to purge His children so they can be more prepared for His work. One of the most powerful stories in the Bible is told in Isaiah 6. It was the year that king Uzziah died and Isaiah went to the temple. One a certain day Isaiah saw the Lord, and he was never the same since.
He saw the Lord high and lifted up on a throne and around the throne were seraphims that cried, "… Holy, holy, holy, is the Lord of hosts; the whole earth is full of his glory" (Isaiah 6:3).
The glory of the Lord was so powerful that the posts of the door moved and the house was filled with smoke. When Isaiah saw the portrayal of glory he cried, "… Woe is me! For I am undone, because I am a man of unclean lips, and I dwell in the midst of a people of unclean lips: for mine eyes have seen the King, the Lord of hosts" (Isaiah 6:5). Notice what happened when he repented. "Then flew one of the seraphims unto me, having a live coal in his hand, which he had taken with the tongs form off the altar: And he laid it upon my mouth, and said, Lo, this hath touched thy lips; and thine iniquity is taken away, and thy sin purged" (Isaiah 6:6-7).
It was FIRE form the altar that purged him. Soon as he had been purged, Isaiah heard the voice of the Lord asking for someone to work for Him. He said, "…Whom shall I send, and who will go for us? Then said I, Here am I; send me" (Isaiah 6:8).
Malachi 3:2-3 demonstrates the FIRE of the Lord: "…for he is like a refiner's fire, and like fullers' soap; And he shall sit as a refiner and purifier of silver: and he shall purify the sons of Levi, and purge them as gold and silver, that they may offer unto the Lord an offering in righteousness."
James McConkey explains Malachi 3:2-3:
A visitor was watching a silversmith heating the silver in his crucible. Hotter and hotter grew the fires. All the while the smith was closely scanning the crucible. Presently the visitor said; "Why do you watch the silver so closely? What are you looking for?" "I am looking for my face," was the answer. "When I see my own image in the silver, then I stop. The work is done." Why did the silversmith light the fires under the silver? To purify and perfect it. Is God's child-training an executioner visiting upon us the wrath of God? Nay, it is rather a cleansing angel pouring forth upon us the love of God. The furnace, the suffering, the agony of child-training, what do they mean?  God is looking for a face! It is the face of His Son. "For he hath fore-ordained us to be conformed to the image of his son." And He is purging from us all that dims that image. Like all true parents, God has a model, a pattern to which He is fashioning the lives of His children. That pattern is Jesus Christ. And God's great purpose is that Christ should be formed in us.
The passage of Isaiah 4:4-5 gives insight as to how God uses FIRE to purge His people. "When the Lord shall have washed away the filth of the daughters of Zion, and shall have purged the blood of Jerusalem from the midst thereof by the spirit of judgment, and by the spirit of BURNING. And the Lord will create upon every dwelling place of mount Zion, and upon her assemblies, a cloud and smoke by day, and the shining of a flaming fire by night…"
REFINING FIRE
The refining fire is to bring us into a place of finer service. "But the God of all grace, who hath called us unto his eternal glory by Christ Jesus, after that ye have suffered a while, make you perfect, stablish, strengthen, settle you" (I Peter 5:10).
The fire of suffering is for a greater purpose than just the pain. The purpose is for his children to shine with His glory so that the world will see Jesus in them and be drawn to Him.
Job uttered those famous words: "…When he hath tried me, I shall come forth as gold" (Job 23:10). Tried could be exchanged for the word purged.
Mrs. Charles Cowman writes the following about the Refiner:
God is the Refiner, the Purifier. He tries, proves, and establishes those who yield to His molding. It is a slow process; not hurried. He sits down to His work, He takes plenty of time. He is even willing to wait years with His subject to perfect it into the ideal image. It depends upon content. Some individuals take a long time to learn a single lesson, and the Refiner is perfectly willing to wait until that lesson is learned. Others He will get through with at once, if they are willing to take a quicker process – through the hotter fire.
Every moment of every day the great Refiner is waiting to add some new touch to your strength and beauty and fit you for a higher place in His eternal kingdom. So prone is man to think that trials and sufferings are mere accidents, incidents, mishaps or personal injuries from personal hands; but after a while, he learns that His hand is above every other hand and His love above every hateful blow. He is molding and making a perfect image.
If the sufferer could meet the gracious Purifier in every circumstance, he would see nothing but His ever abiding presence. Every unfriendly blow of the hammer would be warded off if the one being beaten down would have shield of faith that nothing can pierce. Out of every FIERY trial he could shout with the great Apostle, "None of these things move me."
God is with His children in the fiery trials. The three Hebrews children witnessed this protection. "And the princes, governors, and captains, and the king's counselors, being gathered together, saw these men, upon whose bodies the fire had no power, nor was an hair of their head singed, neither were their coats changed, nor the smell of fire had passed on them" (Daniel 3:27).
God created fire; therefore, He had the power to command the way it performed. The fire could not consume the three men because God spoke it not to do so.
If there had not been the fiery furnace experience, God would not have been glorified. The people would not have known His power. "Therefore I make a decree, That every people, nation, and language, which speak any things amiss against the God of Shadrach, Meshach, and Abed-nego, shall be cut in pieces, and their houses shall be made a dunghill: because there is no other God that deliver after this sort" (Daniel 3:29).
Isaiah 43:2 says, "When thou passest through the waters, I will be with thee; and through the rivers, they shall not overflow thee: when thou walkest through the fire, thou shalt not be burned; neither shall the flame kindle upon thee."
Frank Ewart writes the following about the FIRE:
When God baptizes us with the Holy Spirit, he ignites a tiny spark within each of us which begins to burn up our innate selfishness, pomp, and vain glory. If we allow the fire to continue to grow, it becomes a flaming torch, shaping us into the image of the Son of God, and causing the work of God to go forward. If we do not allow this tiny spark to become a full-fledged fire, the carnality of our hearts will never be consumed, and we will soon return to our original state – that of mere carnal Christians.
PURIFY
Titus 2:14 "Who gave himself for us, that he might redeem us form all iniquity, and purify unto himself a peculiar people, zealous of good works."
John 15:2 gives witness that those God uses, He purges: "Every branch in me that beareth not fruit he taketh away: and every branch that beareth fruit, he purgeth it, that it may bring forth more fruit." God is interested in growth!
Leonard Ravenhill wrote the following: "
The prophet Moses was called by fire. Elijah called down fire. Elisha made a fire. Micah prophesied fire. John the Baptist cried, 'He shall baptize you with the Holy Ghost, and with fire.' Jesus said, 'I am come to send fire on the earth.' If we were as scared to miss fire baptism as we are to miss water baptism, we would have a flaming Church and another Pentecost. The "old nature" may dodge the water baptism, but it is destroyed in the fire baptism, for He shall "burn up the chaff with unquenchable fire." Until they were fire-purged, the miracle-working disciples who beheld His resurrection glory, were held back from ministering the Cross.
Purification is for greater service to the King of kings as the following poem reflects:
My life was like an uncut gem
All rough and angles sharp,
Its brilliance dimmed as by a veil
No gleam or sheen, all dark.
But the Master's hand worked miracles,
Each pain and woe or trial or test
A facet cut upon my soul,
He watched the work and blest.
And even when it seemed to me
No other facet could He add
That pain and suffering had wrought
A gleam and sheen that made Him glad.
Still other processes there were
To polish, and the gem to set,
For now becoming a gleaming jewel rare,
I must be made ready for His service yet.
Mabel M. Brown
MARKED BY CHRIST
Paul uttered those unforgettable words in Galatians 6:17, "I bear in my body the marks of the Lord Jesus." He said, "I am a marked man."
Paul deterred not by the pain of suffering, or the persecution that was inflicted upon him, kept the mission of the cross ever before him. HE had one thing to do and that was all that he did. "Brethren, I count not myself to have apprehended: but this one thing I do, forgetting those things which are behind, and reaching forth unto those things which are before, I press toward the mark for the prize of the high calling of God in Christ Jesus" (Philippians 3:13-14).
Paul was on a mission: "For I determined not to know any thing among you, save Jesus Christ, and him crucified" (1 Corinthians 2:2).
Nothing could shake him from his purpose. "But none of these things move me, neither count I my life dear unto myself, so that I might finish my course with joy, and the ministry, which I have received of the Lord Jesus, to testify the gospel of the grace of God" (Acts 20:24).
CRUCIFIED FLESH
Paul had to keep his flesh crucified. Not crucified on a cross, but nailed to the life of Christ. "I am crucified with Christ: nevertheless I live; yet not I, but Christ liveth in me: and the life which I now live in the flesh I live by the faith of the Son of God, who loved me, and gave himself for me" (Galatians 2:20).
It was Paul's dependence upon God's Spirit that kept him in the hour of trial. Suffering marked Paul. Romans 8 lists the things that came to him in his life: tribulation, distress, persecution, famine, nakedness, peril, and the sword. He further explains some of these things in II Corinthians 11, which are listed below:
In prisons frequently
Near death
Beaten five times with 39 stripes each
Three times beaten with rods
Once he was stoned and left for dead
Three times he suffered shipwreck and was in the water overnight
In perils of water
In perils of robbers
In perils by his own countrymen
In perils by the heathen
In perils in the city, the wilderness and the sea
In perils among false brethren
In weariness and painfulness
In watchings often
In hunger and thirst
In fastings often
In cold and nakedness
Paul concluded his remarks with this, "Beside those things that are without, that which cometh upon me daily, the care of all the churches" (II Corinthians 11:28).
Leonard Ravenhill summarized Paul's life in the following paragraph:
Ohm that from this wondrous flame every living preacher might capture just a little light! Beatings could not cast the flame out of him; fastings and hunger could not kill it; nor misunderstanding and misrepresentation quench its fire, waters could not drown it, prisons break it; perils could not arrest its growth. On and on it burned, until life ebbed from his body. The living Christ who was within Paul (Galatians 2:20), as manifested by his soul-passion, was at once the despair of hell, the capital for enlarging the Church, the cheer to the heart of the Saviour.
Paul's hot trials kept him purified from his self. Peter talked about the hot fiery trials in I Peter 4:12-13: "Beloved, think it not strange concerning the fiery trial which is to try you, as though some strange thing happened unto you: But rejoice, inasmuch as ye are partakers of Christ's sufferings; that, when his glory shall be revealed, ye may be glad also within exceeding joy."
Paul learned to do this during his heavy trials. II Corinthians 12:9-10 says: "…Most gladly therefore will I rather glory in my infirmities, that the power of Christ may rest upon me. Therefore I take pleasure in infirmities, in reproaches, in necessities, in persecutions, in distresses for Christ's sake: for when I am weak, then am I strong."
The FIRE of trials became his strength. It was the heat that helped to purify him for greater things. Paul said God has allowed me to have a thorn in the flesh lest I should be exalted above measure. Thorns hurt, but it kept Paul in the FIRES of purification.
Paul suffered much as Philippians 3:8-9 states: "Yea doubtless, and I count all things but loss for the excellency of the knowledge of Christ Jesus my Lord: for whom I have suffered the loss of all things, and do count them but dung, that I may win Christ. And be found in him, not having mine own righteousness, which is of the law, but that which is through the faith of Christ, the righteousness which is of God by faith."
Paul suffered so that he might gain the righteousness or purity of Christ. It kept him in a position where he could receive it. He was not allowed to be exalted because of his great revelation from God.
When Paul gave himself to the cause of Christ, he became a greater man than he was in the beginning. This happens to all of Christ's disciples. This is illustrated by the story of one of the followers of Socrates. Aeschines perceiving every one give Socrates something for a present, said unto him, "Because I have nothing else to give, I will give thee myself." "Do so," said Socrates, "and I will give thee back again to thyself better than when I received thee."
This is exactly what happens to everyone who is purified with the FIRE of God's purification. He gives back better than what he originally received. God only improves His children!
The above article, "Fire of Purification," is written by Kenneth F. Haney. The article was excerpted from the tenth chapter of Haney's book Baptism of Fire.
The material is most likely copyrighted and should not be reprinted under any other name or author. However, this material may be freely used for personal study or research purposes.