People can follow you in the remedial instructions. When it you are a leader and you decide to lead by example, people can follow low you–when the challenges that are going forward are not a cult, when it is not that strenuous on their vessel, and when the size of their vessel is not in question. What does it have to do with sin, The only reason why I bring up..size is because the Scripture never said that Simon had a little ship.

By Micheal A Mitchell
To View the Entire Article, Click Here
To Download the Entire Article Directly to Your Computer, Click Here
To View the Outline, Click Here
To View the PowerPoint, Click Here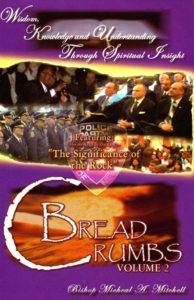 Luke 5:1-7 (KJV)
And it came to pass, that, as the people pressed upon him to hear the word of God, he stood by the lake of Gennesaret, And saw two ships standing by the lake: but the fishermen were gone out of them, and were washing their nets. And he entered into one of the ships, which was Simon's, and prayed him that he would thrust out a little from the land. And he sat down, and taught the people out of the ship. Now when he had left speaking, he said unto Simon, Launch out into the deep, and let down your nets for a draught. And Simon answering said unto him, Master, we have toiled all the night, and have taken nothing: nevertheless at thy word I will let down the net. And when they had this done, they enclosed a great multitude of fishes: and their net brake. And they beckoned unto their partners, which were in the other ship, that they should come and help them. And they came, and filled both the ships, so that they began to sink.
Notice that Jesus went into Simon's ship and Simon's ship only. The same story is in John chapter 21; if you read it carefully, you will realize it is the same story. It's just another way of telling it. I am going to show you the similarities and the differences that are there.
John 21:1-8 (KJV)
After these things Jesus showed himself again to the disciples at the sea of Tiberias; and on this wise showed he himself. There were together Simon Peter, and Thomas called Didymus, and Nathanael of Cana in Galilee, and the sons of Zebedee, and two other of his disciples. Simon Peter saith unto them, I go a fishing. They say unto him, We also go with thee. They went forth, and entered into a ship immediately; and that night they caught nothing. But when the morning was now come, Jesus stood on the shore: but the disci ples knew not that it was Jesus. Then Jesus saith unto them, Children, have ye any meat? They answered him, No. And he said unto them, Cast the net on the right side of the ship, and ye shall find. They cast therefore, and now they were not able to draw it for the multitude of fishes. Therefore that disciple whom Jesus loved saith unto Peter, It is the Lord. Now when Simon Peter heard that it was the Lord, he girt his fisher's coat unto him, (for he was naked,) and did cast himself into the sea. And the other disciples came in a little ship; (for they were not far from land, but as it were two hundred cubits,) dragging the net with fishes.
This story is very detailed. I chose this passage of Scripture because I want to tie it in with the title of my message. I want to specifically look at verse 8: "And the other disciples came in a little ship; (for they were not far from land, but as it were two hundred cubits,) dragging the net with fishes" (John 21). Notice, the other disciples came in a little ship; thus the title of this message is, For the Sake of the Little Ship.
No individual is an island. You do not live by yourself. Every decision you and I make and every action we take has an impact and influences others who are around us. Everything you do affects somebody—people you know and people you don't know. I must prove to you from Scripture that everything Simon Peter did, in regards to this text, affected those who were around him.
To View the Entire Article, Click Here
To Download the Entire Article Directly to Your Computer, Click Here
To View the Outline, Click Here
To View the PowerPoint, Click Here