By Joy Haney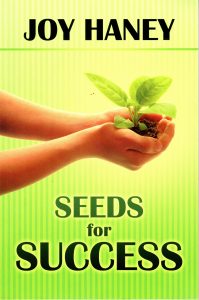 "Give, and it shall be given you; good measure, pressed down, and shaken together, and running over, shall men give into your bosom. For with the same measure that ye mete withal it shall be measured to you again" (Luke 6:38).
Proverbs 11:25 says it well: "The liberal soul shall be made fat: and he that watereth shall be watered also himself." They who give liberally shall have much given back to them. They shall be made rich and blessed in the things that count. If one gives the best, the best shall come back to him. Ecclesiastes 11:1 states, "Cast thy bread upon the waters: for thou shalt find it after many days." It shall come back!
It is a funny thing about life; if you refuse to accept anything but the best, you very often get it.
— W. SOMERSET MAUGHAM (1875-1965) British author
I do the very best I know how the very best I can; and I mean to keep doing so. — ABRAHAM LINCOLN
The best: what is it? It is the finest there is, nothing second-rate, shoddy, or inferior. It is the cream off the top; it is excellence instead of mediocrity. The best is the optimum quality available. One line of an old song affirms this: "Give to the world the bestyou have and the best will come back to you." The following poem captures the truth of this song.
MY WAGE
I bargained with Life for a penny, And Life would pay no more, However I begged at evening When. I counted my scanty store;
For Life is a just employer, He gives you what you ask, But once you have set the wages, Why, you must bear the task.
I worked for a menial's hire,
Only to learn, dismayed,
That any wage I had asked of Life, Life would have paid.
– JESSIE B. RITTENHOUSE (18694948)145 American poet
People choose what they give life. Every day is a blank page waiting to be filled with the actions and events of the day. On that page will be recorded the attitudes displayed, decisions made, and the quality given to each moment. Each person's page will be written by himself, for he is the author of his life. What he is, what he does, and how the day was spent are documented each evening. So the best thing a person can do for himself is to live each day well.
The best preparation for tomorrow is to do today's work superbly well. – SIR WILLIAM OSLER (1849-1919) Canadian physician and brilliant medical teacher
The best does not just happen, but conscious effort must be made in order to attain it. Resolute determination to make the right choice, to have the proper attitude, to give the best must be realized in a competent manner.
"Quality is never an accident; it is always the result of high intention, sincere effort, intelligent direction and skillful execution; it represents the wise choice of many alternatives."
-WILLA A. FOSTER
The age-old maxim, you reap what you sow, is definitely true. Whatever is given out from any individual will come back to him, as depicted in the following poem:
LIFE'S MIRROR
There are loyal hearts, there are spirits brave,
There are souls that are pure and true; Then give to the world the best you have,
And the best will come back to you.
Give love, and love to your life will flow, A strength in your utmost need;
Have faith, and a score of hearts will show Their faith in your word and deed.
Give truth, and your gift will be paid in kind,
And honor will honor meet;
And a smile that is sweet will surely find
A smile that is just as sweet.
Give sorrow and pity to those who mourn; You will gather in flowers again
The scattered seeds of your thoughts outborne, Though the sowing seemed but vain.
For life is the mirror of king and slave 'Tis just what we are and do;
Then give to the world the best you have, And the best will come back to you.
-MADELINE BRIDGES Writer of American poetry (1844-1920)
There is something adventurous in trying to bring the best into everything that is done. Life becomes a work of art, and all actions act as the paint for the canvas each day. Every person is the artist of his own life's painting. To paint well means that effort is applied in everything that is done. It is to realize that each moment is important and worthwhile, and what is brought into that moment helps color the rest of the day and even a life.
The pleasure resulting from work well done is worthwhile. To develop the best equipped railroad, to conduct the most successful bank, to create a great store where principle never yields to mere money making, to create an environment for the young man or woman just entering a business career that will be an incentive to do greater things, become a pleasure and remuneration far beyond any money value. It is as great a thing to develop merchandise of character and beauty as to paint a fine picture, carve a beautiful statue, or write a good book. To some manufacturers a carpet is just a carpet, a piece of gingham is only a piece of gingham. But with the desire to make the best — carpet or a piece of gingham can become a work of art.
—JOHN G. SHEDD (1850-1926) Merchant and philanthropist, chosen president of Marshall Field & Co. in 1906
Achieving excellence is not an accident but a purpose fulfilled. To do things superbly, not half-heartedly, should be the goal of the winner. Excellence should be a lifestyle that manifests itself in fineness and quality in all that is done. It is not an afterthought but something premeditated. There should be planning and forethought in each act of the day until quality and excellence become the norm.
We are what we repeatedly do. Excellence, then, is not an act, but a habit.
— ARISTOTLE
Martin Luther King, Jr., adhered to this philosophy and walked in excellence even when he was misunderstood by those who opposed him. He did not let nastiness creep into his lifestyle or attitudes even though he rubbed shoulders with those who manifested hate and intolerance. He is famous for the following speech that eulogizes excellence:
We are challenged on every hand to work untiringly to achieve excellence in our lifework. Not all men are called to specialized or professional jobs; even fewer rise to the heights of genius in the arts and sciences; many are called to be laborers in factories, fields, and streets.
But no work is insignificant. All labor that uplifts humanity has dignity and importance and should be undertaken with painstaking excellence. If a man is called to be a street sweeper, he should sweep even as Michelangelo painted, or Beethoven composed music, or Shakespeare wrote poetry. He should sweep streets so well that all the host of heaven and earth will pause to say, "Here lived a great street sweeper who did his job well."
— MARTIN LUTHER KING, JR. (1929-1968) American minister, civil rights activist, and writer
If, at the end of every day, a person can say, "I have done my best," then that person will live well. To be able to achieve excellence and to give oneself to such a goal are premium. To contribute something worthwhile to a cause, and to throw oneself into it with fervor and quality of service are things to be lauded. It is not only the cause that advances, but the person who initiated the cause is the one who receives the most reward.
Helen Keller once wrote, "When we do the best we can, we never know what miracle is wrought in our own life or in the life of another."147
And as you advance, ask: "What have I done for my country?" And this you will do until the moment when you may experience the supreme happiness of thinking that you have in some way contributed to progress and the good of humanity. But to whatever degree life will have favored your efforts, when you approach the great goal, you must be able to say to yourself "I have done my best." —LOUIS P ASTEUR
SUCCESS STORY:
EDWARD ROWLAND SILL
Edward Rowland Sill was born in Windsor, Connecticut, on April 29, 1841, and was orphaned at a very young age. His health was poor and he could not do many things he would have liked to do, but he was allowed to spend summers with his uncle, Elisha Sill, an early settler of Cuyahoga Falls.
Edward determined to get an education and graduated from Yale in 1861. For a long time he had difficulty finding his proper niche in life and tried different things. In 1867 he attended Divinity school at I Harvard, but soon left there not feeling suited to this type of work. He then decided on a career in education. He had many setbacks, but he believed in doing the best he could with what he had no matter what the condition in which he found himself.
He taught in Wadsworth, Ohio, and Cuyahoga Falls, but ill health prompted him to move to California. While there he served as English literature chairman at the University of California from 1874 to 1882. His philosophy by which he had lived and which he had always tried to teachbenediction.1st do the best we can with what we have."
This idea is beautifully symbolized in the following poem, which is one of his most famous writings:
OPPORTUNITY
This I beheld, or dreamed it in a dream: There spread a cloud of dust along a plain: And underneath the cloud, or in it, raged A furious battle, and men yelled, and swords Shocked upon swords and shields. A prince's banner Wavered, then staggered backward, hemmed by foes.
A craven hung along the battle's edge And thought, "Had I a sword of keener steel — That blue blade that the king's son bears but this Blunt thing — !" He snapt and flung it from his hand,
And, lowering, crept away and left the field. Then came the king's son, wounded, sore bestead, And weaponless, and saw the broken sword, Hilt-buried in the dry and trodden sand, And ran and snatched it, and with battle-shout Lifted afresh, he hewed his enemy down, And saved a great cause that heroic day.149
SUCCESS NUGGETS:
Whatever I have tried to do in life, I have tried with all my heart to do well; whatever I have devoted myself to, I have devoted myself to completely; in great aims and in small, I have always been thoroughly earnest. – DICKENS
To do the best thing possible, to you, it is just as necessary get yourself in tune for the day, in tune with the best things in you as it is for musicians in an orchestra to get in tune, into harmony with the keynote of what they are going to play.
THIS IS SUCCESS
To live well. To laugh often. To love much. To gain the respect of intelligent men.
To win the love of little children.
To fill one's niche and accomplish one's task.
To leave the world better than one finds it, whether by an improved flower, a perfect poem or another life ennobled.
To never lack necessary appreciation of earth's beauty or fail to express it
To always look for the best in others.
To give the best one has.
To make one's life inspiration and one's memory a benediction
The above article, "Give the Best and Expect the Best" is written by Joy Haney. The article was excerpted from the thirteenth chapter of Haney's book Seeds for Success.
The material is most likely copyrighted and should not be reprinted under any other name or author. However, this material may be freely used for personal study or research purpose