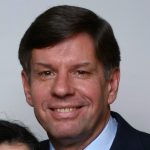 By Linda Schreckenberg
"All Christians can benefit from knowing Biblical Greek," says Dr. Bruce Klein of Apostolic Theological Seminary." He explained, "Learning Biblical Greek is important, because the inspired Word of God, as found in the New Testament, was written in Greek, not English. There are words that are not translated properly. For example, in this passage in Acts 12:4, speaking of Peter, says, "And when he had apprehended him, he put him in prison, and delivered him to four quaternions of soldiers to keep him; intending after Easter to bring him forth to the people", the word 'Easter' should have been translated 'Passover.' In other examples, the word 'hand' has been added to the word 'right' in Hebrews 12:2, "Looking unto Jesus the author and finisher of our faith; who for the joy that was set before him endured the cross, despising the shame, and is set down at the 'right hand' of the throne of God." The Greek word 'dexios' refers to a place of honor or authority. Thayer's lexicon definitions are; "1) the right, the right hand 2) metaphorically 2a) a place of honor or authority." Thayer is simply giving the definition of the word's use as found in an English translation. We understand the word 'right' refers to a place of authority and power. He makes this mistake often, referring to the words "day of the week", when in Greek, it should be translated "Sabbath." In our 'Greek in a Day'© seminar," says Dr. Klein, "We learn how to determine the correct lexical definition of a word." Dr. Klein believes every pastor would benefit greatly by knowing Greek.
Klein's 'Greek in a Day'© seminars, taught by him and his wife, Sis. Dana Klein, are held in local churches and Christian schools. They also teach 'Hebrew in a Day'© seminars, but they are not held at the same time. The hosting church pastor determines the cost of attending a seminar, which is typically $25. "Having taught high school and university levels of English grammar," said Dr. Klein, "I make the seminar easy. Part of the class is taught the way I was taught Hebrew in synagogues. This method is very different from how I was taught in Bible colleges and seminaries." Dr. Klein will also offer free modules for (eSword) which will soon be available.
The Kleins are full-time evangelists, licensed with the UPCI. When they are home, the Kleins attend New Life Ministry Church in Newburgh, Indiana, pastored by Rev. Melvin Kuntzman. They planted and pastored Acadian Lighthouse Church in Kaplain, Louisiana. He served as a missionary in China for three years, training Chinese leadership to start underground churches. He ministered under the cover of teaching at a university. He was brought to police stations at various times and threatened with prison with a gun pointed at his head.
Dr. Klein's educational background includes twenty-eight schools of higher education including colleges, universities and seminaries in the USA and overseas. He holds Doctor of Theology (Th.D.), Master of Divinity (M.Div.) and Master of Theology (Th.M.) degrees. He has written over twenty books including; Biblical Greek in a Day, Seminar's Grammar and Charts, A Biblical Greek Reference, Vol. I, Blood Bought Healing and God's Teaching Methods. Sis. Dana Klein, with a M.Div. is presently earning a Th.M. degree. Dr. Klein also holds a Master of Arts in Islamic Studies from the Islamic Institute of the Holy Kor'an, with two years of study in Arabic and Islamic theology. They knew he was a Christian and American, but they didn't know he was Jewish!
Dr. Klein may be contacted through his websites www.greekinaday.weebly.com, by email at Bibleteach@hotmail.com or by phone at 337.517.3954 and 225.245.4662.