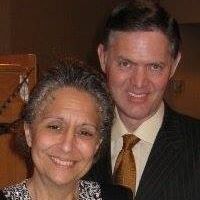 by P. Daniel Buford
He is not here: for he is risen, as he said. Come, see the place where the Lord lay" (Matthew 28:6).
EASTER WAS LAST MONTH. We celebrated the Resurrection. We practiced and performed our new Easter cantata songs. We sang the classic resurrection songs with words such as "He lives, He lives, Christ Jesus lives today," and "Up from the grave He arose, with a mighty triumph o'er His foes."
Easter was last month. We shined our Easter shoes. We dressed in our Easter best with pastel colors dominating the sanctuary. We had record attendance on that blessed Sunday morning.
Easter was last month, Now Easter's adrenaline rush is over. Last Sunday's attendance was down. We forgot to shine our shoes. We sang a song from the Easter cantata, but it seemed a bit lackluster. We only had two visitors this morning.
He has risen; now what? Do we wait until next Easter to hit a fresh high point in our ecclesiastical calendar? Do we have to wait until the freshness of the spring season comes again before we can get over our winter doldrums in both mental and spiritual arenas?
The angel, after declaring Christ was risen, invited the ladies to "Come, see the place where the Lord lay." Is that the extent of our message-Come see where Jesus was, but is no longer? Is that a description of what we invite people to come see in om church? Are we just a place where the Lord dwelt in the past but is there no longer?
The good news answer is, in one word-No! With a full understanding and appreciation of the promise following His resurrection, we can boldly declare, "He has risen, and Pentecost is coming!"
We need to hear the messenger out.
Thankfully, the angel's message did not end with "come see a place where Jesus lay," but he continued to command, "Go quickly, and tell his disciples that he is risen from the dead; and, behold, he goeth before you into Galilee; there shall ye see him: 10, I have told you" (Matthew 28:7). As the disciples followed the angel's instruction, their paths led them eventually to seeing Jesus again and hearing the Master Himself say, "Behold, I send the promise of my Father upon you: but tarry ye in the city of Jerusalem, until ye be endued with power from on high" (Luke 24:49). And in that upper room in Jerusalem they continued with one accord in prayer and supplication until "the day of Pentecost was fully come… And suddenly there came a sound from heaven as of a rushing mighty wind, and it filled all the house where they were sitting. And there appeared unto them cloven tongues like as of fire, and it sat upon each of them. And they were all filled with the Holy Ghost, and began to speak with other tongues, as the Spirit gave them utterance" (Acts 2:1-4).
Easter was last month. But there is more life beyond the grave and Christ's resurrection, Because He lives, we can live also, walking in the newness of life" (Romans 6:4). As the lyrics to one Easter song declare, "Because He lives, I can face tomorrow."
In John 14: 17 Jesus spoke to His disciples, acknowledging that they knew the Spirit of truth because Jesus Christ dwelled with them. They had walked together, talked together, ate together, and at one point even sang a hymn together (Mark 14:26). They were not strangers.
Jesus continued the revelatory discussion by saying that not only did He dwell with them, there would come a time when He would be in them. He went on to say, "I will not leave you comfortless: I will come to you… because I live, ye shall live also. At that day ye shall know that I am in my Father, and ye in me, and I in you" (John 14:18-20). While the disciples did not fully understand the implications of the "I shall be in you" language, they faithfully obeyed His instructions to tarry in Jerusalem, waiting on the fulfillment of His promise of the Holy Ghost, which would be "Christ in you, the hope of glory" (Colossians 1 :27).
So rather than trying to sing the Easter cantata songs again to recreate the Easter excitement, we can respond to the invitation of Jesus Christ and wait for Him in our own upper room. We can experience the power of Christ's promise as we obey Peter's message of Acts 2:38-39: "Repent, and be baptized every one of you in the name of Jesus Christ for the remission of sins. and ye shall receive the gift of the Holy Ghost. For the promise is unto you, and to your children, and to all that are afar off, even as many as the Lord our God shall call." We can walk with Jesus beyond His resurrection and on to the promised experience of Him being in us. What a hope this brings.
And now with Easter behind us, we can answer the "Now what?" question.
P. DANIEL BUFORD
Associate Editor UPCI
PENTECOSTALHERALD.COM 3