When the Israelites came through the Red Sea and God killed all their enemies by letting the waters roll back on them…according to 1 Corinthians 10: they were baptized unto Moses in the sea and the cloud. That's the picture of the new birth: Water, Spirit. But notice that when they went through the water, Egypt couldn't follow—they all drowned. When we were water baptized in Jesus name after we repented of our sins, there wasn't a single former devil that was allowed to follow us through, water. We buried the old life, the man. He may come up with some kind of new temptation in a new dress, but he has no power over us now; he has no authority over us. All he can do is suggest stuff to us, and we can either react, or reject.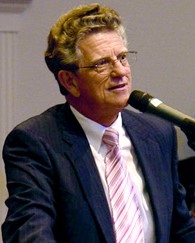 By Jeff Arnold
To View the Entire Article, Click Here
To Download the Entire Article Directly to Your Computer, Click Here
To View the Outline, Click Here
To View the PowerPoint, Click Here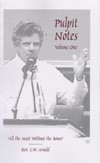 1 Peter 5:10, "But the God of all grace, who hath called us unto his eternal glory by Christ Jesus, after that ye have suffered a while, make you perfect, stablish, strengthen, settle you."
When God saves us, He puts our name in the Lamb's book of life. He washed away everything in our previous life and gave us energy and power to walk with God. God is in love with us. God is our partner in another world. His eye is on the sparrow. He is watching us. Nothing can separate us from the love of God. No weapon formed against us can prosper. We are greater in the Holy Ghost than any adversary we will ever face.
Even though we are feeling discouraged and disillusioned, we just have to have the knowledge; "He loves me!"
Heaven will only let Hell mess with us just so far, and then Heaven is going to slap Hell up side it's head and say, "Now that's enough, that's my daughter, that's my son, I'm not going to let this trial destroy them, I'm going to let this thing develop them, they are going to discover some stuff, but don't you get the foolish idea that because I let you mess with them that I put them up for adoption. They are My children and NOTHING is gonna take them out!"
The Psalmist in Psalm 23 says, "Thou preparest a table before me in the presence of my enemies…." God delights to just get us in a mess that we just can't get out of and then He just turns around and becomes our waiter. Here's your enemy over there with all kinds of chariots, and guns, and spears, and hatred, and violence and God just spreads a table in the midst of the enemy and says, "Sit down and eat, watch them!"
Job said, "He setteth an end to the darkness!" HELL doesn't set an end to it; God sets an end to it!
Too many of us accept the hell we're going through as if it's final. Don't build a condominium in your dilemma, you aren't going to be there long, you're just passing through. It's not final until Jesus says it's final. Jesus isn't going to leave us in a valley of despair and let us lose our mind and go crazy. The devil is a liar!
Sometimes we have to look at something and shout at it, "This too shall pass! I am gonna pass through, and it is gonna pass away!"
Church won't fix trouble. We have to get pregnant with a seed of promise and then we have to nurture the seed and water it with prayer and then let it sprout, so that we can live it out. We need church to agitate us apostolically, so that when we walk out, we can give Hell a bad headache.
Nobody can put a disease on us unless God lets it come. The devil couldn't go to Job's house until he got permission. We have a greater covenant than Job; there is no devil that can come to our life, or our house, unless he gets permission. If he gets permission, then that means that God knows that it's not going to take us out!
To View the Entire Article, Click Here
To Download the Entire Article Directly to Your Computer, Click Here
To View the Outline, Click Here
To View the PowerPoint, Click Here