By T. F. Tenney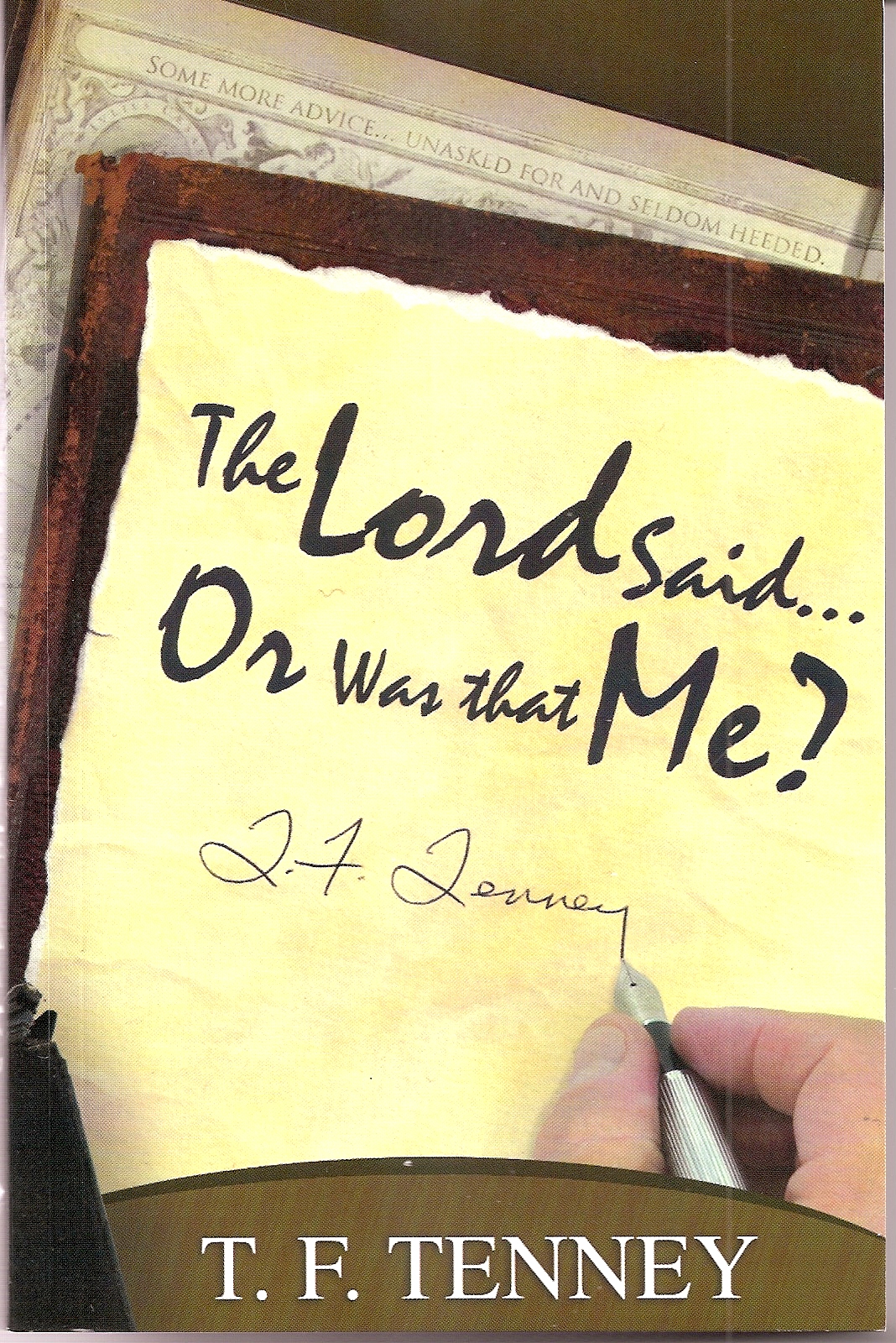 Humility is the most sensitive of all graces. The moment you think you have it, it's gone. Yet no great leader in any arena, in any age, has succeeded in continuity without it. William Temple said, "Humility does not mean thinking less of yourself than of other people. Nor does it mean having a low opinion of your own gifts. It means freedom from thinking about yourself at all."
How true! To a sincerely humble man the cause is paramount above all. Let's talk about it—as it relates to leadership.
More than two thousand years ago the philosopher Lao Tzu wrote, "In the leader's desire to be at the front of people, he must in his own person be behind them. In his desire to be above the people, he must in his speech be below them." Sincere words are not showy; showy words are not sincere. Those who know do not say; those who say, do not know.
Micah 6:8 tells us: "He bath skewed thee, 0 man, what is good; and what doth the LORD require of thee, but to do justly, and to love mercy, and to walk humbly with thy God?" Isaiah confirmed, "I dwell . . . with him . . . that is of a contrite and humble spirit, to revive the spirit of the humble, and to revive the heart of the contrite ones" (Isaiah 57:15). Revival leadership, by this passage, has its roots in humility. According to Isaiah, humility is a spirit.
The great apostle Paul did not talk about it; he lived it. In A.D. 59 not long after his conversion, he said, "I am the least of the apostles" (I Corinthians 15:1-9). Several years later he said, "[I] am . . . the least of all saints" (Ephesians 3:8). Before he died, he felt he was the chiefest of sinners. (See I Timothy 1:15.) The longer he ministered, the greater concept he had of "He must increase, but I must decrease," yet he never fished for praise with humility's bait. What a leader!
He had no ambition, so there was nothing to be jealous about. He had no reputation, there was nothing to fight about. He lost that at Calvary. He had no possessions, nothing to worry about—no rights so He could suffer no wrong. He likened himself as already dead, so who could kill him? That's what you call an apostolic attitude of humility toward your world, your work, and your crucified Lord. Nothing sets a leader so much out of the devil's reach as genuine humility.
"Moses wist not that . . . his face shone" (Exodus 34:29). It was shining with a holy brilliance, but oh, for a holy ignorance! To think that humble and meek man Moses fell on his strong side by the loss of his temper. A truly great man has one desire—and that is to remain small. Again, the seed of humility is found at the heart of every Bible great. Not false humility, that's just pride with another face on it. Oh, for a "holy glow" but oh, for a holy ignorance of it!
Saul had it but he lost it. He said, "I'm from the smallest of the tribes and the least of families." He hid when he was called to kingship. Later, pride got him. The prophet said, "When you were small in your own eyes . . ." That's the key—how are you in your own eyes?
One writer noted that Jesus' weapon of choice was a towel. He could have taken a sword, but He didn't. He took a towel. How often God will provide us with an armory we could use, yet we reach and get the servant's towel to prove, if to no one else but to ourselves, the flesh is conquered and we have a servant's heart. Let me tell you again, the best way to know if you have a servant's heart is by how you react when you are treated as one.
Great leaders, even in the political arena, were known for their humility. John Adams, who later became President of the United States, said: "There is a new and grand scene open before me. I feel myself unequal to this business. I am but an ordinary man. The times alone have destined me to fame." George Washington, after serving two terms as President, after leading the United States to victory in the Revolutionary War, was later asked if he would again take charge of the armies due to a threat from Spain. Although retired and having already reached the apex of glory, he said, "I will most gladly do so, for the cause of my country." That's humility. It wasn't office that interested him; it was service. That's the key: A true leader puts service and the cause before self.
God is looking these days for leaders, not managers. It has been observed that management is centered around command and control, a hierarchy. This is not so with true leadership. Donald Phillips, in his book The Founding Fathers, said, "There are three key points to remember about leaders: First, leadership omits the use of coercive power. Leaders rather move others by caring and inspiring. Tyranny and dictatorship are not only contradictory to the rights of human nature but they are contradictory to leadership itself. Secondly, leaders must have a bias for action that is centered around shared goals. Thirdly, leaders act with respect to the values of the people they represent which are in concert with their own personal convictions." The bottom line to all of that is, leadership through humility
Recognizing the anointing of God in leadership is so important. You are not elected to an anointing. It comes from the hand of God alone. In the restoration of apostolic authority in these last days, God is raising up spiritual authorities in various areas—God-ordained apostolic leadership. Just as Satan has territorial demons and possibly there are territorial angels assigned by God—could there not be territorial men who are to lead in the spiritual assault? They are recognized, again I say, by their humble anointing and not for any other position. We must humbly announce what He has anointed.
Bob Beckett made an interesting observation in one of his books. He said,
"It's a fact that probably 90 percent of local church pastors in America do not have heartfelt territorial commitment. I think almost 100 percent would have strong commitment to their congregations but few have gone beyond that and developed equal commitment to their cities or area.
"The apostles of the city will undoubtedly emerge from among those who have made it known they are located in their city for the rest of their lives. That brings divine authority, an authority simply not held by those who lack territorial bonding."
There are those who are just passing through looking for a better opportunity. They never succeed where they are.
Are we humbly committed, not just to our church but o our territory? God looks for men like that for a special anointing and He expects the rest of us to recognize it.
"It has been observed that nothing hinders our ability to receive revelation more than our pride. An attacking spirit will never see truth. Pride has blinded its eyes" (Michael Brown). Pride is one of Satan's keenest weapons. After all, that's what got him.
Do we sincerely have the opinion that He must increase and we must decrease? Does our experience with the King exceed our experiences with the kingdom? Are we more interested in His lordship than our territorial preservation?
Other leaders, both sacred and secular, have concurred in this. Simon Well said, "Real genius is nothing else but the supernatural virtue of humility in the domain of thought."
Flaubert, the French novelist, said, "Nothing is more humiliating than to see idiots succeed in enterprises we have failed at."
The satirist John Selden made this observation, "Humility is a virtue all preach, none practice; and yet everybody is content to hear. The master thinks it good doctrine for his servant, the laity for the clergy, and the clergy for the laity."
Even H. Ross Perot said, "Something in human nature causes us to start slacking off at our moment of greatest accomplishment. As you become successful, you will need a great deal of self-discipline not to lose your sense of balance, humility, and commitment."
St. Augustine said, "There's something in humility that strangely exalts the heart."
Henry Thoreau stated, "Humility, like darkness, reveals the heavenly lights."
Frank Lloyd Wright said, "I feel coming on a strange disease—humility."
Jean Brown said, "The really tough thing about humility is you can't brag about it!"
Even Beethoven said, "Nothing is more intolerable than to have to admit to yourself your own errors."
One writer said, "The cleverest of all, in my opinion, is the man who calls himself a fool at least once a month." Monica Baldwin, an English writer, said, "What makes humility so desirable is the marvelous thing it does to us. it creates in us a capacity for the closest possible intimacy with God." He that humbleth himself will be exalted.
The above article, "Humility in Leadership," is written by T.F. Tenney. The article was excerpted from the eighth chapter of Tenney's book, The Lord Said… Or Was That Me?
The material is most likely copyrighted and should not be reprinted under any other name or author. However, this material may be freely used for personal study or research purposes.