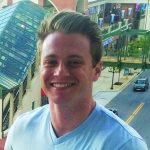 By Charlotte Pound
IMPACT — the University of Maryland (UMD) Campus Ministry — is reaching students of numerous nationalities with the Acts 2:38 message. Along with winning as many American students as possible, the ministry's aim is for the foreign students to take what they have experienced back to their home countries, thus reaching many more people.
"There are a lot of people on campus who are hungry for God. Our goal is to find them and offer them real Biblical direction," said IMPACT UMD president Mike McGurk, of Antioch the Apostolic Church in Arnold, Maryland.
Since water baptism is such an integral part of salvation, the ministry leaders have had to be ingenious as to how to get this done. "There is no chapel with a baptismal tank per se, so the next best thing is to baptize in the swimming pool right there on campus," said Bro. McGurk. "That makes it easier to have spontaneous decisions for baptism."
He said baptisms generally occur after an IMPACT service and during the pool's free-swim period. When someone desires to be baptized, he or she undergoes a Bible study explaining the spiritual significance of the event and then on to the pool for a short service and prayer.
Bro. McGurk felt the call of God and a burden for souls in his senior year of high school. He started with teaching Bible studies to friends. He credits District Coordinator Stuart Mott and Campus Ministry Leader Jerrod Whittington with helping establish him in campus ministry.
In the past three years they have baptized and prayed approximately 50 people through to the Holy Ghost. What started as a fledgling ministry for four or five college students has evolved into an actual daughter work of the church with approximately 30-40 people. Bro. Mott is the pastor of the daughter work.
Another exciting aspect of campus ministry is that reaping the harvest spreads to the local churches whose congregations benefit from the labor of the college students. For example, after the UMD campus closed for summer, IMPACT was able to plug several new converts into local churches in their areas where they received foundational teaching to keep them grounded in the truth.
Winning souls in campus ministry is on-going. On homecoming weekend, the ministry leaders invited some of the students to go with them to the district youth conference. On the way home, a discussion of spiritual issues began. One of the visitors, Andrea, mentioned that she was troubled by bad spirits. Bro. McGurk boldly told her that through prayer God would deliver her. It was nearly 3 a.m. when the van pulled into the campus parking lot. They all got out and immediately began to pray for Andrea. "While many other college students were still roaming around in the wee hours, reveling in alcohol and high spirits of homecoming, our IMPACT youth were becoming intoxicated in the Holy Ghost, as God completely delivered Andrea and she began speaking in other tongues right there on the campus parking lot," said Bro. McGurk.
He encourages all pastors who have colleges near their town to invest in this rich harvest field. "There are over one million foreign students in America; these college students will be the leaders of tomorrow," he stated. "The college campus is an untapped, yet ripe harvest field. Churches should take advantage of it."