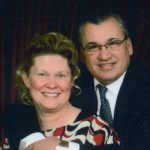 Church is not all fun and games, but if you're in Hamilton, Ohio at Abundant Life Apostolic Church on a Sunday morning you will find that it is part of the curriculum. Imagine, if you will, a Sunday school room full of ecstatic children so enthralled with their activities that it keeps them occupied for the duration of the entire Sunday morning lesson. Add the right amount of exciting Bible lessons, that teach salvation and Christian values to the children and you have a dynamic Sunday School program called J.A.M..
J.A.M. is an enhanced Sunday School Ministry that includes children of all ages. "We offer age appropriate stations, organized by caring and fun teachers, all in a safe, Christian environment," Pastor Clark Baker explains. "These stations, which include, snacks, crafts, Bible stories, recess, and more, are structured on a rotating schedule to always keep the child occupied. The parents can have peace of mind knowing that their child is participating in an enriched curriculum that incorporates a variety of learning techniques that teach Christian values such as, sharing and having good manners, all while having a "Jammin" good time."
J.A.M. offers bi-monthly specialty themes such as: F.B.I. [firm Believers In Christ] Academy, Creation Station, Around the World Missions, and much more. The children enjoy exciting, weekly lessons filled with science experiments, crafts, sign language, sing a-longs, as well as hands on learning. J.A.M. also offers elaborate, holiday themed parties and in the summer months have many fun-filled outdoor activities.
"My wife and I came to Hamilton, Ohio in 2001 to pastor the church that my Father-in law started and pastored for 43 years," Brother Baker explains. "The congregation was small and we struggled with getting a start in the community and we needed a push that would help us to connect with our community. In 2006 we saw an influx of young families with children. We took a look at the old way we were used to operating Sunday School and realized just how much of it was based on children being brought up in church. The new children that were now attending basically knew nothing about God. We also did not offer transportation to church so it required the parents to bring them; this required us to create enough excitement in our Sunday School so the children would push their parents to bring them to church. We stepped out of the old way of doing things and realized that by getting the parents to bring their children that they would stay for the service as well."
"Instead of pushing a heavy teaching agenda we have created a fun environment with games, game stations, and play equipment. Lessons are still taught but they do not make up the main thrust of the class, we try to allow the children to have as much fun as possible. It is simply a matter of balancing fun time with learning time and while the children are having a "jamming" good time in their class their parents can relax and enjoy a cup of coffee and an inspirational Bible lesson in the sanctuary."
"We have many perceptions on what Sunday School has to be," states Brother Baker. "The doctrine does not change, but we must find ways to keep up with this generation and its fun filled technology.
Clark Baker [revcdb@fuse.net]
1-513-893-1861
Bio.
Clark & Bonnie Baker were married Oct 13, 1979 in the very church they now pastor.  After evangelizing for 2 years they took the pastorate of Middleport Pentecostal Church in Middleport, OH.  Pastor and Mrs. Baker worked along side a wonderful congregation that followed the Bakers for 20 years.  They experienced hardships and growth both in the congregation and physical aspects of the church.  They founded a thriving daycare and preschool that reached as high as 90 students at one time.  Today the Middleport congregation owns an entire city block and is thriving under a new pastor.
Pastor Baker graduated from Apostolic Bible Institute in 1978.  Having worked in the District of Ohio as a Youth Leader and Sunday School secretary they have been active in the United Pentecostal Church of Ohio in many capacities.
Their children are active in the ministry as well.  Seth & Heather Baker work in the Sunday School program at the church.  Andrew Baker is presently the Youth Pastor at Truth Tabernacle in Middletown, OH.