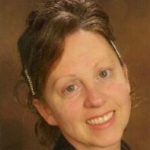 "Seeing my mother living with the effects of breast cancer and recalling the many times I wanted to help her, I have grown up with a "soft spot" for breast cancer survivors," so says Angela Pollard of Brighton, Colorado. Sister Pollard is the wife of Larry Pollard. They have three children and have pastored in Colorado for sixteen years.
"I grew up in a Pentecostal preacher's home in Oklahoma, surrounded by love and Christian nurture. My mother was diagnosed with breast cancer when I was two years old. She is, by the way, a 38 year cancer survivor.  We often talked about what she went through both physically and emotionally. My mother became an over-comer through the help of the Holy Ghost. However, that doesn't make survivors exempt from needing a network of support. To furnish that support has been a desire and burden that I have carried for a long time," said Sis. Pollard.
The story behind the ministry, in Sis Pollard's own words: "At our Colorado District Camp Meeting in July 2005, I was sharing my intense desire to start an Apostolic Breast Cancer support group with a pastor's wife, who happened to be a one year breast cancer survivor.  The very next week I—myself—was diagnosed. I had a lumpectomy in July 2005, went through chemotherapy from September – December 2005 and chose prophylactic double mastectomies in January 2006.

"After being diagnosed, I went to the internet to look for answers. I found quite a few, but no support. Before starting 'Joy for the Journey', I tried to reach out to the general public, thinking that maybe God wanted me to 'take the first step', but every time the door was shut. Non-Apostolic women do not understand our 'glory' that God has given to Apostolic women. When I tried to help them understand why I wasn't going to cut my hair before having chemotherapy, they couldn't grasp that I didn't want to 'take control' of the situation myself. I became discouraged until I realized that I just needed to wait for God's timing.

"When I was diagnosed, I also sent out an email making friends and family aware. After that, every time I had a treatment, test or prayer request, I sent out an 'update' via email. I would close the update with 'Joy for the Journey', because I felt that God had given me peace and renewed my joy. In turn, I received overwhelming support and it was therapy for me.
It was July 2007 that God woke me up in the middle of the night to lay out in my mind everything that He wanted me to do concerning this ministry. I began to write as fast as I could through tears of joy.

That next week, at our Ladies Conference God opened the door for me to present my burden to two wonderful Holy Ghost filled women. Sis. Pricilla McGruder encouraged me to step through the door that God was opening and Dr. Cindy Miller gave me the knowledge of how to do it. Since then God has opened more doors than I could imagine, and thus the 'Joy for the Journey' was created."

The website provides online support and information that can be accessed at any time. At the site; one can research their type of breast cancer, surgery options, chemotherapy options and the side effects, as well as, what to expect once you are diagnosed, and much more.
In addition, there is Sis Pollard's blog, with four different subjects; ranging from just being diagnosed, to getting back to "normal" when you are done with treatment. A slideshow of Sis Pollard when her hair first started to come back after chemotherapy will help those going through treatment to see that there is life after chemotherapy. If someone has questions about mammograms, there is an Apostolic mammogram technician who can be emailed. Also, there is also an Apostolic chemotherapy nurse available for questions. Sis. Pollard can be contacted directly through the website. Pastors are welcome to refer saints to her for encouragement and support.
For more information contact: Angela Pollard at 303-654-1708
angela@joyforthejourneyministry.com
www.joyforthejourneyministry.com