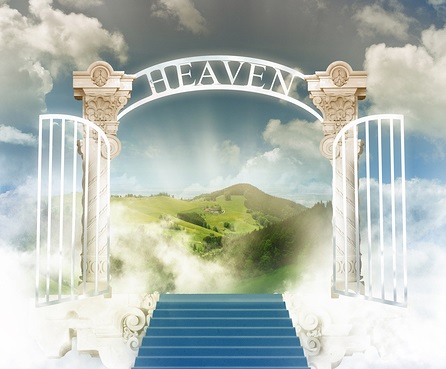 Life After Death [Heaven or Hell – Your Choice]
By Pauline Foreman
As thoughts of heaven flooded my mind, I began to ask myself, if heaven is going to be like life here on earth, would I want to go there? Considering the condition of the world today and life as I know it to be, I thought of what the Bible says, "Man that is born of a woman is of few days, and full of trouble." (Job 14:1) I would not want to die and start all over again to live as we do today in a world where right is wrong and wrong is right and everything has to be politically correct. We are plagued by crime, heartaches, pain, disappointments and suffering – all because of the sins of mankind.
"Wherefore by one man sin entered into the world and death by sin; and so death passed upon all men, for that all have sinned. " (Romans 5: 12) People live as though they have hope only in this world. It seems as if some people believe there is no life after death. Assisted suicide is on the rise and we call it dying with dignity. Does death automatically qualify everyone for heaven? Can you live the way you want, do your own thing and make no preparations for heaven because Jesus is love and surely He won't send anyone to hell?
When a person dies having made no preparations for the journey to heaven – like repentance, (turning away from sin,) water baptism in Jesus' Name for remission of sins, and being filled with the Holy Ghost (God in us the hope of glory,) – then they have automatically made preparations for hell. You see, doing nothing is actually doing something.
You must take a stand for Jesus. He said, "I am the way, the truth and the life; no man cometh to the Father but by Me. " (John 14:6) Yes, God is merciful and He is love but He is also holy and sin cannot dwell in His presence. He is light and light and darkness cannot dwell in the same space. Why would Jesus suffer the cross and all the shame for the sins of the world if He was going to allow sin to dwell in heaven with Him? What would have been the purpose for Him to shed His blood to wash away the sins of the world? There would have been no purpose. It would all have been in vain. "But God commendeth His love toward us; in that while we were yet sinners Christ died for us. " (Romans 5:8) His death was not in vain. He died and rose again so that man could be free from the bondage of sin and death.
Men do not have to live without spiritual guidelines and morals such a is the way of the world, where people are letting all their skeletons out of the closet and parading and flaunting then in the very face of God. It seems as if the world is saying, do all. (ell all. and we will accept all. And by all means write a book about it all . 0 that we can buy all. We can all just live together in love without sound doctrine and have our own personal gods we can call upon in case something we can't handle comes up. We can all have our own ideas about what the Scriptures mean. As a matter of fact, some people even say that they are gods.
With every imagination of man being brought into reality like computers, cloning and the likes, I can see how some may think that they are gods. But we must remember that there is nothing made that isn't made from something that was created by God. "By Him were all things created that are in heaven, and that are in earth, visible and invisible, whether they be thrones, or dominions, or principalities, or powers: All things were created by Him andfor Him. And He is before all things, and by Him all things consist." (Colossians 1: 16-17) That includes man. Because God is merciful, long-suffering, and forgiving
He allows us. to continue in sin for a season but never without calling us out of darkness into His marvelous light.
He continues to knock at the door of our heart. Jesus desires a relationship with you because of His great love for you. Yes, God is love – but remember that He is also holy and righteous and cannot live with sin. There is going to come a day when He will separate the sheep from the goats. Heaven will be for sheep only. It will not be like life here on earth. Jesus said, "Let not your heart be troubled; in My Father's house are many mansions; if it were not so 1 would have told you; 1 go to prepare a place for you and If 1 go and prepare a place for you, 1 will come again and receive you unto Myself, that where 1 am ye may be also. " (John 14: 1-3)
It takes preparation and separation now to ensure your place with Jesus in heaven. Jesus is coming back for His bride (the church) that has been redeemed by His blood- a bride that is called by His Name. If natural man tries to find a bride that is pure, what do you think Jesus is coming back for? His bride will be without spot or wrinkle. It's time for men to consider for themselves where they will spend eternity. It doesn't matter whether you believe that the Bible is the Word of God or whether you believe in God at all; you will still stand before Him and be judged by His Word. "Every knee will bow and every tongue confess that Jesus is Lord. " Believe it or not, your destination is in your hands. Choose you this day who you will serve. Will it be God? Or will it be your own self will, the pleasures of this world, and the lusts of the flesh?
Now is the acceptable day of the Lord – call upon Him while He is near. Heaven or hell- it's your choice!
Editor's Note: Sis. Pauline is Pastor Ken Foreman's wife. She is an able teacher of the Word and is a blessing to her husband, her family, and to New Life Apostolic Church. – mjk