Meet Me At The Wall
"The Prayer Wall has made it onto television and radio stations in our city," said Pastor Gene Holley, of Life Church in Wichita Falls, TX. "In fact, our Prayer Wall has become a term a great number in our city are attuned to right now, referring to us as that church that prays."
"I've presented the Prayer Wall to County Commissioners, County Judges and the City Council," said Pastor, "And we invited city leaders, community leaders and the people out to the wall on a Wednesday evening and prayed over them. It was surreal that we had first responders, firemen, EMS and police officers who came for prayer the week of the shooting in Odessa, TX., just a short distance from us."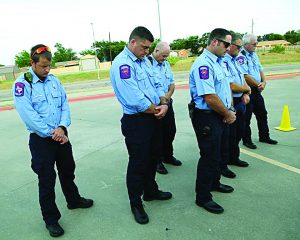 In 2017, the year Hurricane Harvey hit South Texas, God gave him a dream of a destructive tornado. He began to seek the Lord about the dream and the Lord said, "It's not the outsides of the homes that are torn up, it's the insides. If you could see from my view, you would see how they are destroyed."
Pastor realized Apostolic churches can give people necessary items after a disaster, but the only way to give them hope is through prayer. Life Church began having Drive-Through Prayer every Monday morning from 6:30-8:30. Volunteers wave at drivers by the road, inviting people in for prayer. They receive a donut and coffee, and prayer is made over them in their cars. Thirty to forty cars come by every week, and several have received the Holy Ghost and are attending Life Church.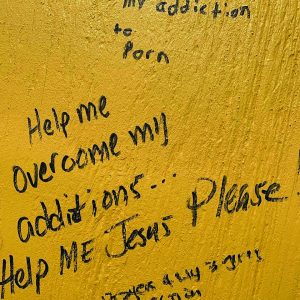 Then, in July, 2019, during a staff meeting, Pastor bared his heart about reaching people who can't attend church or are nervous about attending. A young woman tearfully asked, "What about putting up a place where people can come and bring their needs?" Recalling his trip to Israel, Pastor remembered people, including himself, placing their requests in the cracks or crevices of the Western Wall. The idea of the Prayer Wall was born, and the wall was in place by August 7th. Its promotion was called Meet Me at the Wall, with the word Prayer in cursive, and tee-shirts and other items promote the Prayer Wall.
The church has highway frontage, so Pastor Holley felt the wall should be visible. It stands 10 feet tall by 30 feet wide on each side of the 20 feet span of the church entrance. The frame is welded metal, inserted into the ground, where it can slide out in sections, and the sign itself is plywood, painted yellow. The legs of the sign fit into concrete receivers, buried 3 feet deep to secure the sign. It's considered a temporary sign and is movable, eliminating adherence to codes for a permanent fixture. People write their requests on the wall with sharpies from attached baskets, and the panels of the wall can be flipped over. Prayer requests have been in the hundreds! One woman told Pastor Holley it was wonderful just to stand at the wall and feel the presence of God. Another woman came and asked for prayer for her missing brother. Within an hour or so, after praying for her at the wall, her brother, who was very ill, woke up and told them his name and his sister's name. God made a way for her to tell him she loved him right before he died.
The Lord spoke to Bro. Holley about going live on Facebook regarding these prayer avenues available at their church. Pastor said, "That's not easy for me, because it's not my personality, but every Monday morning at 7 A.M. I go live, give a word of encouragement and pray. Just as Elijah spoke to the dry bones and the wind, we may not see it happening at the beginning, but as we obey God, he puts it all together."