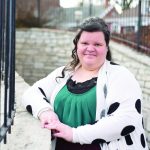 MK Ministries
Apostolic Pen Pals & Prayer Pals Wanted
"It's easy for missionary kids to become disconnected from American culture," said Sis. Melinda Poitras, who serves as MK Ministry secretary in St. Louis, Missouri. She works part-time at home for MK Ministries or from wherever the job sends her. She explained the need for the ministry in these words, "Many are just in need of someone to listen, to hear about their way of life, and to care about the ins and outs of it. MK Ministries is unique, because missionary kids themselves are unique. They each have their own upbringing and needs." It is those needs that MK Ministries is qualified to meet. "We often quote Psalm 127:3-5 to remind parents they aren't just homeschooling or changing diapers, but they are raising up weapons of warfare in the kingdom of God," said Sis. Poitras. "Their experiences, the opportunities, and the skills they acquire are valuable assets to God's kingdom and are often under attack from the enemy."
MK Ministries is a ministry under the umbrella of Global Missions and the UPCI. The ministry helps missionary kids (MKs) navigate the tides of change, transition and day-to-day life. Those near the same age are matched, like Sunday school kids with elementary-aged MKs, for example. There is a screening process involving questions and references; however, most importantly, all correspondence goes through the ministry or missionary parents.
When asked about her personal experience as a missionary kid, Sis. Poitras said, "As an MK,
I was privileged to travel and experience the world. However, with that wonderful exposure came trials, change and a host of hardships. Had it not been for the steadying hand of MK Ministries, I would not be in the church today. Honestly, I'm not sure I would be here at all."
MKs have other needs as well as communication with someone their age. Care packages are always a great way to show support and love and are always welcome. MK Ministries has a Pinterest page with great gift ideas. MK ministries is always in need of gift cards to be used for birthday and Christmas gifts. MK Retreat sponsorship is a blessing, as it allows MKs to return from the field and be ministered to in an environment tailored specifically for them. Sis. Poitras explained, "We use excess funding to make sure a team member is present for major life events when family and friends can't be there. We provide counseling where needed and reach out to MKs who are struggling on site, by going directly to where they are in person."
When people get in contact with MK Ministries regarding giving and how to give, they are connected to a specific family and their own unique needs. For more information, contact Sis. Poitras by email at Melindanicity@gmail.com.
by Linda Schreckenberg