By T. W. Barnes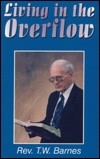 John 7: 37-38: In the last day, that great day of the feast, Jesus stood and cried, saying, If any man thirst, let him come unto me, and drink. He that believeth on me, as the scripture hath said, out of his belly shall flow rivers of living water"
One day I met a man on the street. He said to me, "Preacher, I am a sick man; when you pray, remember me."
I reached out and just shook his hand and said, "I will."
A few days later he hollered at me. "Come here! I want to tell you what happened when I shook hands with you. I had not slept for days. I went home. I was so sleepy I didn't even pull my clothes off; I just fell across the bed and slept for hours. I am well. Tell me, what came out of your hand when I shook hands with you in the street?"
I answered, "The Holy Ghost, the healer of every sickness."
Not only preachers, but church members can reach a place in prayer where these signs will follow them. Saints can become great soul winners. People will be healed and set free and demons will flee whenever a person becomes supercharged with an overflowing of the Holy Ghost. For years the Lord has been showing me different ways to attack Satan. Change the old saying a stitch in time saves nine to a prayer in time saves much trouble. We do not have to be stagnant Christians; we can be overflowing Christians.
Zechariah 10:1: Ask ye of the Lord rain in the time of the latter rain…and give them showers of rain… God said if we ask for rain, we will get rain. Revival can come to America. If the church prays (asks for rain), the church can have it. But the church must pray!
The Lord told Smith Wigglesworth, a great evangelist in the teens and twenties, to go to New Zealand. In May, 1922, he went. No churches sponsored him; he paid his own fare. Great revival came and multitudes were saved. Wherever he went some of the most amazing miracles happened. He would say, "The first cripple here that tries to get up will get up." Some of his workers said they would see someone just brought in and it seemed impossible for them to get up. As they struggled to stand, Wigglesworth would grab them. Before he finished praying with them, they would be running the aisles praising God.
Now, this isn't hard for God to do, but a secret, much prayer, lies behind it. Everybody, from the least child to the oldest member in the church can be a part of this.
Pastor H.V. Roberts wrote a book New Zealand's Greatest Revival in which he told about prayer meetings with Smith Wigglesworth:
"Eleven leading Christians prayed with our brother (Wigglesworth) at a special afternoon meeting. The evangelist Wigglesworth began to pray for dominion and as he continued the atmosphere became super charged by the power of God. Each of the others according to their measure of spirituality left the room.
"The author on hearing of this from one of those present registered a vow that if the opportunity came, he, at any rate, would remain whoever else went out.
"During the stay, great meetings were called to prayer for the other towns in New Zealand yet to be visited. A like position to the other meetings now arose. Here was an opportunity that challenged; the contest was on. A number prayed, then the old saint (Wigglesworth) began to lift up his voice and, strange as it may seem, the exodus began. A divine influence filled the place; the room became holy; the power of God began to feel like a heavy weight. With a set chin and a definite decision not to budge, the only other one now left in the room hanging on was me. Finally the pressure became great and I could stay no longer. When the flood gates of his soul poured out a stream of tears with uncontrollable sobbing, I had to get out or die. And a man who knew God as few do was left alone immersed in an atmosphere that few men could breathe in."
We have the baptism of the Holy Ghost and we, too, can become a prayer warrior like him. Prayer, real Holy Ghost praying was the secret of the great power released from this man. He prayed year in and year out until he learned how to pray in the Holy Ghost. The devil could not stay around him, nor could Christians who had not learned to walk in this heavenly realm. We who have prayed much for years can lay hold of the horns of the altar. God is calling us into a deeper, more powerful prayer life to bring revival.
John G. Lake, a great evangelist with a healing ministry in the 1900's, went to Africa in 1920 and established five hundred works. He had some of the most amazing miracles in the presence of medical doctors. One girl had a cone shaped skull. Doctors said her only hope was an operation to cut off some of the skull and graft bone. Lake prayed, and her head went back in place. He showed what the Holy Ghost can do if we walk in a life of prayer.
Lake wrote: "Government ships and corps of doctors came to help during that great plague. One of the doctors sent for me and asked, 'What have you been using to protect yourself? We have all these preventatives we use for protection. We concluded if a man could stay on the grounds as you have and keep ministering to the sick and burying the dead, you must have a secret. What is it?'
"And I answered, 'Brethren, that is the law of the spirit of life in Jesus Christ. I believe that just as long as I keep my soul in contact with the living God so that His Spirit is flowing into my soul and body that no germ will ever attach itself to me. For the Spirit of God will kill it.'
"They asked, 'Don't you think you should use our preventatives."
"I replied, 'No. But, doctor I think you would like to experiment with me. If you will go over to one of those dead people and take the foam that comes out of his mouth then put it under the microscope, you will see masses of living germs. You will find that they are alive until a reasonable time after a man is dead. You can fill my hand with them and I will keep it under the microscope and instead of these germs remaining alive they will die instantly.'
"They tried it and found it true. They questioned, 'What is that?'
"I replied, 'It is the law of the spirit of life in Christ Jesus. When a man's spirit and a man's body are filled with the blessed presence of God, it oozes out the pores of his skin and kills the germs. Suppose, on the other hand, my soul had been under the law of death and I were in fear and in darkness, the very opposite would have happened. The result would have been that my body would have absorbed the germs. These would have generated the disease and I would have died.'
The Holy Ghost inside us kills many germs and diseases we know nothing about. The Holy Ghost does a lot more killing when we are on fire with a real, genuine, burning prayer life.
Jesus talked about flowing wells, artesian wells. If we are overflowing Christians we will be able to help others. We receive the baptism of the Holy Ghost to be saved. A lot of people leave it there, but the Apostle Paul taught us to pray until filled with all the fullness of God. The apostles selected men full of the Holy Ghost to minister in the church–not just people who received the Holy Ghost, but those filled with all the fullness of the Holy Ghost–overflowing Christians.
In Matthew 16:8 Jesus said heal the sick, cleanse the leper, raise the dead, cast out devils: freely ye have received, freely give.
How can we get this power? How can we help others? Only one way–Pray, pray, pray.
Genesis 5:24: And Enoch walked with God: and he was not; for God took him. This man prayed every day. He walked and talked and prayed. One day he went out to his prayer place and kept walking with God. Perhaps the Lord said, "Let's just keep walking," and they walked right on into heaven.
In Genesis 32 we see prayer in action. An all night prayer meeting changed a man's name. Changed him from a weakling and a thief. The Bible said he received power from God. An all night prayer meeting brought an angel, changed his name, gave him power from God, and turned his enemy into a loving, hugging brother. A lot of enemies could be turned into friends through an all night prayer meeting.
Much prayer stores up power ready to be released. Faith pulls it out. Some have it stored in them, but faith must pull it out. Others don't have anything to pull out; they're just barely able to make it themselves. They pray for themselves all day and have the church pray for them. We need to learn to pray for other people.
Luke 6:19: And the whole multitude sought to touch him: for there went virtue out of him, and healed them all. They crowded around just to touch Him and virtue went out of Him. The International Bible Encyclopedia called it miraculous energy. Stored up energy!
No one ever prayed like Jesus. He didn't need to pray one prayer for Himself. He was God. All of His praying was to help others. He said in John 5:19: … The Son can do nothing of himself but what he seeth the Father do: for what things soever he doeth, these also doeth the Son likewise. Man can do nothing, but the one that lives on the inside, my Father, does all things. We pray to listen to Him. Prayer makes us sensitive to hear what the Spirit says.
This virtue, this miraculous energy stored up can be poured out wherever faith touches it, and it brings miracle healing. I've heard folks say the power of the Lord don't get in clothes, but we read in Matthew 9:21 where a lady said …if I may but touch his garment, I shall be whole. She said within herself (she prayed) if I can but touch the hem of his garment, this twelve years of misery will be over. This terrible bleeding and hurting day and night will be over if I can only touch Him. A supernatural healing virtue flows out of Him; I don't have to have His hand on me. If I can touch the hem of His garment I will be healed. She slips through the crowd, sticks out that bony finger and touches Him. Something hit her like a bolt of lightning as healing virtue flowed from Him and healed her.
Do you think that anybody who had any faith at all could take the robe of Jesus and put it on and not be healed? Faith can take healing right out of the hem of His garment. His clothes were full of light. His face shined as the sun. The power inside Him came out around His body and through His skin and caused his very garment to glisten.
With much prayer, this power can be in us until it glows out of us– not for our glory, but that we might have power to help others.
After Moses spent forty days in prayer on Mt. Sinai, his skin soaked up the power of God. We read in Exodus 34:29-33: …when Moses came down form mount S'inai…that Moses Wist not that the skin of his face shone while he talked with him. And when Aaron and all the children of Israel saw Moses, behold, the skin of his face shone: and they were afraid to come nigh him…and Moses talked with them. And afterward all the children of Israel came nigh: …and till Moses had done speaking with them, he put a vail on his face.
When we walk with Jesus we will absorb His glory and power. Someone else will then be blessed.
In Matthew 14:23 we learn that Jesus prayed alone all night before He walked on the water and calmed the raging storm. If we spent some nights in prayer and prayed as Jesus prayed we could speak to our raging storms and they would stop.
In Acts 3:1-6 we read about Peter and John going to the temple at the hour of prayer. This wasn't the first day they had prayed. They spent much time praying. They met a beggar, a cripple from his mother's womb who cried out for alms. Peter could have said, "Silver and gold have we none, but we've really been praying and we do have something to give you. Rise up and walk." What they had, came through prayer and listening to the Words of Jesus Christ.
Here is the secret–The disciples said in Acts 6:4: But we will give ourselves continually to prayer and to the ministry of the word. Peter gave himself continually to prayer and the multitudes came from everywhere to be healed. Acts 5:15: Insomuch that they brought forth the sick into the streets, and laid them on beds and couches, that at the least the shadow of Peter passing by might overshadow some of them. Because of his continually praying, his shadow became so charged with Holy Ghost power the crippled and sick were healed as he walked down the street and his shadow fell on them.
Where did this power come from? Great wisdom? No, he was just an old fisherman, never had too great a background, never went to Bible School, but he went to prayer school. He learned from Jesus. If we want to have something to give to people, we must pray!
Can the power of the Lord be stored up? Elisha had been dead a long time. His bones were in the tomb. Some fellows came by one day–robbers. They needed to bury a dead man quickly. They opened Elisha's tomb and threw him in. When the dead body hit the bones of that old dead prophet, it came back to life. Elisha lived a life of prayer and some of that power stayed in his bones. His bones had more power than some whole organizations.
Acts 19:11-12: And God wrought special miracles by the hand of Paul: So that from his body was brought unto the sick handkerchiefs or aprons, and the diseases departed from them, and the evil spirits went out of them.
Paul didn't have time to pray for so many so he sent his handkerchief. God's glory and power can be stored in a handkerchief and in aprons. The gospel Paul preached–Jesus Christ the same yesterday, today and forever–got into his handkerchief, and when diseases saw it, they fled. When demons saw it, they fled.
11 Corinthians 4:7: But we have this treasure in earthen vessels,that the excellency of the power may be of God, and not of us.
We have the eternal Spirit of God planted in our hearts, and, through prayer, the Holy Spirit dwelling within grows and grows and fills us with all the fullness of God.
1 Corinthians 6:19-20: What? know ye not that your body is the temple of the Holy Ghost which is in you, which ye have of God, and ye are not your own? For ye are bought with a price: therefore glorify God in your body, and in your spirit, which are God's.
Glorify God with your mouth, with your actions, with your flesh, with your clothes, with your hair, with your eyes. Somebody said the Lord looks only on the heart. He looks on the flesh, too. He put coats on Adam and Eve. He notices clothes. He notices hair. We are His temple.
If someone wrote all kinds of junk on our church and hung signs reading This is a honky-tonk, we would get angry and say, "They are not going to do this to our church house. This is where we meet and talk to God. We will arrest the last one of them and put them under the jail." This temple (our body) we carry the Holy Ghost in is far more sacred than a building. We are not our own. When God said dress as becometh saints, He meant it, and it is none of our business. If He wants women to let their hair grow out, that is His business, none of ours. If He wants us men to cut it, that is His business, none of ours. We are bought with a price, we are not our own. We belong to Him. When we learn that, we can start a prayer life like Smith Wigglesworth's, we can pray like men in the Bible, we can pray like the early church prayed– until the Holy ghost fills the whole place.
We may ask, "Oh, Lord, how can I stir myself up to pray and do the things that I know to do? It's not that I don't know it; it just seems I can't get into it. After a day or two, I get lazy."
Daniel said, "I set my face…" When he set his face, it was set. They told Daniel, "If you don't eat the king's meat and drink the king's wine, we may have to put you to death." But Daniel and the Hebrew boys just set their faces in prayer.
Then they said, "You can't pray any more; we have a decree and it is signed by the king and the lions are hungry–we've seen to that. Your praying is over."
But to Daniel, praying was the most important thing in his life. Though a great ruler, he could not stop his prayer life. He set his face and opened the window and prayed. They threw him into the den of lions. When the old lions faced Daniel, they lay down. They couldn't do a thing when they met a man that knew how to set his face and pray.
Beginning in Daniel 9:3 we read one of Daniel's prayers: And I set my face unto the Lord God, to seek by prayer and supplications, with fasting, and sackcloth, and ashes: and I prayed unto the Lord my God, and made my confession, and said, 0 Lord, the great and dreadful God, keeping the covenant and mercy to them that love him, and to them that keep his commandments; We have sinned, and committed iniquity, and have done wickedly, and have rebelled, even by departing from thy precepts and from thy judgments:… Daniel talked for his nation Babylon. He confessed we have sinned. Sin stops us from having a genuine old-fashioned prayer life and from being an overflowing Christian who can help others.
Daniel prayed on: Neither have we obeyed the voice of the Lord our God, to walk in his laws, which he set before us by his servants the prophets…we just haven't listened to the preachers; when they talked to us we just went our own way. And now, 0 Lord our God, that has brought thy people forth…with a mighty hand and hart gotten thee renown, as at this day; we have sinned, we have done wickedly…And on and on he prayed and he prayed until the 20th verse, A nd whiles I was speaking, and praying, and confessing my sin and the sin of my people Israel, and presenting my supplication before the Lord my God..Y ea, whiles I was speaking in prayer, even the man Gabriel, whom I had seen in the vision at the beginning, being caused to fly swiftly, touched me about the time of evening oblation. And he informed me, and talked with me, and said, 0 Daniel, I am now come forth to give thee skill and understanding. At the beginning of thy supplications the commandment came forth, and I am come to shew thee; for thou art greatly beloved: therefore understand the matter, and consider the vision.
This could have been an all night prayer meeting because Daniel did a lot of confessing of his and the nation's sins and weaknesses and faults and failures.
While I was praying–a man with his face set to pray through–while he was still talking about his failures before a Holy God, he looked and saw Gabriel being sent swiftly to answer his prayer. Oh, God help us to pray until we can repent of our sins, faults, and failures–so angels can come and our whole being will be charged with Holy Ghost fire. It will then emanate from us, reaching people in trouble.
After prayer and being in touch with the Lord, I went to see somebody who didn't believe this way. I didn't pray for him, I just shook hands with him on his sick bed. Later, he told me, "Something hit me when you shook hands with me. I began to get better right then." We have to be prayed up enough to overflow to do that.
Overflowing Christians. How? Prayer, much prayer. More prayer. Praying without ceasing. We do not have to be in the church praying all the time. We pray when we get up and we pray when we go to work and we pray silently on the job.
We just pray.
Trails run to a spring in the wilderness. The animals of the forest find it some way; the birds of the air find it; the little deer find it–everything finds the overflowing-artesian well. If we become an overflowing Christian, people will find us. Their spirit will tell them, "That person can say something that will save my life; that will turn me around."
The person who prays enough to be an overflowing Christian does not get lifted up and will not brag. He treats people with kindness and love, not with roughness and hardness. An overflowing Christian will not condemn or find fault. He will pray for people with faults and sins in their life. An overflowing Christian becomes a great soul winner.
An overflowing church with love and faith and hope will have revival.
Pray, pray, pray until you become an overflowing Christian.
The above article, "Overflowing Christians" was written by T. W. Barnes. The article was excerpted from chapter one in Barnes' book, Living in the Overflow.
The material is copyrighted and should not be reprinted under any other name or author. However, this material may be freely used for personal study or research purposes.