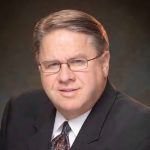 There are times in everyone's life when we need a listening ear and a caring heart. We need that confidential haven to retreat to and bare our souls. The ministry is no exception to the stresses and setbacks in life. In fact, these God-called caregivers also need care at some difficult times in their lives. Points Of Refuge is the ministry that provides gentle, wise encouragements and privacy in times of need to those who minister to others.
Through the burden of Bro. Ron Libby, Senior Pastor of Christian Life Center in Gaithersburg, Maryland and the General Board of the United Pentecostal Church, this area of need is being filled. The Points Of Refuge ministry will be available after the turn of the year to Pastors, Evangelists, Missionaries and to local Ministers within churches with their Pastor's permission. This ministry allows someone to come alongside the ministry during setbacks, difficulties and discouragements, providing a safe harbor and confidentiality.
Bro. Libby has almost 34 years of experience in counseling, ministering and developing church leadership. In 2006, as District Superintendent, his duties included counseling pastors and ministers with personal and church problems. Bro. Libby acknowledges that the complex culture in which we live is very stressful. He believes these stresses will only increase in time. Points Of Refuge provides a place where a minister can be open and transparent without being judged. Up to now the vast majority of caregivers in ministry have had no one to whom they could go. Bro. Libby noted in particular the portion of scripture in Acts 14:22, "….that we must through much tribulation enter into the kingdom of God."
Bro. Libby presented the idea of Points Of Refuge to the General Board at the Salt Lake City General Conference. The Board basically adopted his plan after considering the clarification of various issues. It was passed in 2007 and was launched at Conference this year. During the Ministers' Business Meeting there, Bro. Libby shared the story of his own need to confide in someone during setbacks in his life some time ago. When the ministers were asked if they too had needed someone to confide in, almost 80% raised their hands.
Bro. Libby is Chairman of the Committee of Points Of Refuge. Committee members include Bro. Brian Kinsey, Pastor of First Pentecostal Church in Pensacola, Florida, Bro. Terry Pugh, Pastor of First Pentecostal Church in Odessa, Texas, and Bro. Brent Coltharp, who Pastors First Apostolic Church in Aurora, Illinois. The Committee has gathered approximately 100 names of potential individuals to work in this ministry. These encouragers also include couples for pastors' wives and licensed counselors who have signed up.
Points Of Refuge is funded by offerings from individual Districts. Approximately nine thousand brochures, accompanied by letters, were mailed two weeks before Conference, and a video presentation was given before the Home Missions service. The next promotion will be to Pastors, Missionaries, and Evangelists with brochures and a list of contact names.
The website for Points Of Refuge, www.pointsofrefuge.org is coming January 12, 2009. Contact information is: Bro. R.E. Libby email: relibby@clceast.org  Office Ph. 301-926-3761 X 101  Bro. Brian Kinsey email: apostmin@aol.com Bro. Terry Pugh email: pugh54@aol.com and Bro. Brent Coltharp email: Coltharp@FACAurora.org