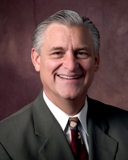 By David K. Bernard
And my speech and my preaching were not with persuasive words of human wisdom, but in demonstration of the Spirit and of power, that your faith should not be in the wisdom of men but in the power of God (I Corinthians 2:4-5).
Growing a church is a spiritual work. Therefore, the most important ingredient is not leadership principles, management techniques, or outreach methods, but the work of the Holy Spirit. It is possible to build a strong organization and attract many members by secular principles and methods, but if that were our only goal, we should start a sports franchise, organize an entertainment company, or join some historic denomination that owns great cathedrals and has millions of members. More than filling stadiums, our goal is to grow an apostolic church—called by the name of Jesus, filled with the Holy Spirit, and walking in holiness of life. Thus, from start to finish, we must rely upon God's direction and power.
Depending on the Spirit does not mean that we can ignore all other principles of church growth. We cannot do what only God can do, but God will not do what we can do. God has designed the church so that 1 lis power is necessary for growth but not sufficient in the absence of diligent effort on our part.
Our dependence upon the work of the Holy Spirit reminds us once again of the necessity of prayer. But we cannot measure the value of prayer simply by the number of hours that we pray. We must have effective prayer—and that occurs in the context of faith and expectation of the miraculous.
When Jesus gave the great commission, He specifically promised that miraculous power would accompany the preaching of the Word. The early church carried out His instructions to proclaim the gospel to everyone, and the Lord confirmed the Word with signs and wonders.
We find the account at the end of the Gospel of Mark: "And He said to them, 'Go into all the world and preach the gospel to every creature. He who believes and is baptized will be saved; but he who believe will be condemned. And these signs will follow those who believe: In My name they will cast out demons; they will speak with new tongues; they 'will take up serpents; and if they drink anything deadly, it will by no means hurt them; they will lay hands on the sick, and they will recover.' So then, after the Lord had spoken to them, He was received up into heaven, and sat down at the right hand of God. And they went out and preached everywhere, the Lord working with them and confirming the word through the accompanying signs. Amen" (Mark 16:15-20). (See also Hebrews 2:3-4.)
The Book of Acts documents the truth of this account. The preaching of the apostles was accompanied by casting out of demons, speaking in tongues, divine protection from accidental harm, and divine healing of the sick. And these miracles were instrumental in attracting multitudes and adding believers to the church. (See Acts 2:6; 3:11; 5:12-14; 8:6-8, 13; 14:3.)
Paul stated that his missionary ministry was accomplished "in mighty signs and wonders, by the power of the Spirit of God, so that from Jerusalem and round about to Illyricum I have fully preached the gospel of Christ" (Romans 15:19). The key to his ministerial success was not "persuasive words of human wisdom, but in demonstration of the Spirit and of power" (I Corinthians 2:4).
Paul listed nine supernatural gifts of the Spirit that assist in building up the church. "But the manifestation of the Spirit is given to each one for the profit of all": the word of wisdom, the word of knowledge, faith, gifts of healings, the working of miracles, prophecy, discerning of spirits, different kinds of tongues, and the interpretation of tongues (I Corinthians 12:7-10). It is God's will for these gifts to be manifested in every local body of believers until the second coming of Christ. (See I Corinthians 1:2, 7.) His Word admonishes us, "Pursue love, and desire spiritual gifts" (I Corinthians 14:1). (For further discussion, see Spiritual Gifts by David K. Bernard.)
We must always remember that "we do not wrestle against flesh and blood, but against principalities, against powers, against the rulers of the darkness of this age, against spiritual hosts of wickedness in the heavenly places" (Ephesians 6:12). Therefore, we need spiritual weapons, not merely human programs and methods.
Indeed II Corinthians 10:4-5 says, "The weapons of our warfare are not carnal but mighty in God for pulling down strongholds, casting down arguments and every high thing that exalts itself against the knowledge of God, bringing every thought into captivity to obedience of Christ." In this context, the strongholds are not physical locations or supernatural beings, bid they are located in the human mind and personality. To overcome them, we cannot rely on human planning, but we must have the strategy, power, and work of the Spirit of God.
CREATING AN ATMOSPHERE OF FAITH
In order for the Lord to work in our midst, we must develop an attitude of expectancy. God does not respond merely to need, but to faith. This truth is evident from the words of Jesus Himself:
"According to your faith let it be to you" (Matthew 9:29).
"If you can believe, all things are possible to him who believes" (Mark 9:23).
"And whatever things you ask in prayer, believing, you will receive" (Matthew 21:22).
Peter explained the role of faith in the healing of a lame man: "And His [Jesus'] name, through faith in His name, has made this man strong, whom you see and know. Yes, the faith which comes through Him has given him this perfect soundness in the presence of you all" (Acts 3:16). Here, we see that the key to experiencing God's miraculous work is to have faith in Jesus Christ. In its fullest sense, faith means trust in the Lord and reliance upon Him. Instead of depending upon our abilities, we must depend on God's. Instead of boasting of our qualifications or accomplishments, we must boast about the death, burial, and resurrection of Jesus Christ.
How do we create an atmosphere of faith? As we have discussed in previous chapters, prayer, preaching, and teaching are vital in this regard. In addition, praise and worship are also important in preparing a congregation for the work of the Spirit.
David described God as inhabiting the praises of His people Israel (Psalm 22:3). David's praise to God upon his harp dispelled an evil spirit that troubled King Saul (I Samuel 16:23). A musician's playing created an atmosphere in which "the hand of the LORD came upon" the prophet Elisha so that he received divine instruction in a crisis (II Kings 3:15). When King Jehoshaphat faced a great battle, he appointed singers to praise God in the beauty of holiness. As "they began to sing and to praise, the LORD set ambushes against the [enemy] . . . and they were defeated" (II Chronicles 20:22). When Paul and Silas prayed and sang praises to God, He delivered them from prison by an earthquake (Acts 16:25-26).
Clearly, worship invites the presence and miraculous work of the Lord. When the church gathers together, then, the leader of the service should foster praise and worship. From the very beginning, he should set a positive tone with stirring, energetic praise that focuses on the Lord. Worship can take many forms and have many expressions, but the worship leader should help the congregation implement two essential principles.
1. Seek the Lord sincerely, diligently, and wholeheartedly. The leader should conduct the service in such a way that people realize the importance of what they are doing. While worship is frequently joyous, there should always be a seriousness of purpose and an intensity of focus.
The people should understand that if they seek I,(11-(1 with all their heart, He will assuredly respond. "Without faith it is impossible to please Him, for he who comes to God must believe that He is, and that He is a rewarder of those who diligently seek Him" (Hebrews 11:6). "Serve Him with a loyal heart and with a willing mind; for the LORD searches all hearts and understands all the intent of the thoughts. If you seek Him, He will be found by you" (I Chronicles 28:9).
The first and greatest commandment is: "Hear, 0 Israel, the LORD our God, the LORD is one. And you shall love the LORD your God with all your heart, with all your soul, with all your mind, and with all your strength" (Mark 12:29-30). From this passage we see that worship should involve our emotions, our personality, our intellect, and our effort.
2. Worship Him with free and heartfelt expression. "God is Spirit, and those who worship Him must worship in spirit and truth" (John 4:24). Worshiping in spirit refers to the human spirit, including our innermost thoughts and feelings. In short, our worship should be deep, enthusiastic, and in accordance with the truth of God's Word.
The Bible admonishes, "Do not quench the Spirit" (I Thessalonians 5:19). We must let the Lord work as He wills. When He does, then we can expect great emotional and spiritual freedom. "Now the Lord is the Spirit; and where the Spirit of the Lord is, there is liberty" (II Corinthians 3:17).
As Pentecostals often emphasize, worship must go beyond preconception, ritual, and tradition and truly involve the heart. We should consider, however, that there can be Pentecostal rituals and traditions. For instance, some people use certain praise clichés without seriously considering their meaning. Others think that unless they or the congregation have worshiped in a certain physically demonstrative way, then there has not been deep worship or a great move of God.
These ideas are a hindrance to true worship and the freedom of the Spirit. Not every service will be the same, and not every individual will respond in the same way. Some may cry, some laugh, some dance, some leap, some fall on their face before God, and some may simply bask in His presence.
The worship leader's job is not to elicit a certain form of worship but to facilitate a move of God by encouraging people to worship freely and yield to the Spirit. He should not try to pump up the audience or become a cheerleader. Instead of coercing or rebuking, he should be a positive example of worship that can inspire others. Instead of pressing people to produce a certain response, he needs to create an atmosphere in which people feel free and safe to express themselves in their own way and therefore an atmosphere in which God can move according to Ills plan for the service.
From the Book of Psalms we see that biblical worship is both individual and corporate, that it is demonstrative, and that it encompasses a variety of expressions. "Praise the LORD! Praise God in His sanctuary; praise Him in His mighty firmament! Praise Him for His mighty acts; praise Him according to His excellent greatness! Praise Him with the sound of the trumpet; praise Him with the lute and harp! Praise Him with the timbrel and dance; praise Him with stringed instruments and flutes! Praise Him with loud cymbals; praise Him with clashing cymbals! Let everything that has breath praise the LORD. Praise the LORD!" (Psalm 150).
Personal testimonies can significantly add to or detract from the service. They provide a means for each person to participate and for the members of the body to minister to each other. (For an expression of these principles with regard to spiritual gifts, see I Corinthians 14:26-31.) To be effective, testimonies should focus on a great work God has done or an encouraging thought from God's Word. They should be brief, positive, uplifting, and uncontroversial. In some cases, it may be necessary for the leader of the service to select those who will testify or else diplomatically intervene if a testimony seems to head in the wrong direction.
The worship leader is a key person in helping to form a spiritual atmosphere in which the Lord can work freely. For each service at our church, the Leader has a brief outline and a selection of songs. He is free to vary from this list as the Lord leads, but He has a plan of action to ensure structure, purpose, mid smooth function. The following are guidelines for worship leaders in our church.
GUIDELINES FOR WORSHIP LEADERS
Move the service purposefully and progressively.
Make quick transitions; avoid dead time.
Avoid excessive speaking between elements of the service.
Give clear signals to the musicians at all times.
When leading songs, keep singing, especially during transitions.
Avoid having the people to stand excessively.
Testimonies should be quick and positive.
Soloists should testify only when asked.
Stay in the microphone.
Be time conscious. Check with the pastor on when he wants the service.
SPECIAL MEETINGS
Special evangelistic meetings are a good way to build faith. This type of service attracts visitors, gives members a reason to invite their friends and relatives, and creates great expectancy for a move of God. Other special events can do the same, including, gospel concerts, children's revivals, and services geared to special occasions such as Easter, Mother's Day, and Christmas.
A new church or a small church does not have to rely exclusively on its own ability to generate an atmosphere of faith. One of the many benefits of belonging to a fellowship of churches is having rallies, conferences, camps, seminars, and retreats that a local church cannot provide by itself. By participating in these meetings, people have the benefit of outstanding speakers, music, worship, and fellowship on a large scale.
Every year, many people from our church attend sectional rallies, men's conference, women's conference, youth conference, youth camp, and camp meeting. And every year, we have people to receive the Holy Ghost at them. In the early years of our church, these meetings were an important means of getting people filled with the Spirit. Now, however, the vast majority of our people receive the Holy Ghost in our local church. Nevertheless, there are always some whose faith rises to a new level at such a meeting. In recent years everyone we have brought to the district youth conference, women's conference, and men's conference who did not already have the Holy Ghost has received this gift. Such a great expectation has been created that it is fulfilled through the faith and prayer of the people.
Larger churches sometimes think that they can provide plenty of their own activities and so do not need sectional or district functions. However, if they do not participate, they miss the opportunity to be blessed, to be a blessing, and to be a positive influence for revival elsewhere. When we are kingdom minded, we will seek to promote church growth everywhere and in whatever way that we can, not just in our local church. And even the large church will benefit greatly by its participation. People will be healed, be delivered, receive special answers to prayer, receive confirmations, and rise to new heights of worship, faith, and commitment. For many of our people, these special events have proved to be a life-changing experience, significantly enhancing their spiritual contribution to our assembly.
SENSITIVITY TO THE SPIRIT
In addition to the work of the Holy Spirit in the congregation, the pastor and other leaders need the work of God in their lives and ministries. They should cultivate a personal sensitivity to the Holy Spirit.
Instead of developing clever, intricate, extrabiblical strategies for spiritual warfare and achievement, we must appropriate the victory Jesus has already won for us. Instead of trusting in our background, knowledge, or experience, we must rely upon the work of the Holy Spirit, the Spirit of the risen Lord. Instead of quenching the Spirit, we must yield to the
Relying on the Holy Spirit requires humility, brokeess, and yieldedness. Humility is vital in the exercise of all spiritual gifts and abilities. (See Romans 12:3-6.) "Yes, all of you be submissive to one another, and be clothed with humility, for 'God resists the proud, but gives grace to the humble.' Therefore humble yourselves under the mighty hand of God, that He may exalt you in due time" (I Peter 5:5-6). "The LORD is near to those who have a broken heart, and saves such as have a contrite spirit" (Psalm 34:18). "I beseech you therefore, brethren, by the mercies of God, that you present your bodies a living sacrifice, holy, acceptable to God, which is your reasonable service" (Romans 12:1).
Humility, brokenness, and yieldedness are important in all aspects of Christian life, but these attributes are particularly vital in allowing God's Spirit to work through us. We should be neither proud nor self-rejecting, but simply unconscious of self. We need a hunger for the things of God and a sincere love for the kingdom of God. We must repent of sin and pursue holiness, asking the Lord to reveal and remove secret impurities in our life. We should periodically evaluate and purge our motives. We should develop a habit of prayer and a continual attitude of prayer. Self-discipline and self-denial should become guiding principles of our life, and fasting is an important practice in this regard.
We cannot earn favors from God through spiritual efforts, but these attitudes and disciplines will help minimize worldly influences and maximize godly influences. As we lay aside selfish desires and fleshly lusts, we will become more sensitive and open to the things of God.
Learning to walk by faith and to yield to the Spirit is a process. We grow in grace and knowledge (II Peter 3:18). It is not difficult to allow God to work through us, but it does take mental, emotional, and spiritual adjustments. We must lay aside fear and doubt and let the Spirit flow through us.
As we learn to yield to the Spirit, it is important to act in faith. For example, we may feel a prompting to speak or pray with someone but not be sure it is from God. If what we are feeling is consistent with the Word of God and with the principle of love, then we should act on it. If the prompting is indeed from God, once we act we will feel a confirmation, and often we will see miraculous results. In the process, we learn to discern the leading of God's Spirit so that we will be more confident the next time it happens.
God "is able to do exceedingly abundantly above all that we ask or think, according to the power that works in us" (Ephesians 3:20). We who are filled with the Holy Spirit need to recognize the supernatural potential that rests in us and allow God's Spirit to flow through us. Our God is not distant; He is present in our lives with miraculous power. When we have the Holy Spirit, we have the author of all nine spiritual gifts resident within us, and He can activate: my that we need.
Let us exercise simple faith to receive God's miraculous gifts, and let us stir up the gifts He has already placed in our midst. Whenever needs arise, WP should believe His Word and believe that He can work through us. His power is at work "in us"; we must let it flow through us to meet the needs.
WISDOM AND LEADING OF THE SPIRIT
Spiritual leaders specifically need divine wisdom in making decisions and guiding people. They need divine leading in many situations.
In counseling and guiding people, I rely heavily upon James 1:5: "If any of you lacks wisdom, let him ask of God, who gives to all liberally and without reproach, and it will be given to him." When faced with a decision, a counseling session, or a problem, I have learned to go to the Lord in prayer. Sometimes I pray inwardly while dealing with a situation outwardly.
Several years ago, a man visited our church after noticing our sign as he drove by. He became very interested in the Lord and began to come regularly, but his wife was not interested. One day, the two of them came to me for counseling. His concern was that his wife did not want to attend church with him; he thought that she should follow his leadership. She said that it was fine for him to attend if he desired, but she was satisfied with her own religious tradition, did not particularly like our style of worship, and saw no reason to come regularly.
As usual, we had prayed at the beginning of our meeting, and I continued to seek the Lord mentally while we talked. The Lord must have prompted me to speak this point, for there was no objective reason for me to say what I did. I told the husband, "Of course, I want your wife to come to church with you. However, I think you should stop putting pressure on her. God is already dealing with her, and she has a hunger for Him. If we will leave her alone, God will ('raw her."
When I said this, the wife immediately began crying. She confessed that she was very dissatisfied with her spiritual life and that God had been dealing with her. Her husband stared at her in shock, for he had no inkling that she had any desire for God.
She began attending church regularly after that. Before long, the husband, the wife, and their teenage daughter all received the Holy Spirit. In fact, the wife and the daughter received the Spirit one night before the husband, whereupon the wife called to him as they left the service, "Come on, heathen! It's time to go home." She was definitely converted! This conversion did not come about by human wisdom but by the intervention of God.
One young woman who came to our church had I wen addicted to alcohol and drugs and had spent four years under psychiatric care. When she first came, she sat on the very back row in a corner and avoided contact with people. At the altar call, however, she moved closer to the front, evidently interested in what was taking place. I approached her and asked if she wanted to see what was happening. She said yes, so I approached her to the altar area. After a few minutes, I asked if she wanted what the people were experiencing. Again she said yes, so I suggested, "Let's pray." She replied, "I don't know how." I told her to listen to me as I prayed a prayer of repentance. Then I asked her to pray the same way in her own words.
Soon she was shaking under the power of God, but she could not seem to open her heart to receive the Holy Spirit. After a time of explanation and further prayer, I finally told her that she was at the point of receiving the Spirit; when she decided to move beyond fear and into faith, she would be filled. I stated that it could happen anywhere at any time—such as at night in her bedroom—whenever she opened her heart in faith and praise.
The next day on her job, she began to think about what I had said, and she made up her mind to receive the Holy Ghost. She took her midmorning break and went into the ladies' restroom, where there was a small couch and where she knew she would not be disturbed. She knelt down, opened her heart, and received the gift of the Holy Ghost right there. After all, I had said "anywhere"! The experience was so wonderful that, as she later reported to me, "At lunch, I went back to the same place and got it again!"
ANOINTING
In addition to divine wisdom, pastors and other leaders need divine anointing to do their work and accomplish their objectives. They should seek God for anointing to lead worship, preach, teach, pray with people, and operate gifts of the Spirit. In some situations, they need to exercise spiritual authority and claim divine intervention.
A woman came into our church with a glorious experience of receiving the Holy Spirit. However, her husband was quite hostile. He was tormented by evil spirits to the point that he had made cuts on his arms, legs, and hand and even contemplated suicide. Ironically, after reading a negative evaluation of the Pentecostal message by some evangelicals, he concluded that our church was a cult and wanted his family to have no part of it. He finally agreed, however, to meet me in my office to discuss matters.
In our meeting, he acknowledged that he was depressed, frustrated, and tormented, so I began to pray for the peace of God. Immediately, the Spirit of the Lord ministered to him, and by the end of our meeting his attitude had completely changed. He began attending church, but several weeks later at the end of a service I noticed him standing alone in a far corner of the sanctuary while everyone else was praying. He was obviously upset and troubled, so I went to him and began to talk. He was confused about what to believe, so I answered his questions and prayed with him. Again, the peace of God came upon him.
A few weeks later, he came to the front of the church to pray and began to repent. The power of God moved upon him greatly, but suddenly he stopped praying and erected a spiritual wall.
Nevertheless, we continued to lift him up in prayer. A few services later, the Spirit of God moved powerfully. The congregation worshiped with great freedom and demonstration, and several people began praying with this man. After an extended time of worship, I felt that I should preach for a short while, but I told those who were still seeking victory to go to the prayer room and continue praying. Two men took this man into the prayer room, where the Spirit of God came down in a mighty way. He fell to his knees under the power of God, lifted up his hands, was delivered from demonic forces, and instantly received the Holy Ghost.
The battle was not over, however. After a month, the pressures of life began closing in on him again, and I could tell that he was struggling. At the close of a service I went to pray with him, but he responded angrily, "I don't want to pray. In fact, I don't even believe your doctrine, because you think that everyone who does not speak in tongues is going to hell." I quietly answered that we did not try to judge the hearts of people, but we simply tried to follow the Scriptures. Moreover, he did not have to agree with everything we taught in order to come to church and be blessed of God. Indeed, I told him that the real issue at hand was not doctrine but struggles in his personal life and the attack of the devil. Eventually, he agreed to let me lay hands upon him and pray. When, his heart began to melt. I instructed several men to continue praying and talking with him until he opened his heart to the Lord again.
Some weeks later, we were in the midst of another exciting, demonstrative service when suddenly someone began to speak forcefully in tongues. The message was unusually anointed and powerful, and an interpretation soon followed. I was amazed and thrilled to see that the man who had experienced such a struggle was the one who gave the message in tongues. This miracle was a tremendous boost to his spiritual confidence. From that day forward, he had assurance that God loved him, accepted him, and would use him in His kingdom. By his own public testimony, he is no longer on psychiatric medication, "no longer crazy, and no longer psyched out," but zealous for God.
Sometimes, there is no substitute for a prayer of authority—not a self-proclaimed or self-generated authority but authority from God. Frequently, people face situations in which they need someone to take spiritual authority by a prayer of faith. As pastor, sometimes I feel led of the Spirit to pray for someone in an authoritative way—rebuking the attack of the devil, proclaiming deliverance, claiming healing, or claiming the outpouring of the Holy Spirit. Many times I have seen people instantly delivered, healed, or filled with the Holy Ghost as we prayed the prayer of faith. This work does not take place merely by our wishing it to happen or trying to make it happen by "confessing it," "naming and claiming it," or "speaking it." The unction must come from God, and the person must respond in faith. For instance, while Paul was preaching in Lystra, he noticed a lame man and called out to him, "Stand up straight on your feet" (Acts 14:10). Instantly the man was healed. Paul did not speak merely from a human whim, hope, desire, or plan, however. Rather, after "observing him intently and seeing that he had faith to be healed," he spoke with spiritual authority (Acts 14:9). And Paul's spiritual perception in this case was undoubtedly an impartation from God Himself.
EXPECTING THE MIRACULOUS
In short, to see apostolic church growth, we must cultivate an expectation of the miraculous. The leadership and the congregation need to believe that nothing is impossible with God. He can and will save people to the uttermost, regardless of background, past life of sin, evil habits, or addictions. He can heal all diseases, even when the doctor says there is no hope. He can salvage and restore marriages, even when the family counselor recommends divorce. When a church develops this expectation, they will see the Lord do amazing things. Their faith will grow as they see God's mighty works, and more faith will in turn lead to more miracles.
Our assembly has seen so many miraculous con-versions that they now believe literally anyone can be saved. People in our congregation have come to the Lord and received the Holy Spirit from a wide variety of religious backgrounds, including Protestant, Catholic, Mormon, Jehovah's Witnesses, Buddhist, Muslim, no religion, agnostic, and atheist. A variety of professions and occupations have been represented among our converts, including businessman, college professor, college student, computer programmer, construction worker, corporate executive, denominational preacher, engineer, housewife, lawyer, mechanic, prisoner, prison security chief, former prostitute, salesman, and unemployed homeless. In our church are people who formerly were involved in serious crimes, abortion, sexual promiscuity, witchcraft, adultery, homosexuality, alcohol addiction, drug addiction, and attempted suicide. Among our converts and members are some who grew up with little parental care, had half a dozen stepparents, were repeatedly abused sexually as children, were severely abused physically by a spouse, lived on the streets for a significant time, or were committed to a mental institution. Our congregation has included people from eighteen nations on five continents—Albania, Canada, Chile, El Salvador, Germany, Czech Republic, Haiti, India, Jamaica, Korea, Mexico, Nicaragua, Nigeria, Panama, Philippines, Poland, United Kingdom, and of course the United States. Marriages have been restored after adulterous affairs, and divorced couples have been reunited. We have literally seen God save people from all walks of life, from the up-and-outers to the down-and-outers. The following are some examples.
Salvation of an entire family. A woman received the Holy Ghost and was delivered from alcoholism. That same week her husband said he wanted a divorce, and her daughter attempted suicide. I told her to hold on to God, to pray for her family, and to believe God for a miracle. Over time, God worked miraculously in her family. Through much prayer and counsel, today the husband, wife, and children are all serving the Lord, and they have won others to the Lord also.
Salvation of a marriage. A young couple who were our converts came to a crisis in their marriage, with the husband on the verge of leaving his family. The wife called me in the middle of the night in desperation. I urged her to pray for God to intervene, and in the next few days I told her to bind together with family members and close friends to believe God for a miracle.
During that time, I met with the husband and counseled with him regarding his future. He had had a very difficult childhood and home life, he had developed detrimental patterns of behavior, and before coming to God the couple had begun their relationship on a faulty foundation amid much conflict. Through prayer and counsel from the Word of God, I showed him that it was not God's will for him to leave his wife. At this point, however, he said, "It would take a miracle to change my heart." I assured him that if he truly wanted to do God's will and would make the right choice, God would work a miracle, transform his emotions, and restore his feelings and relationship with his wife. For a few days, he weighed his decision, and those who knew the situation prayed intensely.
God did intervene in a miraculous way, breaking the man's spirit and bestowing great grace upon him. His relationship with God was fully restored, and so was his relationship with his wife. While counseling and communication were an important part of the restoration, the key was not human ability but the supernatural power of God.
Healing of digestive system. One Sunday night after church had begun, I received a message that one of our men had been rushed into emergency surgery, and the prognosis was not favorable. I turned over the service to our assistant pastor, asking him to lead a prayer meeting while my wife and I hurried to the hospital.
At the hospital, the surgeon explained that a blood clot had cut off circulation to the man's intestines and gangrene had already set in. His only hope was immediate surgery to take out ninety percent of his intestines. The doctor said the man had about a fifty-percent chance of surviving the operation, and if he lived, for the next week he would be at great risk of fatal infection. Moreover, he would have to be fed intravenously for the rest of his life.
The church continued to pray. As my wife and I prayed in the hospital room with the family, tongues and interpretation came forth. The message from God was one of assurance and victory.
The man survived the surgery and the subsequent week. The doctor later inserted a permanent feeding tube into a blood vessel so that the man could receive a costly liquid diet called TPN (total parenteral nutrition) for about twelve hours per day. He could eat some solid food but could not derive any nutritional value from it.
Some months later, an infection set in where the tube was attached, and the TPN had to be stopped until the infection could be cured. To the surprise of his doctor, the man continued to thrive without TPN, actually gaining weight. The doctor finally decided to discontinue the liquid nutrition altogether; and today, despite losing most of his digestive system, the man is completely sustained by solid food.
Healing after a brain tumor. A young couple came to our church off and on for several years. They had been baptized and had received the Spirit, but they did not remain faithful to church, and they had significant family difficulties. One day, however, they came with the report that their young daughter had a brain tumor. It had displaced part of her brain and was affecting her ability to walk. They began to seek God with all their heart, and the church began to pray for a miracle. The doctors performed surgery and removed the tumor but were concerned about a possible recurrence. Soon after the surgery, they conducted a brain scan. To their amazement, not only was there no new tumor, but the brain had almost immediately filled the space left by the old tumor—a medical miracle. The doctors reported that it appeared as if the girl had never had a tumor or surgery at all!
This healing proved to be a turning point in the life of the couple. Soon they were renewed in the Holy Ghost, and their daughter also received the Holy Ghost. Since that time, they have won eight adults to the Lord, and they are still witnessing to family and friends.
Healing after a gunshot wound to the brain. In a family who had visited our church, a teenage son attempted suicide by shooting himself in the forehead one night. His mother found him the next morning in bed, unconscious but alive. He was rushed to the hospital, where the doctor did not give much hope. The immediate concern was that the brain would swell, creating so much pressure that the boy would soon die.
Sure enough, the brain did swell until the doctor said that either he had to perform emergency surgery and remove part of the brain or else the boy would surely die. If he performed the surgery, however, the boy would have some permanent brain damage with unforeseeable consequences. After prayer and counsel, the mother decided not to risk the surgery but to leave the boy in the hands of God.
We called upon the church for concentrated prayer.
Soon, to the amazement of the doctors, the swelling began to subside, and the boy fully recovered, albeit with the loss of one eye where the bullet had entered. The doctors could not understand how he had survived because the pressure on the brain had been far more than enough to kill him, and it had remained for a significant amount of time. Finally, they concluded that the instrument used to measure the pressure must have been faulty. But we knew that it was a miracle for the boy to survive a close-range gunshot wound to the brain.
Summary. Miracles such as these have helped lead people to the Lord and establish them in the church. In addition, such miracles have inspired the entire congregation to believe for the supernatural intervention of God in their lives and the lives of others. And of course, they are eager to share their faith with family and friends, offering them hope for their own needs. In this way, miracles spur church growth, making an impact that extends far beyond the individuals who receive them.
As we discussed in chapter 3, in a new church or a new pastorate it will take time to mold the congregation so that there is a continual atmosphere of faith, worship, and revival. Yet this should be our goal, and it is a goal that we can and must achieve through persistent prayer, preaching and teaching, worship, and personal sensitivity to the Holy Spirit.
The supernatural work of God does not come by our pursuing miracles but by our pursuing a relationship with Him and trusting Him to supply every need. When we fulfill the greatest commandment of all—to worship and love God with all our being—then miracles will become a regular occurrence. At the same time, we also need to fulfill the second-greatest commandment, which is closely associated with the first: "You shall love your neighbor as yourself" (Mark 12:31). This commandment leads us to the sixth principle of church growth—personal care.
The above article "Power of The Spirit" is written by David K. Bernard. This article was excerpted from chapter five in Bernard's book Growing A Church.
The material is copyrighted and should not be repainted under any other name or author. However, this material may freely be used for personal study or purposes.