By Michelle Mihalakis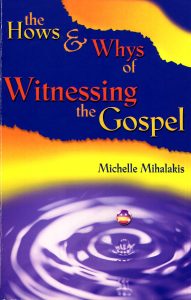 "I tell you, Nay: but, except ye repent, ye shall all likewise perish" (Luke 13:3).
It is interesting that the Bible states that lacking two things can cause people to perish. The word perish in Gesenius Lexicon to the Old Testament means to loose, to let go, to make naked. In Strong's Dictionary it means to destroy.
Jesus made the statement in Luke 13:3, "I tell you, Nay: but, except ye repent, ye shall all likewise perish." The book of wisdom tells us, "Where there is no vision, the people perish." (See Prov. 29:18.)
Lack of vision and repentance lead to the same demise. We will be destroyed, loosened from God, and stripped of His protective covering without them.
Repentance causes us to gain God's perspective. We cannot see clearly in the spirit realm unless we lead repentant lives. The Spirit of God continually holds a mirror up to our faces when we sin to let us know what the image of Jesus should resemble. Without repentance we will not have vision or the renewed growth in the revelation of who God is. If you feel you do have a vision, repentance will help you keep it.
There are two very small words in the English language, but they have tremendous impact if followed and observed. They are conditional before application, but afterward they are absolute in promise to the person who embraces them. The two words that help propel the gospel onward are go and if. We know we need to "go preach the gospel," but what about the word "if?"
There are several significant "ifs" in the Bible. One of them is when God spoke to Solomon after he was finished building the temple in 2 Chron. 7:13-14: "If I shut up heaven that there be no rain, or if command the locusts to devour the land, or if I send pestilence among my people; If my people, which are called by my name, shall humble themselves and pray, and seek my face, and turn from their wicked ways, then will I hear from heaven, and forgive their sin, and heal their land."
When we study the word if in the thirteenth verse where it's referring to God's "if," we'll find that it means behold. These scriptures are saying that God stands behind His Word. 'Whatever He says He will do, He will perform it!
Paradoxically, when it comes to the fourteenth verse referring to the "ifs" of mankind and his part in the agreement God has offered, the word denotes a conditional response.
If God sent three plagues on the earth, His people could stave back the wrath of God by doing three acts of obedience: Humble themselves, pray, and repent. This is what God was asking His people to do.
Jesus said in John 12:32, "And I, If I be lifted up from the earth, will draw all men unto me." Jesus is called the Savior of the world. He died for everyone, not just for some. The scripture tells me that if God's people will lift Him up, He would draw everyone to Himself I have to ask myself, Am I doing my best to lift Him up?
The words will draw in that scripture mean to wrap or to coil. "Wrap" is the same word that was used when referring to the burial wrapping that was applied to Jesus' body after He died. What Jesus was saying was He will cause all men to repent if His church will exalt Him. When Israel put God first and worshiped Him, they never lost a battle. We will win the battle over souls if we will worship and glorify God through witnessing the gospel.
There was a reason God wanted worshipers and laborers in the garden. The requirements that God is looking for when it comes to His bride have never changed. God has always known what He wants and His desires are as strong today as they were then.
When the church worships God at home and in the church services it sends out powerful transmitting signals: a global reach with a local touch. These signals are so powerful that they actually draw the lost from the streets into the house of God. This is why inner city churches give reports of people just walking in off the streets into their church services. The Spirit of God is drawing them via the worshiping of the saints. Nature or creation is an indicator of the spiritual state of man. The world is influenced by the actions of the body of Christ. All of creation follows the church. The church of the living God is the standard for the rest of creation. So if we fail to repent, they won't do it either.
There is an echelon of progression in the spirit realm. True worship brings about repentance. So if the church does not worship, the lost will not repent. Repentance leads to prayer. If the church does not pray, the lost will not pray either. Prayer leads to salvation. And if the church does not pray, the lost cannot be saved. Salvation leads to the evangelism of others. When we are not labourers of the harvest, we have not found our purpose with God. If the lost are not saved, they will never be soul winners and the church will have stunted growth. The subject of repentance is an important one for the church because it is a foundational key to the salvation and growth of the body.
According to Vine's Dictionary, the word repentance means to change one's mind or purpose. It also means consolation or comfort. One way or the other, we must be willing to die to win souls. If we do not die, they cannot live.
Jesus stated in John 12:24-25, "Verily, verily, I say unto you, Except a corn of wheat fall into the ground and die, it abideth alone: but if it die, it bringeth forth much fruit. He that loveth his life shall lose it; and he that hateth his life in this world shall keep it unto eternal life."
An unrepentant church will remain unfruitful. But if the body of Christ is willing to die, she will then birth many souls into the kingdom.
One can repent in the flesh. People do it every day. What about the person who doesn't care about God at all, but gives up smoking because he can see the benefits of quitting? He repented with his own will, not God's. What about the couple who cried out to God at the altar, but the minute their marriage was straightened out, they were gone? They could have repented for natural reasons, not spiritual. Repentance has to have a spiritual focus or reasoning, because anything less is not true repentance.
Jesus is referred to as the "Comforter." A sinner must first repent or die out to self before he can receive the Spirit of God. He has to be willing to part with his past treasures. When he does, the
Holy Ghost can come in and comfort him.
When someone truly repents a funeral occurs. The purpose of a funeral is to bring closure and expedite the healing process. Bereavement in the Encarta World English Dictionary means to deprive someone of a beloved person or treasured thing, especially through death. The purpose of any funeral is to offer comfort. Why would God send the comforter the minute we repent? Because the spirit of man has to be comforted before it can go on. The loss of self is so grievous that in order for us to go through the transition from the natural to the spiritual, we have to be comforted. Repentance starts in the mind like every process we undertake, but it ends with the comfort of God. What did we lose for God to comfort us? We lost our lives.
When we embark on a journey with Jesus, we desert our old identity and who we were. We abandon our playmate called sin. We live with the deficit of our natural old friends. We must learn to adapt to a whole new personage. A new and improved version! We become different and better in every way. For the natural man to enter into God's rest requires considerable change. The old man is merely a shell of what he once was. Our spirits must go through the mourning process to move along the corridors to newness of life. The Bible says in Matt. 5:4, "Blessed are they that mourn: for they shall be comforted." If you do not mourn, you will not be comforted. If you have not lost something, you will not find Jesus either. The redemption of mankind would have never happened unless Jesus was willing to die so that we could be comforted.
Jesus gave us a promise in John 14:18, "I will not leave you comfortless…" The whole process of grieving is painful, and there are a variety of emotions that one will go through before finding comfort. Anger is an emotion that's connected with the grieving process. The Bible says in Eph. 4:26-27, "Be ye angry, and sin not: let not the sun go down upon your wrath: Neither give place to the devil." Sin has a place, but it is not to be in the heart of a child of God. We are to hate sin to the point that we get angry at it and quit sinning. Have you ever been so aggravated because of a sin pattern that you just seethed at the thought of it; then you became angry enough that you yielded to the Spirit of God and quit doing it? We have to hate sin.
Our altar is in our heart. One time a preacher came to our church and spoke on winning the lost. One of his sermons was an excellent one on slothfulness. It affected me in such a way that I became aggravated so that the altar of my heart was affected. I needed by God's grace to do something about it!
We read in the Old Testament that when people grieved, they'd be so distraught that they'd cover themselves with sackcloth and ashes. They found sin disgusting to the point that they wanted to die. When we get to the point that we hate sin enough, we would die rather than keep it.
The church wants spiritual power today, but it first begins in bearing the fruit of the Spirit. We must be willing to trade the works of the flesh for the fruit of the Spirit. When we bear the fruit of the Spirit we can wear the holiness of God as a garment. The garment of holiness has one of the highest price tags in the clothes closet of the Almighty. To purchase this attire, we must continually die out to what we want and pay the price for what God wants to give us. True repentance leads to holiness, and holiness is powerful. But the power given by God comes only by living repentant lives. The Bible says in Romans 1:4, "And declared to be the Son of God with power, according to the spirit of holiness, by the resurrection from the dead." It is imperative that we are holy because He is holy.
In 1 Pet. 4:17, the Word of God says, "For the time is come that judgment must begin at the house of God: and if it first begin at us, what shall the end be of them that obey not the gospel of God?" The Bible also says that to whom much is given, much is required. There are costly requirements to be called a Christian. God requires various things at different times in our walk with Him. Some people quit walking with Him when they aren't willing to give up sin or go through whatever He requires. Trials sometimes come and are allowed by God because a particular area in our life does not add up to His Word. Maybe it's pride, unforgiveness, or rebellion to authority. If we have a weakness in our heart, God will work with us because He wants us to be like Him.
If you are going through a trial, stop and take note of the nature of the affliction. This may give you the key that will open the door to your understanding as to why you're going through it. Many times people misunderstand God's motives and they leave Him because they refused to die. Once people leave Him, they lose His comfort. I believe that some of the most miserable people on the face of the earth are those who are prodigals, miserably slopping the pigs.
What is stopping the world from being saved? First of all, they must repent. We need to pray for our cities and nation to repent. I know that before I ever came to God the process of repentance began to change my life. It changed me so that no one had to invite me to a Pentecostal service.
God invited me back ever before I stepped foot in the church again. My accepting His personal invitation penned on my heart required that I take the first step of repentance. The greater the manifestation of true repentance in one's life, the more he or she will feel the desire to be saved. God alone drew me to Himself that day.
Here lies the mercy and compassion of almighty God. A year or so after Henry died my search for Him continued, but it was during this time that God sent someone to me.
Many years ago God called a man by the name of Bob Blackman to the city of Dubuque to start a church. The congregation that he founded in my community tried to witness to people, but with few results. In fact, they were made fun of for their efforts to promote the gospel of Jesus Christ.
One day they decided to try one last evangelistic thrust in an area called the Flats. The Flats was a piece of urban puzzle located between the railroad tracks and the Mississippi River. The local slaughterhouse and the A.Y. McDonald Foundry bordered the south and north sides, respectively. The Flats was considered a poor and rough neighborhood. It was where the first immigrants settled, including my grandfather who came from the island of Crete.
Rev. Bob Blackman and another man, Matthew Osterkamp knocked on doors in my neighborhood. To their delight, there were many parents who wanted to send their children to church. The families of the Flats were large ones: the Miller's had sixteen children; the Ward's had nine. My father and his brother each had nine. So the idea of finding a good baby sitter was probably a dream come true for many mothers in the neighborhood. My next door neighbor Jean went first, and later my parents let me go to church.
I will never forget what I felt there. I felt the love of God. Sitting in church would have paled in comparison next to sandlot baseball, riding logs across the Mississippi, fishing balls out of the B Branch Sewer every time it rained, and catching mice and snakes at A.Y. McDonald's foundry dump. But there was something in the Pentecostal services that I had never experienced in all of my four years of life or after. Nothing could erase from memory's slate what I had felt. The lost element in my life was the Spirit of almighty God.
I remember going to the altar to seek for the Holy Ghost. I knew that the Holy Ghost was real and I wanted it! We weren't allowed to go to church very long, but I could not and did not forget what I had learned or experienced.
After my father's business grew, we moved out of the Flats into a new home north of town on the River. My venue changed, but the Spirit of God kept dealing with me.
I played competitive sports later in my teen years. As I would run out to the infield, the Spirit of God would deal with me. I would say to myself, "God is coming back and I'm playing a game."
Because of the peer pressure of being a sports star, I could not make the Christian transition then, but I knew if God would allot the time for me, I would go back.
After I graduated from high school, I would go to bars. On occasion, I would find myself in a religious discussion. I would always say, "I don't know much about religion, but I can tell you this: that Jesus and God are one."
Before I ever stepped foot back into a Pentecostal church, God was dealing with me to repent. I couldn't tell you why I wanted to change my life for the better, but that is what God did for me. It wasn't until later that God revealed to me that repentance had begun in my life years before I went back to church. When I was ready, God was waiting.
I grew very tired of the same things in life and couldn't fill the void in my spirit no matter how hard I tried. I could see the vanity of life; that there was an end coming; and I did not know God. I still wanted the Holy Ghost.
I drove to my old neighbor's house in the Flats and knocked on her door. I said, "Dorothy, guess where I would like to go tonight?" She responded with, "Where?" I said, "I want to go to church with you!" She was thrilled! I also gave her very specific instructions before we went that we were going to sit in the back, and no matter what everybody else did, she was to stay seated next to me.
Needless to say I was embraced with open arms. I was baptized a short while later, and just before Christmas, 1979, I received the Holy Ghost with the evidence of speaking in other tongues. The night I received the Spirit of God, I worshiped the Lord into the night and marveled at the firsthand experience I had with Jesus Christ! My life has never been the same since.
You truly do keep falling in love with Him over and over again! If someone truly wants to know about God, He will send someone to them. He will be found. You can be certain of that!
Old Testament prophets would go to a town or a specific individual, and tell them to repent. One of the missions of the prophets was to persuade people to repent. John the Baptist told the people of his day to repent. The prophets have always been the forerunners of the Word of God. It takes repentance to cause a man to die so he can receive the Word. Repentance ushers in the Word of God. If the heart is not cleared of all sin and worldliness, God's Word finds no dwelling place there; sin has taken up all the room.
In Luke 13:34, Jesus spoke about the sentence placed on His prophets by Israel. "0 Jerusalem, Jerusalem, which killest the prophets, and stonest them that are sent unto thee; how often would
I have gathered thy children together, as a hen doth gather her brood under her wings, and ye would not." God wanted to comfort Israel under His wings, but she wouldn't allow Him to do it.
He could not comfort Israel because she would not repent. God tried to usher in His Word that would change her, but she wouldn't even allow the Word of God to speak because she snuffed out the voice of the prophets.
We will never know what could have happened if Eve had not eaten of the wrong tree, or where Israel would be in the plan of God if she would have repented. Maybe God would have given her the Holy Ghost? We will never know.
God has many secrets, but I believe there is one that is locked up in the deepest vault of heaven. The secret is when a very special wedding will take place. The secret contains the information when Jesus will return for His bride.
Why is it such a big secret, or maybe the biggest secret of all time? In Mark 13:32 Jesus speaks about this big hidden moment. "But of that day and that hour knoweth no man, no, not the angels which are in heaven, neither the Son, but the Father."
Why would God hide the time element of the hour or day when the Son of man will come, so that not even Jesus Christ, the Messiah knew it? Because it is the prerequisite of a Savior to not know the hour or the day.
1 Thess. 4:16-17 says, "For the Lord himself shall descend from heaven with a shout, with the voice of the archangel, and with the trump of God: and the dead in Christ shall rise first: Then we which are alive and remain shall be caught up together with them in the clouds, to meet the Lord in the air: and so shall we ever be with the Lord. Wherefore comfort one another with these words."
Paul wrote in Romans 8:19-23 how all of creation is waiting for the moment when Gabriel sounds the trumpet. Creation groans in pain waiting for that one day in the time period of man's existence that will end God's search for His bride. So why couldn't Jesus know the hour or the day of the coming of the Son of man?
In our humanness we cannot know the hour or the day. That is why Jesus, God manifested in flesh, could not know it either. Otherwise He couldn't have felt what we feel. If Jesus had known the hour or the day, He couldn't have been the Savior. If Jesus would have known the hour or the day, He couldn't have groaned or travailed in the Spirit. He wouldn't have lived to make intercession for us. God manifested in the flesh could never have felt the misery all of creation feels because He would have known the hour or the day. Mankind and creation groan and travail because of the wait, because of the fallen nature of man, because of never knowing when He will come. The one little secret that every saint of God waits for, whether he or she is dead or alive, is when Jesus will return.
The most comforting words you can give to someone who loves God is that He is coming back again to take His people home! The Bible tells us to comfort one another with those words! Why would these particular words comfort someone in need? Because when Jesus comes He will wipe away every tear and the struggle of life will end for those who make the rapture.
The only comfort this world can find is through Jesus Christ. When we embrace Him, we have His peace and comfort. If we reject Him, we are comfortless. All of mankind is looking for comfort, and the church must share with them where misery ends and comfort begins. The venue is Jesus Christ. He is the Alpha and the Omega. It is all in Him. We are complete in Him who is the Head of all principalities and power. When you find Jesus you find it all.
Why the trumpet? Only those who've made themselves ready will hear the distinct sound. Are you ready? Is He everything to you? Have you told as many as you can that a special wedding is about to begin?
The above article, "Repentance" was written by Michelle Mihalakis. The article was excerpted from chapter twelve in Mihalakis' book, The Hows & Whys of Witnessing the Gospel.
The material is copyrighted and should not be reprinted under any other name or author. However, this material may be freely used for personal study or research purposes.