This suggests a temple scene, for the word is connected primarily with the worship of God. Set right in relation to God's law and born again to a new life, the person is henceforth dedicated to the service of God. Bought with a price, he is no longer his own; he departs not from the temple (figuratively speaking) but serves God day and night (Luke 2:37). He is sanctified by God and self-given to God.

By Ralph Vincent Reynolds
To View the Entire Article, Click Here
To Download the Entire Article, Outline, or PowerPoint, Click Here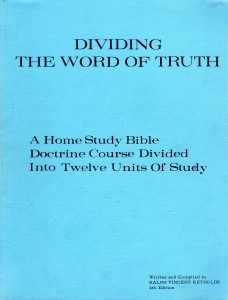 SALVATION: This great word, "SALVATION", is the theme of the whole Bible, and the theme of every gospel sermon. The great hymns of the church sing of the great salvation wrought by Jesus Christ.
We would like to quote Schofield in his note on Romans 1:16 ‑
"The Hebrew and Greek words for salvation imply the ideas of deliverance, safety, preservation, healing and soundness.  Salvation is the great inclusive word of the gospel, gathering into itself all the redemptive acts and processes; as justification, redemption, grace, propitiation, imputation, forgiveness, sanctification, and glorification."
SALVATION RECEIVED: In the last unit we studied God's part in providing salvation; in this unit we shall study man's part in receiving salvation. What God did for man in providing salvation is found in the four Gospels; what man has to do to receive this is found in the book of Acts. It took death, burial, and resurrection on the part of Christ to provide salvation; man has to be identified with Christ in death, burial, and resurrection to enter into full salvation.
SALVATION IS FROM JESUS CHRIST ALONE:
(i) As soon as man sinned God announced His great plan of Salvation.
(ii) Jesus came to seek and save the lost (Luke 19:10), (Genisis 3:15).
(iii) It is a gift from God (Romans 6:23).
(iv) There is salvation in no other (Acts 4:12).
SALVATION IS OBTAINED BY GRACE AND NOT BY WORKS:
(i) Not by law (Romans 10:2-4).
(ii) Not by works (Ephesians 2:8-10).
SALVATION IS FOR THE WHOLE MAN: It is not merely forgiveness of sins and justification, but it includes cleansing, keeping, regeneration, bodily healing, future resurrection, and glorification. Salvation includes the following:
(i) Jesus bore our sicknesses (Matthew 8:17).
(ii) Redemption of the body (Romans 8:19-23).
(iii) Cure lifted from the earth (Isaiah 11:6-9).
SALVATION IS IN THREE TENSES: PAST, PRESENT, FUTURE:
(i) We have been saved from the guilt and penalty of sin.
Ephesians 1:7 "In whom we have redemption through his blood the forgiveness of sins, according to the riches of his grace."
Titus 3:5 "According to his mercy he saved us."
Ephesians 2:8 "For by grace are ye saved through faith.
(ii) We are being saved from the habit, power, and dominion of sin.
Romans 6:14″ Sin shall not have dominion over you. "
Phil. 2:12-13 "Work out your own salvation with fear and trembling."
2 Cor. 3:18 "Are changed into the same image from glory to glory."
To View the Entire Article, Click Here
To Download the Entire Article, Outline, or PowerPoint, Click Here