By Nathaniel J. Wilson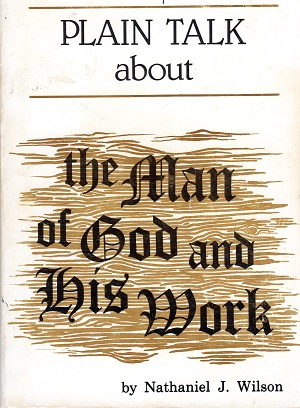 John 17:18
"As thou has sent me into the world, even so have I also sent them into the world."
The carnal person in leadership constantly finds himself comparing himself to others. The Bible teaches us this is unwise. "Emulations" is spoken of in Scripture as a work of the flesh and something to be avoided. Since this is true, then to whom should we look to as our ministerial example? The answer is Jesus Christ. While this on the surface may appear overly idealistic, it is not. Christ Himself says we are sent as He is sent. So let us see how we are sent as He is sent.
The entire seventeenth chapter of John is a very revealing portion of Scripture for the God-called minister. It reveals Christ in His humanity communing with divinity. It reveals the minister communing with God who has called him to minister. It is an example for ministers in their relationship with Jesus Christ.
This prayer reveals to us the things that the Perfect Minister of all times felt were most important. In this deep revelation of the inward feelings of Christ's personal relationship as a responsible steward to the Father, we gain insight into a true minister's most important discussions with his God.
Many people have used this particular chapter in John to encourage ecumenicism in the religious world. Others have used it to show God's inward desire to make the whole world one with the "Fatherhood of God and the brotherhood of man." However, this is not even close to what is actually revealed in this chapter. This chapter reveals to us that every man of God comes to a point in time in which he will be held accountable for his area of responsibility.
John 17 is actually a very intimate and personal picture of the man Christ Jesus giving a report of accountability. He is accounting for the carrying out of His duties upon the earth. It is as though the man, Christ Jesus is saying, "I have successfully carried out the job that you sent me to do." Note John 17: 6, 7, 8.
"I have manifested thy name unto the men which thou gayest me out of the world: thine they were, and thou gayest them me; and they have kept thy word.
(7) Now they have known that all things whatsoever thou hast given me are of thee.
(8) For I have given unto them the words which thou gayest me; and they have received them and have known surely that I came out from thee, and they have believed that thou didst send me."
Now that I have effectively carried out the job that I was sent to do, now that I have finished the work which thou gavest me to do (verse 5) "Now, 0 Father, glorify thou me with thine own self with the glory which I had with thee before the world was."
Here is Christ giving us an example of the yearning of a true minister of God to complete effectively the cause for the prize that is set before him at the end of the journey. He is also revealing to us that all of us will have to give a personal account of what we personally did with that ability, call, and equipment to accomplish the purposes of the will of God.
In verse 9, through the remainder of the chapter, Christ makes an impassioned plea for the safety and direction of those whom He has left on earth to continue to carry out the work of God.
Why did not Christ, in this very important time of prayer, pray for the salvation of the world? Why did He spend this time giving us this kind of revelation of His inward feelings rather than asking for the souls of the entire earth? It is evident that He did not pray for the world. He says in verse 9, "I pray not for the world…" But, instead, He prays almost the entire prayer for those whom He has left here to carry on His ministry. He is praying for the leadership of the kingdom that He is about to establish after His death, burial, resurrection and ascension. He is praying that they might have the glory and power necessary to carry on the work that has begun. He prays that as He was the visible representation of the Father, so these men of God, these followers of His, may be the visible representation of Himself.
Verse 18 is a very important and critical verse in this chapter. In this verse Jesus gives us a revelation of His attitude towards those disciples whom He had left to carry out His work. Here we can see into the mind of Christ. We can see what He considers when He thinks of a man of God and His calling. Here He says, "As thou hast sent me into the world, even so have I also sent them into the world." This revelation of the mind of Christ that we are sent into this world to minister in our respective positions exactly as He was sent into the world to minister is a profound and important truth. Do not confuse the truth of this statement with the degree of our call. In other worlds, this is not to imply that we are called to do the same degree and accomplishment that He was called to do, for obviously no one except the sinless Christ could do that. However, this verse is telling us that as He was sent into the world to carry out the perfect will of God, that is, the specific job description for Himself that was His and His alone, even so are we sent into the world in the exact same way. Even as He was a visible representation of the Father, so we are to be the visible representative of Christ.
How did Jesus minister in this world? If we can find the answer to this question, then we will know how to minister in this world.
Matthew 5:6 and 7 gives us the longest recorded teaching of Jesus Christ. It is generally called the Sermon on the Mount and covers many of the great truths by which His spiritual kingdom will operate. At the close of this discourse, there is a very interesting and powerful statement concerning Jesus in chapter 7 of Matthew verses 28 and 29.
"And it came to pass when Jesus had ended these sayings, the people were astonished at his doctrine:
(29) For he taught them as one having authority, and not as the scribes."
The atmosphere in Jesus' "classes" was not the same as is found in a typical college classroom. His teaching was not "academic" in the sense that we think of academics. He seldom, if ever, quoted any great writers other than Scripture. In His teachings there was not the light banter such as, "Well, so and so sees it this way and on the other side, the other school of thought sees it this way, and here is another philosophy that is important to consider before we bring a summation of our feelings on the subject…" When Jesus taught, He did so with authority. Mark 1:22,
"And they were astonished at his doctrine: for he taught them as one that had authority, and not as the scribes." (underlining the authors)
Why was Christ, as a teacher, able to speak with such authority and power? It is because He had already settled the questions and found the answers concerning the nature of God's will, and His own identity, and concerning the will of God for His ministry.
You will remember that earlier we spoke of the"Ferreting out" process that it appears took place during Christ's temptation alone on the Mount. We saw that He went into that period of time in His life regarded as a little-known son of a commoner. But He came out entirely different. In fact, there are few places in Scripture that give us a more explicit detailed picture of Jesus' every move and activity than does the Scripture which reveals His action immediately after coming out of the temptation. This account is recorded in Luke, chapter 4, verses 16 through 30. It's well worth the time it takes to stop here and read it. He comes straight back to Nazareth and upon arriving, as His custom was, He went to the synagogue on the Sabbath Day and stood up to read. Someone brought to Him the book of Isaiah and He looked in the book until He found the place where it was written,"The spirit of the Lord is upon me because he hath anointed me to preach the gospel to the poor: He has sent me to heal the broken hearted, to preach deliverance to the captives, and recovering of sight to the blind, to set at liberty them that are bruised, to preach the acceptable year of the Lord."
Then He closed the book, gave it again to the minister and sat down. Then the Scripture records, "And the eyes of all of them that were in the synagogue were fastened on Him." And He began to say unto them, "This day is the scripture fulfilled in your ears." The Bible then reveals to us the deep wonder with which the people looked upon Him. Not only is it evident that they were filled with wonder at the gracious word which proceeded out of His mouth, but also they were filled with wonder because they understood these scriptures to be speaking of the Messiah. Their shock was multiplied when after reading the scripture, He revealed that He felt that the scriptures were speaking of Himself.
Notice the clear-cut picture. Immediately after coming out of the temptation, Christ went back to the place of His upbringing and revealed to them that, rather than being the son of Joseph, the carpenter, He is the one of whom all the Old Testament Scriptures have spoken. He is the Messiah for whom the Jewish nation has longed. He has come to do a specific work at this time. He is to effect the reconciling of God's people back to their proper relationship with God Himself. His listeners were staggered. They were shocked. They could not accept the fact that He was the Messiah. They choked on it. They rejected it. This is the first place that we see why it was so important that He know His calling. Because, while many others rejected His commission, He had to KNOW He was commissioned to be what He said He was.
You may wonder, "What does this have to do with Me?" Just this. As He was sent, so are we sent. The individual man of God must have a clear-cut understanding of who he is and what his specific job is. This is imperative. God has a specific will for every man of God. There may be phases in a man's ministry and its emphasis may shift from time to time, but God will lead the man as long as his ministry is anchored in a deep initial consecration and revelation of God's call on his life. No amount of training will take the place of this. No amount of schooling will supplant this need. No degree of "apostolic heritage" will be able to replace this. Someone else's successful experience will not do the job for you. Every man of God must get it for himself. There must be that time in which there is a deep acknowledgement and understanding that you are called of God—that you are "sanctified," (Verse 17) or "set apart" to this specific work of God in your life. Christ was obsessed with it. So is the Apostolic man of God. It's like "fire shut up in my bones," says the prophet. While others may go their way and seem to be involved in many things that you would also enjoy, you must always judge all things in which you become involved against the fact of your calling and what this involvement will do to that calling. The calling becomes so completely first in your life that, without question, nothing else is even considered in the same classification. The will of God becomes all in all.
If God called you, you need not be afraid of whether or not you are capable of doing the task; you are! As long as a man maintains his integrity with God and is careful not to violate the principles of the will of God, nor become discouraged by surrounding circumstances or facts, but instead will place his trust and faith in God, knowing that God will see him though, then all will eventually turn out satisfactorily. The real truth of the matter is that God fully equips His called servants to do the job to which they have been called. Christ states unequivocally, "Behold I give unto you power to tread on serpents and scorpions, and over all the power of the enemy: and nothing shall by any means hurt you" Luke 10:19.
Ephesians the fourth chapter verses 8 and 11 states:
"Wherefore, he saith, When he ascended up on high, he led captivity captive, and gave gifts unto men.
(11) And he gave some, apostles; and some, prophets; and some, evangelists; and some, pastors and teachers."
Many interpret this Scripture to mean that He gave "gifts unto men," meaning He gave gifts to the Church of apostles, prophets, evangelists, pastors and teachers. However, while this is true, it is also true that He gave gifts unto MEN. He literally gave to men particular gifts of leadership. This is how He gives men the ability to lead His flock. He makes people want to follow them, as sheep naturally follow a shepherd. He has ordained that His body, the Church, should move forward in progress and faith. He gives special "equipment" to His men to carry out the specific jobs that He has called them to do. Whom He calls He sufficiently equips.
The fears that a man of God has in carrying out the will of God in our day is certainly not new. Long ago in the seventh Century B.C., God called Jeremiah. After being called, Jeremiah expressed to the Lord his fears and feelings of total inadequacy to do the job to which he was called. In chapter 1, verse 6, Jeremiah said, "Then said I, Ah, Lord God! Behold, I cannot speak: for I am a child." God would not accept this and gave to Jeremiah a promise and rebuke simultaneously when He said in reply to the prophet,
Here, in no uncertain terms, God explains to Jeremiah that whom He calls He equips. It is not guess work. There is no "hope-so." If God has called you to preach His gospel, and minister to His Church, and teach His Word, then you can rest absolutely assured that you have the power to do it. Do not be afraid. Do not be hesitant and stumbling. Do not be apologetic. Don't make excuses. Preach, man, Preach! Preach and act in love and apostolic boldness and trust God for the results. Preach in the morning. Preach at night. Preach to the few. Preach to the multitude. Refuse to be silenced; or cowed, or tough. You are trumpeting the message of Heaven's king—so preach!
When God called Ezekiel to do a job, He encouraged Ezekiel by using even stronger language than He did with Jeremiah. God said, "Behold, I have made thy face strong against their faces, and the forehead strong against their foreheads. As an adamant harder than flint have I made thy forehead; fear them not, neither be dismayed at their looks, though they be a rebellious house."
God equips the man of God with a hard head! And, believe me, before it's over, you'll need it! Ten thousand things will try to discourage, or tempt, or seduce, or bribe—but the man of God goes resolutely on. Just remember, keep a hard head, but a soft heart. For if the locations of hardness and softness are ever reversed in you, compromise (from a soft head) and bitterness (from a hard heart) will become your constant companions.
Another of the gifts that God has given to His ministry is the gift of authority. We will be discussing this later in detail. However, it is important that it also be mentioned at this point. God's Word is replete with Scriptures that not only encourage, but demand that the man of God take authority in his work. In his first book, the Apostle Peter, in chapter 5, verse 2, instructs us, "Feed the flock of God which is among you, taking the oversight thereof, not by constraint, but willingly; not for filthy lucre, but of a ready mind." Oversight means the "superintendence of." And then to Titus, the young preacher, the apostle Paul, the seasoned minister, writes, "For this cause left I thee in Crete, that thou should set in order the things that are wanting, and ordain elders in every city, as I have appointed thee."
Here Paul points out clearly to the young man of God, Titus that his overall perspective of his work to be done on the island of Crete is to "set in order the things that are wanting or lacking." In other words, take the oversight, the superintendence of the work and do whatever needs to be done for the work to go forward. Promote whatever needs to be promoted, remove whatever needs to be removed. Rebuke whoever needs to be rebuked, encourage and exhort whoever needs to be motivated, and do it with all authority. We cannot overemphasize the command of Paul to Titus to "set in order that things that are wanting." Man of Got if that church you pastor needs setting in order—God sent you there to do it —and to do it with the least necessary damage. The foolish cannot do it. The frivolous cannot do it. Those who have never progressed beyond the fear of man's faces cannot do it. The carnal cannot do it. Those without a real burden and love for people cannot do it. But an Apostolic man of God can do it!
Since then, many have asked, "What is the secret to church growth?" First, let me say that I am certain that there are others who know much more than I do. I have learned much from observing others. I would offer this. DON'T MAKE DUMB MISTAKES! Most of these kind of mistakes are the result of carelessness and lack of alertness. There's no way to be mentally and spiritually lazy and still expect to be a good pastor. A man simply cannot make many serious mistakes of this nature without noticeable harm being done. That may sound "scary" at first, but it's true nevertheless. We are not in a guessing business. The man of God must KNOW what he is doing.
Pray through every decision of any consequence. Pray it through. Think it through. Meditate on it. Sleep on it. Do it again. Make sure. Make sure. On every decision, make sure. Only the mind of Christ can pastor a church. You're not smart enough. Implore God to show you the way He sees that particular problem. No action on your part is oftentimes best—until you're as sure as possible.
Next, you must pray and fast. No one is spiritual enough to have the mind of Christ in decision-making and direction-giving who does not pray. This is a spiritual business. A preacher (or anyone else) may not be "shown-up" for his lack of prayer for a long while; nevertheless, spiritual power is generated in, prayer and there is no substitute. The personal, daily devotional life of the men of God is one of the most vital lifelines he has to consistency and faith. Since there is no one forcing the pastor to do this, a strong dose of self-discipline is a must.
Next a strong, free-flowing expression of worship must be cultivated in the church. No exceptions! This has to be worked on continually. Worship is "creative" therefore, it cannot be forced. People cannot be driven into true worship; they must be led. The preacher who is "too spiritual" to worship expressively, is "too spiritual." A church cannot be lazy in worship. Hands must go up; hearts must go up; spirits must become alert to God. Whether in song or prayer, whether weeping or rejoicing, the human spirit expresses itself through its emotion. Heartfelt praise and thanksgiving is the key to God's spirit outpouring on the congregation.
Another item of importance in this brief summary is: be patient with everybody. Discipline administered in the heat of human anger is rarely perfect. While Christ showed little patience with dishonest religious leaders, He showed extreme patience with almost everyone else. He understood how great the darkness surrounding most folks. He took time to understand from how narrow a platform they had viewed life. And while He never quit leading them on to new, expanding worlds of understanding, He was patient and understanding of human struggles to emerge.
And then to top it all off, Paul says to Titus, "Let no man despise thee" (Titus 2:15).
Early in my young ministry, I interpreted that Scripture to mean that, as a young man, after you have preached, if someone older comes up and scolds you and says you are "meddling," and have no business to preach those things, you should calmly acquiesce to his spirit and at least act apologetic. However, upon a closer scrutiny of this Scripture, I found it means just the opposite! It means that if you are truly a called man of God, then God has placed you in a responsible position and He is going to hold you responsible to carry out that work. He will not in any circumstance allow your age to become an excuse for a lack of execution of duty. And this is what Paul meant when he said, "Let no man despise thee." Whatever it takes, regardless of who accepts or does not accept what you are saying, stand for what is right. Do it with wisdom. Do it with love. Do it with patience. Do it with grace, but do it!
In First Timothy, Chapter 4:12, Paul made a similar statement to the young preacher Timothy as he had made to Titus. Here he says, "Let no man despise thy youth…." Here it does not mean exactly the same thing that it did in his similar statement to Titus. Here the implication is, "Let no man think around you." In other words, you have been given a job to do and authority to do it, and access to sufficient wisdom to do it and the love of God in your heart to do it. Now, go do it! Do not be deterred from doing it by fear and men or women. Do not be deterred by fear of evil powers. Do not be deterred by cowardice, or let them snare you. Go full of the spirit of God, as an example of the believers, in word, in conduct, in love, in spirit, in faith, and in purity!
Sometime after I had learned this lesson through desperation and the revealing of the spirit of God, an incident happened which illustrates this. I had not been pastor at the church long when I had taught the people who had participated in the service not to do certain things if they were to be on the platform. A few Sunday night's later one of the people came on the platform in direct disobedience to what I had taught. When I noticed this situation, the song service had already begun and I did not know whether or not I was being defied. In fact, looking back on it at this point, I think it was less defiance than it was that perhaps he was used to hearing the leadership teach one thing but ignore disobedience. At any rate, before I hardly knew what was happening, I felt myself immediately rise out of my chair and walk to the guilty party. He was singing and worshiping the Lord when I approached and I looked him in the eye and asked him if he was in disobedience to what I had told him. He was much older than I, but at that point, that was completely forgotten by both of us. He admitted his disobedience. I explained to him in a forthright and frank manner that this must not happen again. And then asked him if he understood clearly that I meant what I had said? He replied, "Yes sir." And, from that day forward he never committed the infraction again. Apparently the congregation was conscious of what had happened, or else it began later to creep through the congregation, for it was but a very short time until a new alertness and sense of responsibility crept through the church, and there was a new conscientiousness in them. A fresh leader had arrived who intended to lead and not just to fill the office.
Whether or not the situation would be handled the same now as it was then, I know not; but I do know that in that specific example, the Holy Ghost simply emboldened and empowered me with a wisdom, boldness, and sense of conviction beyond my human abilities. In a single stroke the Holy Ghost enlightened an entire congregation that He was going to work with them in a manner which perhaps they had not seen for a long time. And, He did.
The above article, "Sent as He is Sent" was written by Nathaniel J. Wilson. The article was excerpted from Wilson's book Plain Talk about the Man of God and His Work.
The material is copyrighted and should not be reprinted under any other name or author. However, this material may be freely used for personal study or research purposes.