"If there arise among you a prophet, or a dreamer of dreams, and giveth thee a sign or a wonder. And the sign or the wonder come to pass, whereof he spoke unto thee, saying, Let its go after other gods, which thou hast not known, and let its serve them; Thou shalt not hearken unto the words of that prophet, or that dreamer of dreams: for the LORD your God proveth you, to know whether ye love the LORD your God with all your heart and with all your soul" (Deuteronomy 13:1 -3).

By Carole J Keller
To View the Entire Article, Click Here
To Download the Entire Article Directly to Your Computer, Click Here
To View the Outline, Click Here
To View the PowerPoint, Click Here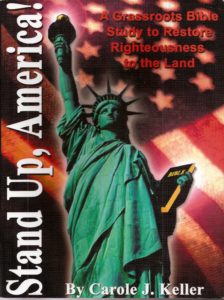 Love will grow cold.
Jesus said that love will grow cold because iniquity will
"For nation shall rise against nation, and kingdom against kingdom" …And because iniquity shall abound, the love of many shall wax cold" (Matthew 24:7, 12).
We have heard the term "cold-blooded" to describe the brutality of murder. This act is completed in one whose heart is filled with hate and devoid of any compassion. The life within grows cold. The loss of natural affection is manifested in the ever increasing incidence of abuse within families.
Signs of the Times:
The War on Terrorism
A Professor of Ethics advocated euthanasia for disabled babies and use of their bodies for research (11/99 Milwaukee Journal-Sentinel).
Without natural affection: hate groups; teen mass murders.
Murder and abortions number 4300 every day: Statistics report that there have been in excess of 30 million abortions during the last 30 years, with illegitimate births increasing 419%.
Physical, sexual, and psychological abuse is prevalent.
Unbelief:
"And with all deceivableness of unrighteousness in them that perish; because they received not the love of the truth, that they might be saved. And for this cause God shall send them strong delusion, that they should believe a lie. That they all might be damned who believed not the truth, but had pleasure in unrighteousness" (2 Thessalonians 2:10-12).
People will hear the testimony from the Word of God that challenges society's decline in moral values, but nevertheless pursue a course which is detrimental not only to their own souls, but to the soul of the nation.
Ironically, America's heritage is deeply rooted in the doctrines of Jesus Christ as reflected in the Resolution adopted by the U.S. Congress in 1854:
"The great vital and conservative element in our system is the belief of our people in the pure doctrine and Divine truths of the Gospel of Jesus Christ."
To View the Entire Article, Click Here
To Download the Entire Article Directly to Your Computer, Click Here
To View the Outline, Click Here
To View the PowerPoint, Click Here