If a strong Christian man is not careful the same thing can happen to his home. If a man tries to live beside his spiritual enemy and appease him, he will be overcome by him. A Christian man must ever remember he is in a real war. He must ever be alert and on guard in order to protect that which he values. Our enemy does not want our homes; he just wants to destroy our families. Our enemy would, if allowed, strip us of all protection and then leave us helpless and bleeding alongside life's road. Our enemy would force us to be ashamed and defeated.

By David Reynolds
To View the Entire Article, Click Here
To Download the Entire Article Directly to Your Computer, Click Here
To View the Outline, Click Here
To View the PowerPoint, Click Here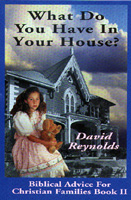 "No man can enter into a strong man's house, and spoil his goods, except he will first bind the strong man…" (Mark 3:27).
"When a strong man armed keepeth his palace, his goods are in peace: But when a stronger than he shall come upon him, and overcome him, he taketh from him all of his armour, wherein he trusteth, and divideth his spoils" (Luke 11:21-22).
"If the goodman of the house had known what hour the thief would come, he would have watched, and not have suffered his house to be broken through" (Luke 12:39).
The main target of the family is the man!
We have an enemy out to destroy our homes. He knows that if he can destroy the strong man—he can destroy the home which is a stronghold for God. If the man is a good man and a strong man, Satan knows he must get to him first before he can get to the wife and the children. To get to the strong man he knows he must first take away his armor and his weapons. One advantage Satan has is timing. The good and strong man does not know the time of the attack. Satan knows that even a good man will relax at times. A little slumber and a little sleep comes to the best of good strong men; but when it happens the enemy is there to take advantage.
Another advantage the enemy of the home has is that he can choose the spot of attack.
I believe that even good men have weak spots and places which make them vulnerable. "Let us lay aside every weight, and the sin that does so easily beset us" (Hebrews 12:1).
It is usually the last thing that one puts on the altar and it is usually the first thing one takes up when he relaxes or is discouraged. You can be sure Satan will discover what this weak spot is.
Samson was the strongest man physically that ever lived, yet he had a flaw. He had a weakness for strange woman. His enemy, the Philistines, used this weakness in order to find and destroy his strength.
Strong and good man if you are not careful Satan will do the same to you. He desires to bind you with the thongs of materialism and the cares of this life. He would tie you with ropes of harmful habits. He wishes to cut your spiritual hair and leave you blind, ashamed and grinding the grain of the enemy. While you are thus in prison, your home and your country is left defenseless.
God is looking for strong men to lead their homes.
In the time of the Judges, God was looking for strong men. Between Joshua and the kings, God was constantly looking for a strong man to lead His people Israel. Before Gideon, God looked for a strong man in Israel and could not find even one.
To View the Entire Article, Click Here
To Download the Entire Article Directly to Your Computer, Click Here
To View the Outline, Click Here
To View the PowerPoint, Click Here