"Dreams seem to be premonitions of the future. Visions seem to be understandings of the future. Dreams wait to be fulfilled. Visions call for action and active faith. But our use of the words dream and vision today differ from the language of the Bible. Today, vision relates more to tomorrow; dream relates to yesterday."

By J. Mark Jordan
To View Entire Article, Click Here
To Download the Article Directly to Your Computer, Click Here
To View the Outline, Click Here
To View the PowerPoint, Click Here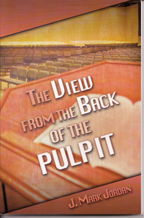 The burden of the valley of vision. . . . For it is a day of trouble, and of treading down, and of perplexity by the Lord GOD of hosts in the valley of vision, breaking down the walls, and of crying to the mountains (Isaiah 22:1, 5; emphasis mine).
Where there is no vision, the people perish (Proverbs 29:18).
And Joseph remembered the dreams which he dreamed of them, and said unto them, Ye are spies; to see the nakedness of the land ye are come (Genesis 42:9).
Then thou scarest me with dreams, and terrifiest me through visions (Job 7:14).
Dreams vs. Visions
Visions and dreams are used interchangeably in the Bible. Both can be either from God or from the flesh. Jacob was a dreamer. Joseph was a dreamer. But even though Peter and Paul had dreams, we do not call them dreamers. We call them visionaries.
Dreams seem to be premonitions of the future. Visions seem to be understandings of the future. Dreams wait to be fulfilled. Visions call for action and active faith. But our use of the words dream and vision today differ from the language of the Bible. Today, vision relates more to tomorrow; dream relates to yesterday.
And it shall come to pass in the last days, saith God, I will pour out of my Spirit upon all flesh: and your sons and your daughters shall prophesy, and your young men shall see visions, and your old men shall dream dreams (Acts 2:17).
Visions are for the future.
Dreams are for the past.
Dreams focus on what was or what might have been.
Visions focus on what has not happened or what will be.
A dream needs no basis in reality in order to have value.
A vision has value precisely because it is based in reality.
A dream needs no connection to the present.
A vision thrives on its connection to the present.
Dreams happen when your eyes are shut.
Visions happen with your eyes wide open.
Everybody can dream.
Vision requires something more.
Dreams may be nothing more than fantasy.
Visions are ventures of faith.
Dreams are cheap.
Visions are expensive.
To View Entire Article, Click Here
To Download the Article Directly to Your Computer, Click Here
To View the Outline, Click Here
To View the PowerPoint, Click Here