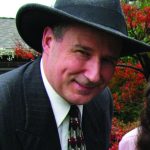 The Blood of God
So, what is The Blood of God? It is an inspirational book written by Darin Bowler, a Christian inspirational author, frequent guest speaker, Bible teacher, and the assistant pastor at Lodi Christian Life in Lodi, California, pastored by Richard Francis.
The Blood of God, which is Bro. Bowler's sixth and latest book, is mostly centered on the continuing role that the blood of Jesus plays in our lives even after we are saved. "Many times we (Christians) have the faith and confidence that God can save anyone and forgive them of anything," explained Bro. Bowler.
"But for some reason, after we have repented we often feel like, from now on, we are on the 'thin ice' of salvation, so to speak.
"We have to be reminded and assured often that the same blood that cleansed us before we were saved is the same blood that continues to cleanse us after we have become saved. Many times we feel guilty and struggle with mistakes that we have made, things that we have said or done, and we begin to feel that surely we have exhausted God's grace."
He said the book uses much Scripture to show the continuing love and mercy of God that is always available to us in spite of our failures, sins and inconsistencies.
"In all of my writings I like to use different entertaining stories and anecdotes (sometimes even humorous examples) to help make a point more clear," said Bro. Bowler. "This helps to keep the reading alive and more interesting. It's not like reading an encyclopedia but more like having a fun and engaging conversation with a friend."
The target audience is not necessarily those who are merely curious or who are exploring the basic tenets and fundamentals of the Christian religion. The Blood of God is more likely for those who already have a faith in Jesus and the Word of God, who struggle with guilt and self-condemnation. It's for those who desire to better understand and appreciate the crucifixion and the love and mercies of God that are so essential in our spiritual survival.
Bro. Bowler is author of six fascinating books. He currently holds a Bachelor of Arts degree in Theology from Christian Life College in Stockton, Calif. He is also readily available for preaching and speaking engagements and/or seminars centered on the various core aspects and doctrines of original Apostolic Christianity.
All of Bro. Bowler's books are available through Pentecostal Publishing House or from online booksellers. You can contact him at eagle95240@hotmail.com.
by Susan Thomas