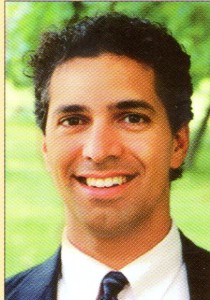 "We must learn to line up with absolute truth. How can we make sure that what we say lines up with absolute truth? If we speak the Word of God, we speak absolute truth. The Word of God is infallible and inerrant. It is all truth. In speaking it, we open ourselves to receiving the faith of God."
To View the Entire Article, Click Here
To Download the Article Directly to Your Computer, Click Here
To View the Outline, Click Here
To View the PowerPoint, Click Here
By David P. Sanzo
Mountain Movers
Jesus said that our words will carry power, if we speak in His name:
Have faith in God. For verily I say unto you, That whosoever shall say unto this mountain, "Be thou removed, and be thou cast into the sea;" and shall not doubt in his heart, but shall believe that those things which he saith shall come to pass; he shall have whatsoever he saith. Therefore I say unto you, What things soever ye desire, when ye pray, believe that ye receive them, and ye shall have them (Mark 11:22-24).
As we walk through life, we will encounter some mountains in our path. When the mountains appear in our way, we can make one of four basic responses. The first is that we can deny its existence. This, obviously, is pure foolishness, and will not get us very far. Others will recognize the existence of the mountain, but back off in fear. They will then complain about the mountain being in their way. At least they are being realistic. Even so, this response is still unprofitable.
The "positive mental attitude" people encourage us to be mountain climbers. They try to teach us not to be intimidated by the mountains in front of us. They encourage us to climb them. If that does not work, they exhort us to tunnel through it. This is progress: it helps you to get to the other side, for the mountain does not stop you.
But God has called us to go beyond even that—He has called us to be mountain movers. If we climb it, it may take us 40 days to get to the other side. Granted, this is better than letting the mountain freeze you in your place, so that you never reach the other side. But if we move it, it will only take us a small while to get to the other side.
The authority of a king is found in his word. The king does not doubt whether his commands will be carried out. He is confident that they will be obeyed. He fully expects his word to be carried out completely, to his satisfaction.
Likewise, we are to operate this way in the kingdom of God. We are called to reign as kings. We are called to be the sons of God. We should not doubt the Word in our hearts: we should have full confidence in seeing it come to pass. Our hope, when we are operating in the faith of Cod, will not disappoint us, nor make us ashamed.
Hope [when it is hope in God] maketh not ashamed (Romans 5:5).
Whosoever believeth on him shall not be ashamed (Romans 9:33; 10:11).
To View the Entire Article, Click Here
To Download the Article Directly to Your Computer, Click Here
To View the Outline, Click Here