By Rufus M. Parker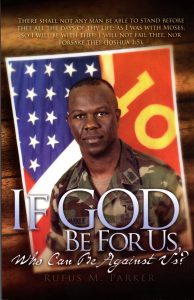 Heaviness is defined as a quality or state of being heavy, weighty, or burdened. Things seem to be more than you can handle. Here are some things that can be weighty to us:
Death in the family
Bills that are due
Sickness of someone in the family
Divorce
Church members leaving the church
Getting married
Retirement
Doctor gives you a report of a serious illness
They are heavy and weighty and can cause you to be­come discouraged and maybe even want to quit. These are the things that make you start to have a pity party for your­self. We say, "Why me, God?" Why not you? If all things really do work together for our good, then why not us? Just when it seems like everything was getting ready to go well, here comes a storm or trouble in our path. We lose our joy. We lose our hope. We begin to cry because it hurts. We may even begin to fear. Fear steps in, and we become afraid and start to feel like a failure. But as Paul told Timothy, "God hath not given us the spirit of fear; but of power, and of love, and of a sound mind" (II Timothy 1:7). Just as there is a spirit of heaviness, there is a spirit of fear. These spirits are not from God who is for us but of the devil who is against us.
The cure for fear is:
Love – Love covers a multitude of sin, for God is love (I John 4:8).
Power – You shall receive power after the Holy Ghost is come upon you (Acts 1:8); "Behold, I give unto you power" (Luke 10:19).
Sound mind – "Thou wilt keep him in perfect peace, whose mind is stayed on thee" (Isaiah 26:3).
The cure for heaviness is praise. Paul said, "Let us lay aside every weight . . . which doth so easily beset us" (He­brews 12:1). Anything that might be weighing you down should be removed by letting Him carry it for you. If they are cares of this life, give them to Jesus. Money problems, give them to Jesus. Family problems, give them to Jesus. We are exhorted to cast all our cares upon the Lord because He cares for us (I Peter 5:7).
"Now after the death of Joshua it came to pass, that the children of Israel asked the LORD, saying, Who shall go up for us against the Canaanites first, to fight against them? And the LORD said, Judah shall go up: behold, I have delivered the land into his hand" (Judges 1:1­2). Judah means "praise." So when we have a battle ahead of us, we must allow praise from our lips to go up first.
When King Jehoshaphat was told that the children of Ammon and Moab were coming out to battle him, he went to the Lord; he fasted and prayed for an answer from God. Listen to his prayer.
"O LORD God of our fathers, art not thou God in heaven? and rulest not thou over all the kingdoms of the heathens? and in thine hand is there not power and might, so that none is able to withstand thee? Art not thou our God, who didst drive out the inhabitants of this land before thy people Israel, and gayest it to the seed of Abraham thy friend for ever? And they dwelt therein, and have built thee a sanctuary therein for thy name, saying, If, when evil cometh upon us, as the sword, judgment, or pestilence, or famine, we stand be­fore this house, and in thy presence, (for thy name is in this house,) and cry unto thee in our affliction, then thou wilt hear and help. And now, behold, the children of Ammon and Moab and mount Seir, whom thou wouldest not let Israel invade, when they came out of Egypt, . . . come to cast us out of thy possession, which thou hast given us to inherit. . . . We have no might against this great company that cometh against us; neither know we what to do: but our eyes are upon thee" (II Chronicles 20:6-12).
King Jehoshaphat knew that he could not defeat his enemy on his own. But he knew a God who had been with his forefathers, and he believed that same God would be for him. God assured him that the battle was not his but His. He even told him that he did not have to fight in the battle.
When will we realize that God does not need us to help Him fight the battle? The battle is His, and He has enough power to defeat anyone or anything that stands before Him. If God can destroy more with hailstones than with an army, bring down a giant with a stone and slingshot, and defeat twenty warriors with two of His children, then when He says, "Do not worry," we should not worry. We should take a ringside seat, watch the show, and praise Him as He fights the battle on our behalf.
King Jehoshaphat knew there was nothing for him to do but become an encourager to the people. So he said to them, "Believe in the LORD your God, so shall ye be established; believe his prophets, so shall ye prosper" (I Chronicles 20:20). He appointed singers to lead the army. When they began to sing praises to the Lord for His mercy, the Lord caused an ambush and destroyed the Ammonites and. Moabites. The battle is not ours but God's, so just praise Him.
Scripture says, "Whoso offereth praise glorifieth me: and to him that ordereth his conversation aright will 1 shew the salvation of God" (Psalm 50:23). When the sun comes up, praise God. When the sun goes down, praise God. No matter if you are sick, praise God. If you are lonely, praise God. Regardless of what you are going through, praise God. If we will remain planted in the house of the Lord, we will still be praising Him no matter what comes our way.
Friend, God has given us the garment of praise for the spirit of heaviness. As the old song we used to sing says, "He gives strength to me as I worship Him, as my heart is filled with praise. Jesus breaks the bands as I raise my hands. He gives glorious victory."
We are exhorted to:
Rejoice ever more (I Thessalonians 5:16).
Sing unto the Lord a new song (Psalm 96:1).
Come before His presence with thanksgiving (Psalm 95:2)
Sing praise unto His name (Psalm 92:1).
Exalt the Lord our God and worship at His foot­stool, for He is holy (Psalm 99:5).
Make a joyful noise unto the Lord our God (Psalm 100:1).
Praise him on all kinds of instruments (Psalm 150).
Bless His holy name with all that is within us (Psalm 103:1).
Clap our hands and shout unto God (Psalm 47:1).
Pray and cry aloud (Psalm 55:17).
Sing forth the honor of His name and make His praise glorious (Psalm 66:2).
Let all the people praise 1-Jim (Psalm 67:3).
Let God arise and His enemies be scattered (Psalm 68:1).
Exhibit praise, which is comely (Psalm 147:1).
Realize that every day is made by the Lord, and thus rejoice and be glad in it (Psalm 118:24).
No matter what comes our way, God has given us a garment of praise for the spirit of heav­iness.
Our light affliction, which is but for a moment, Paul said, works for us a far more exceeding and eternal weight of glory (II Corin­thians 4:17). Afflictions, trials, tribulations, and persecutions, all should cause you to rejoice. The only reason we do not re­joice when these things are happening in our life is because we have removed our garment which Jesus has given to us. But the people that do know their God shall be strong (Daniel 11:32). So lift your head and your hands, and praise the Lord.
Habakkuk stated in Habakkuk 3:17-19, "Although the fig tree shall not blossom, neither shall fruit be in the vines; the labour of the olive shall fail, and the fields shall yield no meat; the flock shall be cut off from the fold, and there shall be no herd in the stalls: yet I will rejoice in the LORD, I will joy in the God of my salvation. The LORD God is my strength, and he will make my feet like hinds' feet, and he will make me to walk upon mine high places." Habakkuk was saying, "I do not have to have anything going right for me; I will still praise and rejoice because when 1 think of the goodness of Jesus and all that He has done for me, my soul cries out, 'Hallelujah!' and I thank God for saving me." There are high places to which God desires to take us in our life and walk with Him, but we cannot allow our situations to stop us from offering to Him the sacrifice of praise con­tinually with the fruit of our lips. Failing to give praise will keep us from going where He is desiring to take us. The more we praise, the higher we go. So where do you want to go in Him? God is for us and not against us.
So he sent his brethren away, and they departed: and he said unto them, See that ye fall not out by the way (Genesis 45:24).
The above article, "The Garment Of Praise For The Spirit Of Heaviness" was written by Rufus M. Parker. The article was excerpted from Parker's book, If God Be For Us, Who Can be Against Us?
The material is copyrighted and should not be reprinted under any other name or author. However, this material may be freely used for personal study or research purposes.