By Timothy Mitchell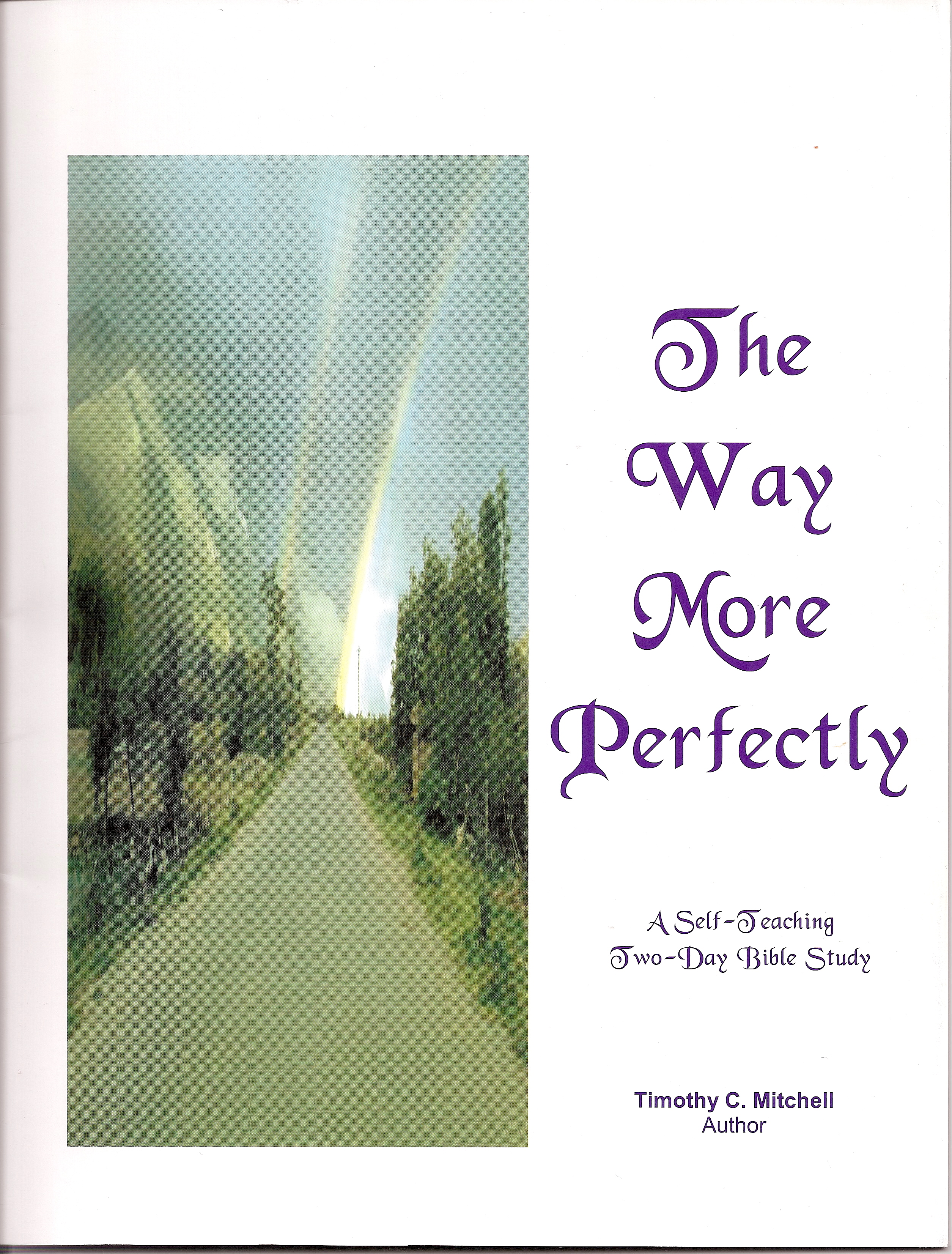 God's Word, the Source and Final Authority of Truth
The Word of God is True
John 17:17 "Sanctify them through thy truth: thy word is truth."
John 4:24 "God is a Spirit: and they that worship him must worship him in spirit and in truth." Our worship must be equally balanced like two wings on an airplane for us to maintain a proper course down the straight and narrow way. Too much emphasis on the "spiritual" tends to emotionalism and irrationality. Too much emphasis on the "letter of the law" leads to dead formalism. (See I Corinthians 14:31-33, II Corinthians 3:6.)
John 1:1, 14 "In the beginning was the Word, and the Word was with God, and the Word was God. And the Word was made flesh, and dwelt among us."
You cannot separate a person from his word. They are one and the same. So it is with God. In the Old Testament, God communicated with us primarily through His written or spoken Word. In the New Testament, God chose to reveal Himself to man in a new way or manifestation. He robed Himself in flesh and made known to us His new Name, Jesus. God became the Living Word and dwelt among us.
The Word is our Judge
Revelation 20:11-12 "And I saw a great white throne, and him that sat on it, from whose face the earth and the heaven fled away; and there was found no place for them. And I saw the dead, small and great, stand before God; and the books were opened: and another book was opened, which is the book of life: and the dead were judged out of those things which were written in the books, according to their works."
On judgment day, there will be an open book test. This is where the "test paper" of our lives will be compared to the answers found in God's textbook, the Bible. For example, His Book says that we should not lie. He will then look in the book of our life to see if we have or have not. It is very important to know what the Bible says because the Book, not denominational or personal beliefs, will be the source from which we are judged.
The Word Cannot Be Changed or Modified
II Peter 1:20-21 "Knowing this first, that no prophecy of the scripture is of any private interpretation. For the prophecy came not in old time by the will of man: but holy men of God spake as they were moved by the Holy Ghost."
There is no such thing as two people having a different interpretation of a particular verse of scripture. The Bible very plainly says what it means and means what it says. For example, in math, one plus one is two no matter who is reading the textbook.
Revelation 22:18-19 "For I testify unto every man that heareth the words of the prophecy of this book, If any man shall add unto these things, God shall add unto him the plagues that are written in this book: And if any man shall take away from the words of the book of this prophecy, God shall take away his part out of the book of life, and out of the holy city, and from the things which are written in this book."
Neither man nor religion should add or take away from God's Word. This same warning was mentioned after the 10 Commandments were given in Deuteronomy 4:2.
How Do We Know Where to Look For Information in the Bible?
2 Timothy 2:15 "Study to show thyself approved unto God, a workman that needeth not to be ashamed, rightly dividing the word of truth."
The Bible is like a library of 66 books. We need to know where to go to find the information that we are looking for. Here is a simple guide to the New Testament.
Outline of New Testament Books
Four Gospels: Matthew, Mark, Luke, and John are a biography Jesus' life. Think of it as seeing Jesus from four different viewpoints: north, south, east, and west.
Acts: This book is a record of the apostles' actions after Christ's death. This is the only book in the New Testament with the verbatim preaching of the apostles to the lost telling them how to be saved. It records the actual accounts of various individuals being saved and the beginning of several New Testament churches.
Epistles: Beginning with Romans and going through Jude these are the letters that were written to various churches and individuals giving them instructions on how to stay saved. It is interesting to note that there is only one book that tells us how to be saved (Acts) and 21 books on how to stay saved!
Revelation: This is a prophetic book revealing to us who Jesus really is and what will happen in the future.
If we want to know about Jesus, what area would we look in: the Epistles or one of the    Gospels? The answer is one of the four Gospels.
If we want to know how to be saved, where would we look: in Revelation or the book of    Acts? The answer is the book of Acts.
If we want to know how to stay saved, where would we go? To the Epistles.
If we understand to whom and why these scriptures were written, we will not misapply them. For example, some have used scriptures in Romans to form their plan of salvation. This is not a correct application. Romans was written to people who were already saved. The Book of Acts is where you will find the only plan of salvation.
Applying God's Word to Our Lives
Here are some questions to inspire thought.
Some say, "It does not matter what you believe as long as you are sincere." Is this statement true or false? False. For example, a person can proceed though a yield sign, get into an accident, and be sincerely wrong because they did not see a car coming.
Is it important what you believe to be the plan of salvation? Yes. What we believe, may or may not be according to the Word of God.
Are there false prophets today? Yes! How can we know who they are? The Word of God will identify them.
In the Last Days It Will Be Difficult to Find The Truth Because of So Much Religious Deception.
2 Timothy 4:2-4 "Preach the word; be instant in season, out of season; reprove, rebuke, exhort with all longsuffering and doctrine. For the time will come when they will not endure sound doctrine; but after their own lusts shall they heap to themselves teachers, having itching ears; And they shall turn away their ears from the truth, and shall be turned unto fables."
Paul instructed the young minister he was training to preach from the Bible and not substitute denominational or social issues for truth. He prophesied that the time would come (and now is) when people would not want to hear morally correct or godly-based doctrine and would turn from the Truth to carnal, man-made ideas such as humanism, evolution and situational ethics etc. Today, many people only want to hear positive "make me feel good about myself" preaching. They do not want to be told they are wrong or feel conviction for their sins. Like a dog, they want their ears scratched.
2 Timothy 3:1-7 "This know also, that in the last days perilous times shall come." The last days will be a very dangerous time spiritually. Paul prophesied of two treacherous areas we should beware of:
There would be an overall moral decay of most people living in the end-time.
Verse 2-4 "For men shall be lovers of their own selves, covetous, boasters, proud, blasphemers, disobedient to parents, unthankful, unholy, without natural affection … lovers of pleasures more than lovers of God."            2. There would be spiritual and doctrinal decay within Christianity.
Verse 6-7 "Having a form of godliness, but denying the power thereof: from such turn away. For of this sort are they which creep into houses, and lead captive silly women laden with sins, led away with divers lusts, Ever learning, and never able to come to the knowledge of the truth."            It will be hard to find the Truth because of so many deceptive religious beliefs. In the
Notice the 3 areas of decay in these modern churches:
United States alone there are literally hundreds of Christian persuasions from which to choose. Someone said, "All churches lead to heaven. We are just taking different roads." That is not correct logic. Do all roads lead to New York City?
There will be a lot of formality but no spiritual power. Where does spiritual power come from? Acts 1:8 states that we obtain power when we receive the Holy Ghost. Many churches today do not emphasize the importance of being Spirit-filled or teach that it is not for us today. The Bible says to stay away from these spiritually dead churches.
There will be problems relating to immorality within the churches. Preachers committing adultery, the prominence of divorce among church members, and the ordination of gays and lesbians into the ministry in some denominations have verified this prophecy.
In these churches, a person will learn about their religion's values but never discover the true plan of salvation. They are taught to get involved in conscience-soothing good works and earthly social issues that minister to the temporal flesh but not the eternal soul. Consequently they never learn the important, major doctrines of true eternal salvation. As the children of Israel, these religious people perpetually wander in circles for a lifetime thinking they are saved but never enjoy all the promises of God.B. How Can We Discern Truth From Error?            Let's examine what Jesus said in Matthew chapter 7 as He points out the difference between the right and wrong way.
Verses 13-14 "Enter ye in at the strait gate: for wide is the gate, and broad is the way, that leadeth to destruction, and many there be which go in thereat: Because strait is the gate, and narrow is the way, which leadeth unto life, and few there be that find it."
The way to hell is wide because the majority will go down the road that allows them the freedom to do their own thing. The way to life everlasting is very narrow and confining with some restrictive rules that require total commitment. Notice that few will find the right way. The Bible says that our day will be just like it was in the days of Noah. Of the millions probably living in Noah's day, only 8 people were saved! (See I Peter 3:20.) Only a few will be saved today because many do not want a church that tells them what they can or cannot do. This is the reason why there are so many false religions offering varying commitments to Christ from very little to a lot. It is true in religion also; the value of what we get matches what we are willing to pay.
Verses 15-16 "Beware of false prophets, which come to you in sheep's clothing, but inwardly they are ravening wolves. Ye shall know them by their fruits."
These preachers are hirelings. They look good on the outside but in reality what they have on has been obtained from "skinning the sheep." Money is their goal. In time, their real motives and morals will be exposed. If you are going to support a ministry, give to a local Church you attend. They are the ones who will be there to minister to you personally when you need them.
[The following are some of the most shocking scriptures in the Bible!]
Verse 21 "Not every one that saith unto me, Lord, Lord, shall enter into the kingdom of heaven; but he that doeth the will of my Father which is in heaven."
Not everyone who says to the Lord, "I'm a Christian," shall enter into heaven! Who will? "He that doeth the will of my Father." Only those who do exactly what the Word of God says shall enter into heaven! If we truly love Jesus, we will enthusiastically do everything He tells us do! The following are some scriptures that emphasize this truth.
James 1:22 "But be ye doers of the word, and not hearers only, deceiving your own selves." We are saved by obeying the Word and doing exactly what it says to do.
1 John 5:3 "For this is the love of God, that we keep his commandments: and his commandments are not grievous." If we love the Lord, we will be more than willing to do what He asks of us. We will not complain about His rules and requirements. We will submit to His will.
Luke 6:46 "And why call ye me, Lord, Lord, and do not the things which I say?"
Verse 22 "Many will say to me in that day, Lord, Lord, have we not prophesied in thy name? and in thy name have cast out devils? and in thy name done many wonderful works?"            Many so-called "Christians" will be surprised at the judgment to find out that they will be rejected and lost. This is because, even though they did mighty "works" in Christ's name, they did not completely obey His Word. Instead of doing His will they are busy doing their will. These are people who:
"Prophesied in thy name" – preached, foretold the future, and talked in tongues.
"In thy name have cast out devils" – used the authority of Jesus' name to remove evil spirits in people. (See Acts 19:13-17.)
"In thy name done many wonderful works" – have built big, beautiful churches; founded large radio-TV ministries; had a healing and miracle ministry; have done extensive missionary work. Isn't it amazing how many preachers name their ministries after themselves? Jesus should be the One that is to be lifted up – not carnal man.
Notice that all this was done "in His Name." Someone may ask, "Why does Jesus allow this to happen if He does not approve of his or her doctrine or lifestyle?" The answer is simple. Jesus is going to honor prayer and will reward faith directed toward Him. For example, imagine that a certain lady with a physical ailment goes to a healing campaign. Even though the preacher is a fake, God can honor this lady's sincere faith and heal her. (See Mark 9:38-39.)
Even people possessed of evil spirits can speak truth and be used of God, but this does not verify them or their cause. (Read I Samuel 28:7-19, Acts 16:16-18.) Our ability to discern truth from error must be firmly anchored by knowing what the Bible says. In the last days, the false prophet will call fire down from heaven and deceive everyone into worshipping the Anti-Christ and receiving the dreaded Mark of the Beast. The Scripture says that even the spirits of devils will be working miracles during this time (Revelation 16:13-14). If it is possible, even the very elect may be deceived by this display of "religious" power (Revelation 13:11-18; Matthew 24:24).
Verse 23 "And then will I profess unto them, I never knew you: depart from me, ye that work iniquity."
What a shock it will be to some religious people when they stand before Jesus on judgment day and hear Him say that He does not even know them and sends them to hell. These are people who had a casual relationship with Christ and served Him because of duty or personal benefit. They were not completely committed. They did not wholeheartedly seek Him with all their soul, mind and strength.
It is unique that the same word "know" is used in the Old Testament describing the intimate relationship between a man and a woman when conceiving a child. (See Genesis 4:1, 17, 25.) When we know and obey the Original New Testament Plan of Salvation, He will enter and fill us with His Spirit. Only then are we truly one with Him and are known of Him. This is the difference between being a friend of the Bridegroom and being married to Jesus as part of His Bride, the Church.
The One True Church is Founded upon the Words of Jesus and the Apostles.
Matthew 16:13-19 "When Jesus came into the coasts of Caesarea Philippi, he asked his disciples, saying, Whom do men say that I the Son of man am? And they said, Some say that thou art John the Baptist: some, Elias; and others, Jeremias, or one of the prophets. He saith unto them, But whom say ye that I am? And Simon Peter answered and said, Thou art the Christ, the Son of the living God. And Jesus answered and said unto him, Blessed art thou, Simon Barjona: for flesh and blood hath not revealed it unto thee, but my Father which is in heaven. And I say also unto thee, That thou art Peter, and upon this rock I will build my church; and the gates of hell shall not prevail against it. And I will give unto thee the keys of the kingdom of heaven: and whatsoever thou shalt bind on earth shall be bound in heaven: and whatsoever thou shalt loose on earth shall be loosed in heaven."
There are two important points made in these verses:
The Church is built upon the Rock (Ephesians 2:20) and the revelation of who He is. Jesus is the Mighty God who robed Himself in flesh to become our salvation.
Peter is singled out and told that he would be given the keys to open the door of the New Testament church. He will be the man who will give us the plan of salvation.
Galatians 1:6-9 "I marvel that ye are so soon removed from him that called you into the grace of Christ unto another gospel: Which is not another; but there be some that trouble you, and would pervert the gospel of Christ. But though we, or an angel from heaven, preach any other gospel unto you than that which we have preached unto you, let him be accursed. As we said before, so say I now again, If any man preach any other gospel unto you than that ye have received, let him be accursed."            Paul said that some would try to pervert (change, corrupt) the Original Plan of Salvation. Even if an angel appears and gives you another way to be saved that is different from the original plan, he is to be cursed! An example of this is found in the Mormon belief. They believe that an angel by the name of Moroni appeared to Joseph Smith and instructed him to find a set of golden plates that supposedly contained a gospel exclusively for America. This is how cults are formed—people following men instead of God and His Word.
Ephesians 4:4-5 "There is one body, and one Spirit, even as ye are called in one hope of your calling; One Lord, one faith, one baptism."
Today many denominations have sprung up offering compromises of the truth. (A denomination is a religious belief that embraces a part or fraction of the truth.) Some combine a bare minimum of truth with a preponderance of manmade creeds. Others preach much truth but still overlook perhaps just one important doctrine. Just as the answer to a math problem can be wrong because we omitted or did one step incorrectly, so our salvation can be void because we did not correctly complete all required in the Word. (See James 2:10.) We can't be just 99% right but 100% right. Thank God for churches who are still preaching the whole gospel!
Jude 1:3 "Beloved, when I gave all diligence to write unto you of the common salvation, it was needful for me to write unto you, and exhort you that ye should earnestly contend for the faith which was once delivered unto the saints."
In the beginning there was only one church with one plan of salvation. People did not have a choice of which "brand" of church to go to. Today, we must read in the Bible about that original Church founded in the book of Acts. Then we should go and find the church today that is preaching and practicing that same gospel today!
Someone asked, "How can what is being preached today not be truth?" It is like telling something to someone on the front pew of a church and asking him or her to tell the person sitting next to them. By the time it circulated and reached the back pew, it probably would not be the same as was told originally. The plan of salvation was given once on the day of Pentecost. Today, after 2,000 years of churches with people adding and subtracting according to their beliefs, one can hardly recognize what was originally said. We must search the Scriptures and find out what is Truth!
Why Are Some People Lost Today?
All are initially lost because "all have sinned". Furthermore, Satan blinds a sinner's mind to the Truth so that he will continue to be lost (II Corinthians 4:3-4).

Romans 3:23 "For all have sinned, and come short of the glory of God."
Satan deceives ignorant people by transforming (changing) himself and false preachers to make themselves appear as true ministers. People who do not know the right way are tricked into believing Satan's lie that promises an easier way.

2 Corinthians 11:13-15 "For such are false apostles, deceitful workers, transforming themselves into the apostles of Christ. And no marvel; for Satan himself is transformed into an angel of light. Therefore it is no great thing if his ministers also be transformed as the ministers of righteousness."            How can we tell if someone is a false prophet? We can compare their plan of salvation with what Peter and the Apostles preached in the Book of Acts.

If we do not fully obey His Word, then God will send a mixture of truth and error that we will accept and become deceived. When this happens, a person can become permanently deceived and be forever lost. God gives them over to a "reprobate mind." We must really love truth if we desire to be saved. When we hear the truth, God is going to test our obedience. When we obey the Word of God, we command His blessings upon our lives. If not, we reap the curse.
2 Thessalonians 2:10-12 "Because they received not the love of the truth, that they might be saved. And for this cause God shall send them strong delusion, that they should believe a lie: That they all might be damned who believed not the truth, but had pleasure in unrighteousness."            For example, God told Eve not to eat of a certain tree in the garden. God tested her obedience by allowing the serpent to try to deceive her. Satan wanted her to question whether God really meant what He said. She believed Satan's little arsenic lie that had a lot of truth mixed with it. If she had really loved God's Word, she would have never fallen for his religious deception. You may be delivered from many habits of sin but God will usually leave a tree in your life's garden to test your obedience. (See Genesis 3:1-6.)ConclusionThere are three ways to miss heaven:
A person may never hear or know the correct plan of salvation.
A false prophet preaching error can deceive us.
We could hear the truth and not love God enough to obey His Word. When deception comes along, we believe it and doom ourselves.There is one way to be saved:            We must find out what is the Original Plan of Salvation preached by the Apostles in the book of Acts. Then we must love the Truth and do it!Review Questions
What is the proper method to study a subject in the Bible?
What book will be used to judge our lives?
Is it possible to speak in tongues, cast out devils, do miracles and yet still be lost?
How many different faiths did Jesus start?
What are the different reasons why people are lost today?
This article "The Importance of God's Word" by Timothy C. Mitchell was excerpted from the book The Way More Perfectly. March 2011. It may be used for study & research purposes only.