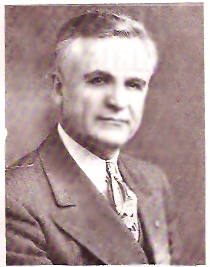 By Andrew Bar David Urshan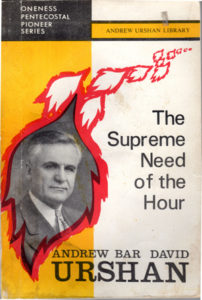 PRAYER A CURE FOR DISCOURAGEMENT
Luke 18:1. "Men ought always to pray and not to faint." "To pray or to faint"—that is often the question. Alas, fainting seems easier than praying at times! We are more driven to surrender in despair than to our knees in prayer. It is hard work to pray, but it requires no effort to faint. Prayer is active; fainting is passive. And if they pray at all, it must be an act of will energized by faith.
Prayer is rowing against the current and setting one's face up-stream; it is refusing to drift with the easy-flowing waters. To faint is to be discouraged; but to pray is to muster courage.
The easiest thing in the world is to lose heart, and the hardest thing in the world is getting one's self together in genuine prayer. "No man ever became a saint in his sleep." By dint of perseverance in prayer, when every natural instinct is crying out for soft surrender, the higher life is always achieved.
The thing we ought to do is seldom that which we find it easiest to do, and prayer is no exception. Prayer is the difficult art of refusing to faint, and it is the only alternative. Learn how to pray, and you need never lose heart.
The evangelization of the world in this generation depends first of all upon a revival of prayer. Deeper than the need for men; deeper far than the need for money; aye, deep down at the bottom of our spiritless life, is the need for the forgotten secret of prevailing, world-wide prayer.
Considering the fearful consequences of it all, something like criminal negligence has marked for years the attitude of the church toward the matchless power of prayer for the world. Shall it be no longer, or shall a change come over the church? It will not avail to pass resolutions and form prayer alliance'. For generations, great calls have been issued leagues have been proposed, emotions have been aroused, and yet the days continue evil; the kingdom of God moves faster, but slowly still, and prayer is an echo of men's lips rather than a passion from their hearts. But if fifty men of our generation will enter the holy place of prayer, and become, henceforth, men whose hearts God has touched with the prayer-passion, the history of His church will be changed.
In the early days of Methodism many of the ministers were of eccentric type. They were as rugged as they were righteous. They cared but little for conventions, but were moved mightily by their convictions. They suffered much persecution, but had great power. They were sometimes laughing stock, but when men paused to laugh they fell before God to lament.
Among this godly company was one, Jacob Kuber. He was witty, he was wise. He was sarcastic and yet simple. He lived in the days of the Revolution, and on one occasion shocked many by praying: "O Lord, have mercy on the Sovereigns of Europe; convert their souls; give them short lives and happy deaths; take them to Heaven and let us have no more of them."
One day a High-Churchman confronted him with the question, "Do you belong to the standing order?" He quickly replied: "No, I belong to the kneeling order." The "kneeling order" is well-nigh extinct. The practice of prayer is not common. Men have forgotten to kneel in prolonged and protracted seasons of prayer. They are proud of their ecclesiastical affiliations and associations, but impoverished by the failure of practice in prayer. They know little of "knee work." They do not belong to Jacob Kuber's "kneeling order." I hey belong to a dozen and one other "orders," but, not to the "kneeling order."
The modern preacher does not lack intellectuality, he lacks spirituality. The modern preacher does not lack learning, he lacks burning. The modern preacher has too much society, not enough solitude. The modern preacher is too much with the people, and not enough
with God. He rings door-bells well, but knocks but little at the door of Heaven. He is a good "mixer" but a poor separator. He answers many telephone calls, but at the expense of a connection with Heaven. The world is so much with him, that the other world sees but little of him. He does not belong to the "kneeling order."
Thos. Lambert of San Francisco, who has been experimenting with the telegraph and telephone for the government, has discovered some wonderful secrets of either transmission. He has found it is possible that a man's voice be made as loud as a cannon's roar and be
heard from two to twenty miles. He has discovered that the ticking of a watch can be amplified until it sounds like breakers on an ocean cliff. "It is no trick at all to magnify sound four or five million times, or indefinitely," says Mr. Lambert. "All that is necessary is to connect a number of vacuum valves in multiple with the wireless receiving set, and the thing is done. At the first receiving contact, a voice will be normal. Cut in one vacuum valve and it is raised seven times: thereafter it squares itself—seven times seven to forty-nine for the next vacuum valve and forty-nine times forty-nine for the next, and so on." "In a test recently," explains Mr. Lambert, "phonograph was connected with the amplifier at midnight and we were lifting it up gradually to supply all San Francisco with song and amusement when the police urged us to desist." In the stadium at Golden Gate Park the ticking of a watch was made audible all over the grandstand while an athletic meet was in progress. Captain Brewster, an experimenter, moved off 2000 feet and spoke quietly to his dog and the dog could not be held. A wireless station, which I am not permitted to name, recently received a telephone message from Europe, and through its amplifier startled duck hunters in the marshes eight miles away. How fairy-like these scientific facts often sound. Yet they are but the demonstration of the simplest laws that
operate in the natural world. No one doubts the truth of the tests as stated above. Such natural phenomena is on every hand. That man's voice should be heard at great distance is not a strange thing to those who live in this present day. It does not seem outside the limit of possibility in the least that man's voice should be heard above the cannon's roar. If scientists are willing to admit the transmission of the human voice to great distance so that they can call upon Europe and startle duck hunters at a distance, lift the tick of a watch to cover great distance and a sound like breakers on an ocean cliff, and if a man at 2,000 feet can call his dog in a whisper, why should it be though a thing incredible that a Christian through the simple act of prayer in which he calls upon God, should reach the throne of God and the ear of God who sits in His heavens?
We maintain that there is a law in the spiritual world surpassing and infinitely transcending, any law of a natural world, and that by this law, space and distance, though planets lie between is no interference to the communication of man with man, but how few acknowledge the fact of communication of man with God. We are living in a world characterized by the cannon's roar, and God be thanked, there is a voice—the voice of prayer—that can be heard above the cannon's roar and the belching of the earth's "Big Bertha". God has a simple message by which the spoken word, through His Divine amplifier, becomes a voice which penetrates the distance of the universe and up to God Himself! God hears prayer above the cannon's roars and the breaker beats off this storm-tossed and war-worried world. There is only one thing needed and that is a "number of vacuum valves." If God can get empty vessels, He can amplify His voice and His victories. The difficulty is to find the vacuum vessels. Most of us are filled with so many things that there is no place for a cut-in to lift the voice seventy times seventy.
The process of hindering prayer by crowding out is simple and goes by advancing stages. First, prayer is hurried through. Unrest and agitation, fatal to all devout exercises come in. Then the time is shortened relish for the exercise palls. Then it is crowded into a corner and depends on the fragments of time for its exercise. Its value depreciates. The duty has lost its importance. It no longer commands respect nor brings benefit. It has fallen out of estimate out of the heart, out of the habits, out of the life. We cease to pray and cease to live spiritually.
One of Satan's wiliest tricks is to destroy the best by the good. Business and other duties are good, but we are so filled with these that they crowd out and destroy the best. Prayer holds the citadel for God, and if Satan can by any means weaken prayer he is a gainer so far, and when prayer is dead the citadel is taken. We must keep prayer as the faithful sentinel keeps guard, with sleepless vigilance. We must not keep it half-starved and feeble as a baby, but we must keep it in great strength. Our prayer-chamber should have our freshest strength, our calmest time, its hours unfettered, without obstruction, without haste. Private place and plenty of time are the life of prayer. "To kneel upon our knees three times a day and pray and give thanks before God as we did aforetime," is the very heart and soul of religion, and makes men, like Daniel, of "an excellent spirit," "greatly beloved in heaven."
It is a most suggestive fact that prayer, and united prayer, occupies so prominent a place in this instructive book. The apostles "all continued with one accord in prayer and supplication, with the women" 1:14; "and they prayed" 1:24; "they continued stedfastly in the apostles' doctrine and fellowship, and in breaking of bread, and in prayers" 2:24; "Peter and John went up
together into the Temple at the hour of prayer" 3:1; "when they had prayed, the place was shaken where they were assembled together" 4:31; "we will give ourselves continually to prayer, and the ministry of the Word)" and it will be observed that prayer is placed before the ministry of the Word 6:4; "and when they had prayed, they laid their hands on them" 6:6; Stephen died praying 7:6; Peter and John went down to Samaria to see the new converts, and "prayed for them" 8:15; "pray God" 8:22; "pray ye to the Lord for me" 8:24; "Behold, he prayeth" 9:11; "Peter put them forth, and kneeled down and prayed"9:40; "Peter went up upon the housetop to pray" 10:9; "I prayed in my house" 10:30; "I was in the city of Joppa, praying" 11:5; "prayer was made without ceasing of the Church unto God for him" 12:5. See also 12:12; 13:3; 14:23; 16:13; 16:25; 20:36; 21:5; 22:17; 28:8. Truly, Christians prayed, and had prayer meetings, in those days.
FIVE REASONS WHY PRAYER MUST BE ANSWERED
I asked, "will you please give me your reasons for this confident faith?" "Yes," said he, "I believe my prayers will be answered because I have fulfilled these five conditions:
FIRST, "I have had no shadow of doubt in praying for their salvation, knowing as I do that it is the Lord's will they should be saved, for He would 'have all men to be saved, and to come unto the knowledge of the truth' (I Timothy 2:4), 'and this is the confidence that we have in Him, that if we ask anything according to His will, He heareth us.' (I John 5:14).
SECOND, "The second reason is, I have never pleaded for their salvation in my own name, but in the all-worthy name of my precious Lord Jesus (John 14:14), that is on the ground of His merit and worthiness, and on that alone.
THIRD, "The third reason is, I have always believed in the ability and willingness of God to answer my Prayers. (Mark 11:24).
FOURTH, "The fourth reason is, that I have not allowed myself in known sin, for 'if I regard iniquity in my heart the Lord will not hear me.' (Psalm 66:18).
FIFTH, "The fifth reason is, that I have continued in believing prayer for over fifty-two years, and shall so continue until the answer is given. Luke 18:7. 'Shall not God avenge His own elect, which cry day and night unto Him?'
And surely this has made the difference between George Muller and ten thousands of God's dear children. Whenever the Lord showed him that it was His will he should pray, he continued in prayer until the answer came.
Two pastors' wives, says the Western Christian Union, were visiting together. One said: "1 don't know what we will do—my husband is so discouraged. Some how his people do not care to hear him preach, and our salary is far behind. My husband feels so blue that he does not like to visit the people and pray with them, and so he sits around at home nearly all the time." The other sister said: "We are getting along fine. My husband spends much of his time visiting, and the people like to have him kneel and pray with them in their homes. Our congregations are always good, and our salary is paid up promptly." While the two sisters were talking they were mending trousers. One was mending her husband's trousers at the seat; the other was mending her husband's trousers at the knees.
WILL YOU PRAY FOR MISSIONS?
"Nothing lies beyond the reach of prayer except that which lies outside the will of God."
"The work of intercession is the greatest work a Christian can do—the time we give is a proof of the interest we feel. The neglect of prayer by the church at home means defeat at the front of battle."
"Prayer is the mightiest thing put into human hands. If we know how to pray, nothing is impossible to us. Prayer should be a thing of plan and purpose as well as impulse."
"The power to pray, and the power to teach others to pray, is entirely dependent upon the depth of the spiritual life."
"A man may pray as much as he lives, and all the rest of his attempts at prayer are mockery."
IMPORTUNITY
It is importunity that always prevails. The faith of the host meets a sudden and unexpected check. The rich friend refuses to hear; "The door is shut, the children in bed, and I cannot rise and give thee." How little this insistent and loving heart had counted on this disappointment, nor would he, for one single moment, accept this refusal. He presses his three-fold claim: I have a friend, you have abundance, and you are my friend. This is the insistence that will not be denied and that God will not deny. Friendship double, food in abundance and the petitioner knocking right there on the door until this door opens wide and the abundance fills the need. The love that opened the host's house at midnight, and then left it to seek help, must win. Blessed is the man who is not staggered by God's seeming delay, or silence, or apparent refusal, but is strong in faith giving glory to God.
THE GOSPEL OF THE KNEE
I Thessalonian 5:17. "Pray without ceasing." Prayer has been known to change things. Just how, we do not know. If we did know, we would have no need of prayer, for we would be equal to the power that does the changing. The fact of answered prayer is unquestioned; the philosophy of the fact is beyond us. What we need is the demonstration and not its explanation.
Prayer is to our Christian life what the sun is to the harvest. It ripens our individualities into fruits of the Spirit. Prayer is to the Christian what breath is to the lungs. It is breath of God that vitalizes the life. The more prayer the more power; the more power the more potency. We may omit many things in the propaganda of the faith, but never prayer.
In the Solomon Islands, there is a class of native dogs that suffers from chronic starvation. They have but little spirit, and when they take hold of anything, it is not a difficult task to make them let go. A missionary told the natives how the bulldogs, when they take hold, will die almost before they will release their grasp. A native teacher speaking on "Prevailing Prayer," prayed after the lesson, "O Lord, make us bulldogs in prayer." Such indeed are the intercessors needed today. "I will not let Thee go until Thou bless me." Persistent, prevailing prayer will work the miracles and redemption marvels of the twentieth century.
A BIBLE LESSON ON PRAYER
WHERE TO PRAY.
In secret. Matthew 6:6; II Kings 4:33. The very first instructions given by the Lord Jesus regarding prayer were that it should be in secret.
In the house. Acts 10:9,30; Daniel 6:10; Acts 12:12.
In a Solitary Place. Mark 1:35; Matthew 14:23. In a mountain apart. It was a favorite practice of Christ's to resort to a mountain to pray.
In Time of Special Need. Acts 16:25; Acts 12:5. Everywhere. I Timothy 2:8. In any and every place prayer may be made. The spirit, not the place, is important (John 4:21,23).
AT WHAT TIMES WE SHOULD PRAY
Daily. Daniel 6:10; Psalm 55:16,17; Acts 3:1; 1:9,30. Old Testament saints and apostles prayed three times daily—at morning, noon and evening.
In the early Morning. Psalm 119:147; Mark 1:35; Psalm 88:13; Psalm 5:3.
At Night. Luke 6:12; Acts 16:25.
All the Day. Psalm 88:1; 25:5; Psalm 88:9.
At Meals. Matthew 14:19; I Timothy 4:4,5; Acts 27:35.
Continually, Evermore. I Chronicles 16:11; Psalm 105:4; Hosea 12:6.
Always. Luke 18:1; 21:36; Ephesians 6:18.
While He May Be Found. Psalm 32:6; Isaiah 55:6. There is not an hour in our life, when we may not seek God in prayer and call upon Him. Still these passages show that there should be regular recognized times for prayer as well as special seasons.
IN WHAT CIRCUMSTANCES SHOULD WE PRAY
In the Day of Trouble. Psalm 50:15. See as examples of such, Jonah 2:1; 4:2; Psalm 34:6; 107:13,19.
When Sick. Psalm 30:2;11 Kings 20:2; Romans 8:11.
In Affliction. Psalm 22:24; 25:18; II Chronicles 33:12,13.
In Trouble or Distress. Psalm 18:6; 86:7; 107:6,13. In Danger. I Samuel 7:5; II Kings 6:17,18; 19:15. When Overwhelmed. Psalm 61:1,2; 142:1,2,3; Jonah 2:7.
When all earthly help fails. Psalm 142:4,5; Psalm 60:11.
When brought Low. Psalm 142:5,6.
When having Wandered from God. Deuteronomy 4:27,28,29,30.1n any and every time of need we should pray to God. Sickness, sorrow, suffering, trial, persecution, temptation, should all lead to earnest prayer.
SOME RESULTS OF PRAYER
James 5:16. It "availeth much." See I kings 18:37,38. John 14:13,14. Whatsoever is asked will be done. There is no limit to what God will do in answer to prayer. Jerimiah 33:3.
I John 3:22; I Chronicles 4:10. The very thing asked for will be granted. James 5:17,18, are examples of such definite answers.
I John 5:14,15. Anything according to God's will, will be given.
SOME EXAMPLES OF PRAYER
Genesis 18:22-23 Abraham.
Exodus 32:31,32; Numbers 14:13-19.
I Kings 18:36,37,42. Elijah.
II Kings 4:33; 6:17,18. Elisha.
II Kings 19:15-20; 20:2 Hezekiah.
Jeremiah 32:16-25 Jeremiah.
Daniel 9:4-20 Daniel.
Jonah 2:1; 4:2 Jonah
II Chronicles 33:11,12,13 Manasseh
Nehemiah 1:4,6; 2:4 Nehemiah.
I Chronicles 4:10 Jabez
Colossians 4:12 Epaphras
Acts 4:24-31 The Church
Ephesians 1:15-23; 3:14-21 Paul.
Many more might be mentioned, but these are a few worthy of study, to see how these men of God prayed and for what they prayed, and how God heard and answered. Our Lord said, "Men ought always to pray, and not faint," and if we have not the blessings we need, the reason is, "Ye have not, because ye ask not." "Pray ye."
What Ancient Christians Said About Prayer
"Thy very desire is thy prayer, and if thy desire is continual, thy prayer is continual, the whole life of the good Christian is holy desire." S. Augustine.
"The kingdom of heaven," says Jesus, "is taken by violence; and this violence is displeasing to God: He rejoices when thus overcome." S. Clement.
"If you pray only for yourself, you will be the only person who will pray for you; but because each individual prays for all, all pray for each individual." S. Ambrose
"The tongue is the hand of them that pray, and by it we lay hold of the knees of God; therefore, defile it not, lest to thee also He says "Though ye make many prayers, I will not hearken." S. Chrysostom.
"When in this life the spirit of the righteous man travails most in adversities, he thirsts the more ardently after the beholding of his Maker's face." S. Gregory.
"Satan knoweth how great a good prayer is; therefore, he tempts to listlessness in prayer. And Paul also knoweth how careless many are when they pray; wherefore he said—"continue in prayer, watching in the same with thanksgiving." S. Chrysostom.
"To God do I fly; for whither could I fly from God? Whithersoever I go there I find Him. A servant to escape from a human master, flies to a place where his master is not; but to escape God we must fly to God. Hence the psalmist says to God—-"Thou art my hiding-place: Thou shalt preserve me from trouble: Thou shalt compass me about with songs of deliverance." S. Augustine.
"If love grows cold, the heart is silent; if love is burning, the heart cries aloud. Many grow faint in prayer who in the newness of their conversion pray fervently, afterward faintly, afterward coldly, afterward carelessly, as though they are become presumptuous, the enemy watches, and thou are sleeping! Let us not fail in prayer; God takes not away, though He may defer that which He will grant." S. Augustine.
"Prayer is the medicine expelling spiritual sickness, the foundation of the spiritual building, that which the soul is to the body. The man without prayer is as the fish out of water, and gasping for life as a city without walls, and open to all attacks; but from him that is armed with prayer the tempter starts back, as midnight robbers start back when they see a sword suspended over a soldier's bed." S. Chrysotom.
The above article, "The Importance of Prayer" was written by Andrew Bar David Urshan. The article was excerpted from chapter fourteen in Urshan's book, The Supreme Need of the Hour.
The material is copyrighted and should not be reprinted under any other name or author. However, this material may be freely used for personal study or research purposes.