by J.T. Pugh
To View the Entire Article, Click Here
To Download the Entire Article, Outline, or PowerPoint, Click Here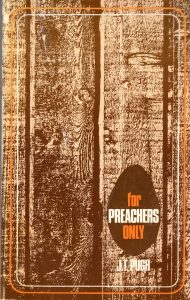 Since the ministry is actually divine leadership, proper execution is an absolute necessity. The bold assertive proc­lamation of truth will not be effective unless the preacher knows in his heart that he is in the will of God. The know­ledge of being under the jurisdiction of a higher power im­parts an assurance that earthly ability cannot equal.
A soldier one day based his faith in his request to Jesus upon the theory of absolute right. Matthew 8:8-10 says. "The centurion answered and said, Lord, I am not worthy that thou shouldest come under my roof: but speak the word only, and my servant shall be healed. For I am a man under author­ity, having soldiers under me; and I say to this man. Go, and he goeth; and to another, Come, and he co-meth: and to my servant, Do this, and he doeth it. When Jesus heard it, he marveled, and said to them that followed, Verily I say unto you, I have not found so great faith, no, not in Israel."
He knew the value of being under authority and the in­fluence that such a position carried. He felt sure that the Master who ruled the wind and the waves had only to speak the word and the need would be taken care of. Jesus had nev­er told him of His power, but the assurance and noble bear­ing of the Lord conveyed this impression to the centurion.
This sense of authority comes to the minister, and its im­pression is extended to the audience when there is within the heart of the preacher the feeling of divine right. There are times when the minister feels strongly this authoritative leadership, and there are other times that it is not so pro­nounced. Why is this? When one is sure that he is right in principle, right in spirit, and right in the center of God's will, this forceful attitude is a part of his life. This does not mean that such a one is to throw his weight around and become overbearing in his behavior. However, there is a strong sense of assurance and direction that is entirely within the bounds, of all other Christian precepts. When a minister is not sure of God's will, or is not strongly convinced of the posi­tion he is assuming, the trumpet always gives an uncertain sound. For the sake of positiveness and assurance, the preacher needs divine leadership.
Divine leadership is able to promote the kingdom of God as nothing else can. Paul did not arrive in Ephesus two years late, as carnal reasoning might have had him to believe, but he arrived right on time. Philip was on the road south just in time to intercept the Eunuch's chariot. Tremendous growth was brought about on the mission fields because the Holy Ghost directed that no greater burden should be laid upon the Christian gentiles than was necessary.
Divine leadership does not always lead to pleasant paths, but it always promotes the kingdom of God. This is one of the true tests that can be put to any given enterprise or de­cision. In the long run, did it actually promote the kingdom of God?
Divine leadership elevates the office of the ministry. It might not always elevate a particular minister, but in the long run it wins a respect for men who leave behind them the feel­ing that they cannot be bought nor borrowed. The respect that is held for God is shared with man who is thought to be directly under God's leadership. Some men who have accomplished spiritual feats for God, even though they might have worked in overalls beside laity, have lived and acted in such a way that everyone felt they were different, and that they were, of a truth, "God's men."
If one is to feel the consciousness of a close positive di­vine leadership of his life, his relationship with God must be intimate. He must be convinced that God chose him person­ally to do a separate and different work for Him.
To View the Entire Article, Click Here
To Download the Entire Article, Outline, or PowerPoint, Click Here