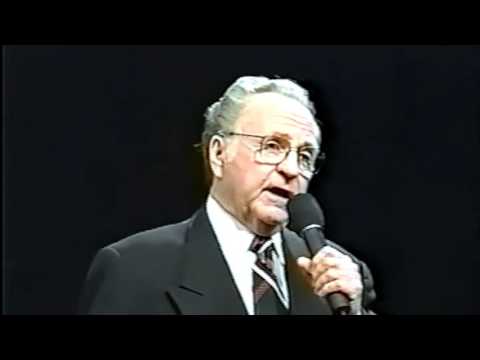 by J. T. PUGH
In Matthew 16:12 Jesus bade His disciples to "beware of the doctrine of the Pharisees and of the Sadducees." He was conveying that there were things these two religious groups taught that were not true. Thirty-two years later Paul instructed Timothy to extend his stay in Ephesus for the sole purpose of charging "some that they teach no other doctrine" (I Timothy 1:3). As long as he was in Ephesus, Timothy was to "give attendance to reading, to exhortation, to doctrine" (I Timothy 4:13). He was to "take heed unto thyself, and unto the doctrine; and continue in them" (I Timothy 4: 11). The elders in the Ephesian Church labored in the "word and doctrine" (I Timothy 5:17). Paul wrote to Timothy that "all scripture is given by inspiration of God, and is profitable for doctrine" (II Timothy 3:16).
C.I. Scofield's introduction to the Book of II Timothy says, "The Asian Churches had not disbanded, nor ceased to call themselves Christian, but they had turned away from the doctrines of grace …. This was proof that already apostasy had set in in its first form." For this reason the apostle, writing his last letter, knowing he had only a few days to live, urged upon his son in the gospel the importance of preaching and teaching the fundamental doctrines of the Christian faith. "I charge thee therefore before God … who shall judge the quick and the dead … ; Preach the word; be instant in season, out of season; reprove, rebuke, exhort with all long suffering and doctrine. For the time will come when they will not endure sound doctrine" (II Timothy 4:1-3).
In the chapter in which Jesus announced the building of His church, He warned against false doctrine. (See Matthew 16.) Emphatic also in his last letter, the great apostle Paul repeatedly urged that doctrine should be preached.
This was the concept of the newly born apostolic church thirty-two years prior. Luke wrote: "They continued stedfastly in the apostles' doctrine and fellowship" (Acts 2:42). Being unified in doctrinal concept contributed to a cohesive unity. We read in the last six verses of the second chapter of the Book of Acts phrases such as "continued stedfastly," "were together," "with one accord," "singleness of heart."
The Jewish nation from which the New Testament church emerged in unfolding discovery and revelation was a focused nation anchored in the principle of singularity. Approximately 3,497 years ago, God Himself wrote the Ten Commandments into tablets of stone. According to Jesus the very first of the Ten Commandments stresses the singularity of God and that we should be singular in our commitment to Him.
Jesus said, "The first of all the commandments is, Hear, 0 Israel; The Lord our God is one Lord: and thou shalt love the Lord thy God with all thy heart, and with all thy soul, and with all thy mind, and with all thy strength: this is the first commandment" (Mark 12:29-30). To the truth and verity of this first divine commandment we are to commit all our love, all our heart, all our soul, all our mind, and all our strength.
Paul said, "It pleased the Father that in him should all fullness dwell" (Colossians 1:19). "We know … that there is none other God but one" (I Corinthians 8:4). "In him dwelleth all the fulness of the Godhead bodily. And ye are complete in him" (Colossians 2:9-10). Jesus said, "If ye believe not that I am he, ye shall die in your sins" (John 8:24) and "God is a Spirit: and they that worship him must worship him in spirit and in truth" (John 4:24).
Masses of people today speak with tongues and believe in spiritual worship, yet boldly make it plain that doctrine is inconsequential to them. But Jesus strongly asserted that, "they that worship him must worship him in spirit and in truth." To truly love God is also to truly commit to Him. Genesis 2:24 declares, "Therefore shall a man leave his father and his mother, and shall cleave unto his wife: and they shall be one flesh." Here again we see the principle of singularity. Truth and Spirit are inseparable to true Apostolic worship. True love is costly. Ask Jesus. Ask Paul.
The apostolic church had been in existence approximately two or three years when Paul, a young, sincere Pharisee, began "breathing out threatening's and slaughter against the disciples of the Lord" (Acts 9:1). Ananias, an ordinary disciple in Damascus, received instructions from God to go to the house of Judas on Straight Street and inquire about Saul. "Go thy way: for he is a chosen vessel unto me, to bear my name … I will shew him how great things he must suffer for my name's sake" (Acts 9:15-16). Thirty years passed and Paul, the committed apostle, identified himself to the Ephesian church as "Paul, the prisoner of Jesus Christ for you Gentiles" (Ephesians 3:1).
In the sixty-eight years that I have preached this Oneness Pentecostal message, I have been reminded over and over of the truth of I Corinthians 6:19-20: "Know ye not that … ye are not your own? For ye are bought with a price." We are prisoners of a concept greater than all other commandments. (See Matthew 22:37-40.) I have experienced the demanding singleness of our Savior's name and have also witnessed its claim in people's lives.
In 1977 I came in contact with a very honest, blunt, and sincere pastor of a neighboring Protestant church. God impressed me strongly to share the beauty and reasonableness of the apostolic message as revealed in the Book of Acts. His bluntness and honest skepticism did not discourage me. I asked our church family in Odessa, Texas, to join me in prayer for him. I asked him to come and preach in our church. He refused.
After a year had passed, I was surprised to see him sitting in our Wednesday night Bible study. I called him to the front and introduced him to the congregation and he was warmly received. Without hesitation or qualm, led by God, I beckoned him to an old-fashioned Pentecostal altar. In about fifteen minutes, he was joyously speaking in tongues.
Several months later while working in the altar at the close of Sunday night service, I felt a hand on my shoulder. I turned to face my neighboring Protestant pastor. His immediate words to me were simply, "I want you to baptize me tonight!" I baptized him in the name of Jesus Christ for the remission of his sins. His wife was shocked, furious, and humiliated. She informed the local church board. They called the organizational secretary. The church fired him. His ministerial license was canceled.
I did what I could to stand by him and encourage him. Time passed. One hot summer afternoon while out doing visitation, my wife and I dropped by the church. A man dressed in work clothes was mowing the church lawn. When we approached him we discovered that it was my preacher friend I had baptized a short time earlier. I gripped his arm and asked, "Why are you out in the heat doing this?" He turned off his mower, mopped his face dry of sweat and quietly said, "My wife is gone, my church is gone, my ministerial license is gone. I do this for a living."
This scene, this submission, this fact I will never forget. I have witnessed and experienced similar commitments to this in the last sixty-eight years of Apostolic ministry. The reason for such drastic response in a decisive moment is found in words that dropped from the mouth of a sincere young man 1,063 years before Christ was born. These words are the only reason given as to why this young teenager should face in combat a towering nine-foot giant. "Is there not a cause?" (I Samuel 17:29)
The reason for success when failure seems certain is the glittering demand of a compelling cause. The invitation to follow Jesus Christ in service is not a soft gesture. It is a revolutionary call to war. The cost to march in His army is nothing less than everything we are and everything we have.
One night in 1943 a beautiful young Pentecostal girl and I sat on a red couch in a farmhouse in Central Texas. We talked long into the night. But finally what seemed to be the most important matter of my life had to be addressed. I slipped off the couched and dropped to my knees before her. My words to her were simple, plain, and laden with emotion. "Bessie, I am called by God to preach His gospel. I have nothing to offer a woman. Perhaps I will never have anything. But I want you to be my wife. And if you come with me, Bessie, you will wear shoes with holes in them. You will wear dresses that are faded. But I need you and want you for my wife. Will you marry me?" With tears on her cheeks, she stretched out her soft hand and took mine. Her answer came, quiet, simple and final: "I will go with you, J. T."
My proposal seemed almost prophetic because she did wear shoes with holes in them, and she did wear faded dresses. But not once did she complain. It was for a cause-the greatest cause of time and eternity. We know Moses as the great Lawgiver of the Old Testament. Though he is not prioritized as a prophet, he spoke a messianic word that reaches across 1,451 years of law. He foresaw the birth of Jesus Christ: "The LORD thy God will raise up unto thee a Prophet from the midst of thee, of thy brethren, like unto me; unto him ye shall hearken" (Deuteronomy 18:15).
Not only did Moses prophesy of our Savior, he also prophesied of the great revival of doctrine that is to flow through the church of His name: "My doctrine shall drop as the rain, my speech shall distil as the dew, as the small rain upon the tender herb, and as the showers upon the grass: Because I will publish the name of the LORD; ascribe ye greatness unto our God" (Deuteronomy 32:2-3).
At this time we must discover that, endowed by the absoluteness of God's own singularity, we are supposed to lead. We shall see in time-hopefully before it is too late-that we are the only ones left to lead.
J. T. Pugh has served the United Pentecostal Church as General Home Missions director and district superintendent of the Texico District. He has been a member of the General Board of the United Pentecostal Church for forty-one years. He pastored for seventeen years in Port Arthur, Texas, and for eighteen years in Odessa, Texas, where he presently lives.