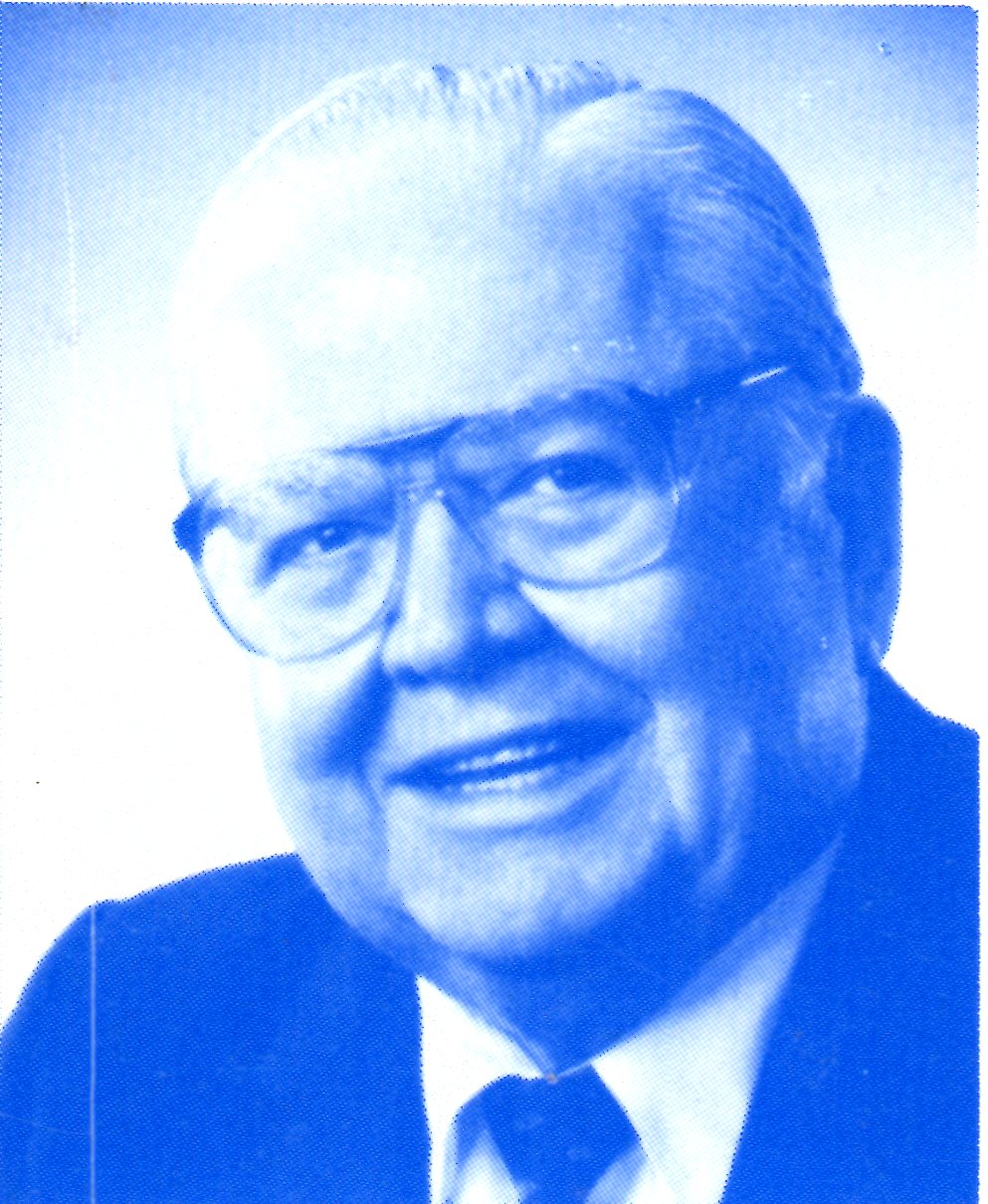 By Kenneth V. Reeves.
On Friday night, I was awake most of the night. I suppose that is what you call a ministry of prayer. Though I've never thought of my praying as a ministry of prayer, it must be. When you pray all night, you may think you've really done something. At least you feel pretty tired. As night-owlish as I may be inclined, I do not like to stay up until five or six o'clock in the morning. But there were some things to be prayed over. It's like Jacob wrestling with the angel all night long. He was a little crippled by the results, but he had claimed the blessing and got the name of Israel. It was worth it.
Sometimes we schedule all-night prayer meetings. I have always done better when it was unscheduled by us, and scheduled by God. During that time in prayer Friday night, I saw three things, one of which was this church. I saw that if I should die or if I should leave this place, you folks would get into quite a fix; even after all these years of my talking and preaching and teaching to you. We may think we have just about made it in, but we have hardly started on the journey, and we have yet a long ways to go. It is not that way.
I noticed how that during the all night prayer meeting, I was struggling over trying to keep up a given schedule. I was trying my best to work various meetings into a schedule. I learned that we are not necessarily going anywhere because we have been called. Whether or not the Lord sends us is what really counts. I say, that what's important is whether the Lord sends us, not whether somebody calls us. Sometimes we think we must spread ourselves around. Well, take a pound of butter and spread it over several little pieces of bread; you still have the same little pound of butter. You spread it pretty thin if you try to double up on the bread.
I was very, very much stirred by the kind of faith, and the kind of hope, the kind of charity or love that, according to the scriptures, would be necessary to be an unshakable person. How much would be needed of this faith, hope, and charity to be unshakable in Christ? In the twelfth chapter of Hebrews, we have a warning to the discouraged Christians of the Hebrew epistle, beginning in verse twelve. "Wherefore lift up the hands which hang down, and the feeble knees; And make straight paths for your feet, lest that which is lame be turned out of the way; but let it rather be healed. Follow peace with all men, and holiness, without which no man shall see the Lord: Looking diligently lest any man fail of the grace of God; lest any root of bitterness springing up trouble you, and thereby many be defiled; Lest there be any fornicator, or profane person, as Esau, who for one morsel of meat sold his birthright. For ye know how that afterward, when he would have inherited the blessing, he was rejected: for he found no place of repentance, though he sought it carefully with tears."
Now here it comes, "For ye are not come unto the mount that might be touched, and that burned with fire, nor unto blackness, and darkness, and tempest, And the sound of a trumpet, and the voice of words; which voice they that heard intreated that the word should not be spoken to them any more: (For they could not endure that which was commanded, And if so much as a beast touch the mountain, it shall be stoned, or thrust through with a dart: And so terrible was the sight, that Moses said, I exceedingly fear and quake:) But ye are come unto mount Sion, and unto the city of the living God, the heavenly Jerusalem and to an innumerable company of angels, To the general assembly and church of the firstborn, which are written in heaven, and to God the judge of all, and to the spirits of just men made perfect, And to Jesus the mediator of the new covenant, and to the blood of sprinkling, that speaketh better things than that of Abel. See that ye refuse not him that speaketh. For if they escaped not who refused him that spake on earth, much more shall not we escape, if we turn away from him that speaketh from heaven: Whose voice then shook the earth: but now he hath promised, saying, Yet once more I shake not the earth only, but also heaven. And this word, Yet once more, signifieth the removing of those things that are shaken, as of things that are made, that those things which cannot be shaken may remain. Wherefore we receiving a kingdom which cannot be moved, let us have grace, whereby we may serve God acceptably with reverence and godly fear: For our God is a consuming fire." (Hebrews 12:12-29)
Hebrews 12:28 was given to me thirty years ago in a vision when I first saw my Lord. I was brought back thirty years later to this unshakable kingdom, the kingdom that simply can't be moved. The things that can be shaken will be shaken, so that the things that cannot be shaken may simply stand or remain. In my mind's eye, I thought of Job in reference to the unshakable hope that he had. "For I know that my Redeemer liveth, and that he shall stand at the latter day upon the earth. And though after my skin worms destroy this body, yet in my flesh shall I see God." (Job 19:25-26) His body was being shredded and eaten off of his soul. As a bunch of moths would tear up a garment, his body was being consumed on his feet with these boils.
The devil said, "All that a man hath will he give for his life. But put forth thine hand now and touch his bone and his flesh, and he will curse thee to thy face." (Job 2:4-5) And there was Job. As far as he knew, his body would slowly disintegrate off of his soul. He would be disembodied by this awful, loathsome disease. Yet, there was that persistent expectation, that hope or earnest expectation. "Yet, in my flesh I shall see God." It is believed that he lived before the time of the prophets, even before Moses. He is believed to have lived during the time between the flood and the time of Abraham, Isaac, and Jacob, or in that general period. Yet that man was unshakable in his hope. He told God to His face, "Though you slay me, yet will I trust you." His heart was as firm as iron as far as determination. He would not be moved away from his hope, even when he believed God was against him and attacking him, and that God had turned to be his bitter enemy. He said, "I'll still trust you. In my flesh I shall see You, God." You talk about unshakable hope. No wonder you've heard of the patience of Job, and the Bible speaks of the patience of hope.
But you see, there is not only the hope that never gives up, there is also the love that will not quit. Some people's love turns hot and cold. Sometimes ministers think that people love them, and I suppose they do. But sometimes people's friendship is very thin and very shallow. I want to show you something tonight about the love that never quits.
You would think that if a man gave all of his goods to feed the poor and would give his body to be burned, that he certainly had love for something. And if I have not charity, it profiteth me nothing. Charity suffereth long and is kind. Charity envieth not. Charity vaunteth not itself, is not puffed up. Doth not behave itself unseemly, seeketh not her own, is not easily provoked. Thinketh no evil. The slightest little difference of opinion or lack of response to someone's demands or their so-called needs, causes some to think no one cares for them, everybody thinks bad of them. Charity doesn't think that way; it thinketh no evil. It doesn't just suspect and imagine all the time. Rejoiceth not in iniquity, but rejoiceth in the truth. Beareth all things, believeth all things, hopeth all things, endureth all things. Charity will never quit. Charity never faileth.
Jesus Christ demonstrated to us the love of God. In ( Gethsemane, He had His opportunity to quit. There, it looked I ike He was pouring blood out of His veins, out of the pores of
is head. He had prayed so hard that it was as if bloody sweat was oozing out of the pores of His body. Not through the stab wounds, but through the agony of carrying a burden so cruel.
Yet, He had come to the position of "Not my will, Thine be done. I will drink to the very bottom of the cup, if it be Thy will." They beat Him and tore Him apart, and whipped Him thirty-nine times, I suspect with a cat of nine tails. They jerked His beard out and pushed the huge crown of thorns into His head. While they were killing Him, He said, "Father forgive them, for they know not what they do." And this spirit moved over to Stephen as they stoned him to death. "Lay not this sin to their charge," was his prayer. It was a love that just would not quit. Nothing could drive it out of the heart of Christ, nor of the loving disciple, Stephen.
And then there is that faith that says yes to God. Yea, let it be just exactly as You have said. If You've said it, then that is it. There are no more arguments from me. All I am determined to find out is if You have said it. I also need to know what You mean by what You said. Be it so. This is it. Let it be yea and amen, for all the promises of God in Him are yea and in Him amen, unto the glory of God by us. Faith says it is just that way.
How does faith come in there in conjunction with hope, since there is a relationship between faith and hope? It looks like in Job's case that there was a faith in his heart of course, for faith is the substance of things hoped for, the evidence of things not seen. But, faith is more of a day-to-day walk. It is an experiential and practical thing that is like a walk; a person walking from one place to another to a goal somewhere. Hope seems to be the goal of faith, but faith is the way you take your steps. We walk by faith and not by sight. I don't know whether you have allowed God to speak very much to you or not, but when God says it, that is it. Every promise of God is yea and in Him is amen. Irrevocably so.
In Hebrews, chapter six, and verse thirteen, we read, "For when God made promise to Abraham, because He could swear by no greater, He sware by Himself." He wanted so much for Abraham to believe. He could not find anybody else that would be greater than Himself, or even equal with Himself. He wanted Abraham to know how truly He meant what He said so the man of God, the prophet, would not doubt. When He couldn't find anybody to swear by, "He sware by Himself saying, Surely blessing I will bless thee, and multiplying I will multiply thee. And so, after he had patiently endured, he obtained the promise."
Now here is why in Hebrews, chapter ten, we read that we, through faith and patience, inherit the promises; through faith and patience. Patience or endurance is necessary for the ultimate goal you are looking for, the ultimate goal which is your hope. It takes endurance, patience meaning endurance, and staying with it year after year. But, Abraham was about seventy-five and his wife had not and could not bear children. Yet God said, "Abraham, I am going to bless you and I'm going to multiply you."
For twenty-five declining years, mind you, in the steps of faith which Abraham took, he hoped against hope. That is, any human hope he had should have long expired. But, God had given him a hope above all human expectation and he hoped against hope. While he stumbled a little before he was an hundred, at an hundred years of age, he staggered not at the promise of God because of unbelief, but was strong in the faith, giving glory to God. Now he did stagger some between seventy-five and one hundred. He told some fibs in Egypt, and listened to Sarah about having this promised seed by Hagar, the Egyptian handmaid. He did stagger some there.
Moses left Egypt not fearing the wrath of the king, while forty years before he left Egypt because he had feared the king's wrath. But God spoke to him and said, "I have come down to deliver. I want you to tell them that I AM that I AM has sent you." When he left Egypt this time, he did not fear the wrath of the king, because he was living in the promise and in the power of almighty God. The difference was that he was in the will of God now and had the Name of God, unlike his previous attempt to deliver one Israelite from the Egyptian forty years before.
The Lord said to me several months ago, "I have put my Name in you. I want you to go out now and begin to cast out demons, and I will be there with you." What I'm trying to tell you is that we need to hear from God and believe God when He speaks. We must rely on a hope that will not quit and a faith that always says yes, full speed ahead, no stops. Believe it. Act upon it, and do what I say.
Let me go on reading from Hebrews, chapter six. Listen to this closely. "For men verily swear by the greater: (they take a greater person and depend on him to vouch for them) and an oath for confirmation is to them an end of all strife (that settles the question). Wherein God, willing more abundantly to shew unto the heirs of promise the immutability of his counsel, confirmed it by an oath (the unchangeability of His counsel): That by two immutable things, (You talk about two immutable things that can't be moved, it's the next two things.) in which it was impossible for God to lie." He sware by Himself. He was going to do it. Since God cannot lie and because God has the ability, it is so immutable that it's as well done as if it had been done in the past. The future is as sure as the past has been.
God is not surprised about what happens tomorrow night, if there is a tomorrow night, or what is happening tonight. He is not surprised. God has a purpose and He's going to carry that purpose out just like He said. This is the immutability of His counsel. He confirmed it by an oath and sware by Himself. This is what He gave to Abraham, that by two immutable things in the which it was impossible for God to lie, "we might have a strong consolation, who have fled for refuge to lay hold upon the hope set before us: Which hope we have as an anchor of the soul…" (Hebrews 6:18-19) As a ship has an anchor that holds fast in the bottom of the sea, so our anchor is in heaven. Instead of going down into the depth of the sea, it goes to the height of heaven. The
forerunner is for us, even Jesus, who is our hope, made a high priest forever after the order of Melchisedec.
Here's what I want to tell you. Hope is more than a word! Jesus Christ is our hope! Jesus Christ Himself is the anchor of our soul. He is the guarantee, He is the stability, He is the assurance, He is the dependable One. I made a note before church pertaining to some unmovable and unshakable things in Hebrews. Let me note them to you tonight, three of them that cannot be moved. This is besides the kingdom that is unshakable.
One is the throne. "Unto the Son He saith, thy throne, 0 God,.is forever and ever: a scepter of righteousness is the scepter of the kingdom. Thou halt loved righteousness, and hated iniquity; therefore God, even thy God, bath anointed thee with the oil of gladness above thy fellows." (Hebrews 1: 8-9) . We have a king on a throne that is settled forever, and He rules forever with all power and authority in heaven and earth. It will never be taken away from Him. Thy throne 0 God is forever and ever. There is no crookedness about the throne, no bribes can buy Him off, but He is there, established permanently upon His throne. And though He take the heavens and the earth and they shall be wrapped up like a vesture and shall pass away, My Word shall not pass away. Neither will the throne of the Lord Jesus Christ ever pass away. It is unshakable, unmovable.
Continuing on in Hebrews, chapter seven, and beginning with verse fourteen: "For it is evident that our Lord sprang out of Juda; of which tribe Moses spake nothing concerning priesthood. And it is yet far more evident: for that after the similitude of Melchisedec there ariseth another priest, Who is made, not after the law of a carnal commandment, but after the power of an endless life. For he testifieth, Thou art a priest for ever after the order of Melchisedec." For Melchisedec has a distinct office of king-priest. King of Salem, king of peace. He was a king-priest. His ancestry could not be traced, nor any of his descendants traced either before his birth, or when or where he died, or where he was buried; all of this being unknown genealogically or historically. There is no chronology of all these events pertaining to his coming from where and going to where. A priest apparently coming out of no where as far as the records show. Yet, every Jew who accepted only a bonified priest who had succeeded in proper order from Aaron, accepted Melchisedec. He had met Abraham, come from the slaughter of the kings, and blessed Him to whom he gave the tithe of all. Yet, the Jews believed that this strange, unique personality, whose birth and death are not chronicled, was the priest.
Paul, or whoever wrote Hebrews, argued that there was to be a priest after the order of Melchisedec. This Jesus out of Judah, of whom priests were not spoken by Moses, I declare He is the One by His resurrection to have the power of an endless life and is your priest forever after the order of Melchisedec. He is permanently, everlastingly there as your priest. What is a priest for? A priest is ordained for men in things pertaining to God. A priest is a pleader on behalf of men, one who stands to plead the cause of humankind. Since He is so high and so lofty and so sinless, how can He sympathize or have compassion on me? That is why He first took upon Himself the nature of man, was made in the likeness of men, and was tempted in all points such as we are so, that He would not be some remote high priest up in the skies. So, when you petition the high priest of your profession, you can know that He can be touched by the feelings of your weaknesses and your problems. He will not be criticizing you for your sinfulness, but rather interceding on behalf of your impotence. He not only was tempted in all points, He was also the supreme sacrifice for our sins on Calvary. If anyone can speak up for our interest, certainly the Lord Jesus Christ can as our great High Priest.
Therefore, as the Bible states very plainly, by so much more was Jesus made a surety. Sometimes the word guarantor is used. Legally, those two terms have a slightly different treatment. A surety of a better testament makes the new testament real, because He backs it up. He shed His blood to dedicate it. It is His own last will and testament, and He is the guarantor of that testament and all of its promises and benefits. In the Old Testament there were many priests, because they were not suffered to continue by reason of death. But this man, because He continueth, ever hath an unchangeable priesthood. Wherefore, He is able to save them to the uttermost that come unto God by Him, seeing He ever liveth to make intercession for them. He has an endless life and a permanent priesthood, so that the same Jesus that blessed Paul in the early Church is the same Jesus that blesses today. He is the same yesterday, today, and forever. The same one that was compassionate then, is compassionate and understanding now.
Lastly, it tells us here of this better covenant. This scripture God gave me thirty years ago and gave the writer of Hebrews over 1,900 years ago. Hebrews 13:20 states, "Now the God of peace, that brought again from the dead our Lord Jesus, that great shepherd of the sheep, through the blood of the everlasting covenant." For we not only have a permanent throne with one upon that throne, God, but a king-priest in the Lord Jesus Christ upon this same throne, who is an administrator of this everlasting covenant. This is why I feel so good about this. This covenant is just as young today as it was 1,900 years ago. It is just as fresh. And throughout eternity it will be just as fresh and endless, because this covenant is everlasting, eternal, and unchanging. It is a covenant based upon better promises, so unshakable, sure, established, and supported. No wonder one can be unshakable in Christ!
The above article, "Unshakeable in Christ" is written by Kenneth V. Reeves. The article was excerpted from the eighth chapter of Reeves' book The Angels, Demons, and People Vol. 1.
The material is most likely copyrighted and should not be reprinted under any other name or author. However, this material may be freely used for personal study or research purposes.