Walking with God is about face-to-face encounters with God, and that always means change. Often, we want intimacy it bargain prices—a God who accepts me but never changes me. We want God but not the God who invites me to become like Him daily. But walking with God is about moments when God desires nothing less than a "changed me." Changing externals without a change in my heart produces pseudo-Christianity.

By Chester Mitchell
To View the Entire Article, Click Here
To Download the Entire Article Directly to Your Computer, Click Here
To View the Outline, Click Here
To View the PowerPoint, Click Here
To Order More, Click Here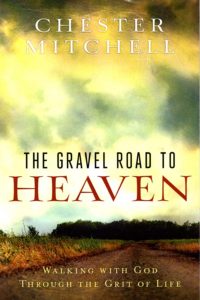 (ALLOWING GOD TO CHANGE US)
The sun was rising as Jacob left Peniel, and he was limping.
(Genesis 32:31)
You don't always race to victory. Jacob limped his way to a new name.—Bishop T.F. Tenney
Change is never easy. An aged gentleman was interviewed on the occasion of his 100th birthday. "During your long life, you must have seen so many things change?" the reporter said. "Yes" the man responded, "and I was against every one of them!" Anyone who has ever attempted to break a habit or change a behavior knows change can be very difficult.
A few months ago, my brother-in law, Mark Schmidt, suffered a heart attack just as he was leaving his job at Loudoun Hospital, in northern Virginia. The quick actions of his co-workers in the intensive care unit, where he works as a nurse, saved his life. Mark recovered, and now he's making changes in his lifestyle. He has lost weight and changed his eating habits. It hasn't been easy, but it is necessary.
Change is sometimes precipitated by a crisis. Frank has been overspending for many years. Month after month the sea of red ink has risen. No one suspected, but one factor was the fact that his gambling had become uncontrollable.
Alarms should have sounded. Maybe they had, but they were ignored because of the "tyranny of the gradual." That's when things are ignored because they worsen so slowly.
The day finally came when Frank heard the knock at tin' door. The police officer had the eviction notice in his hand. With his wife and children standing behind him, Frank finally had to face the truth about his overspending. He had to change.
Changing would not come easily. And it would not hr cheap. Yet that is what the Gospel is all about. The heart of the Christian message–and the goal of the Christian's walk with
God—is transformation, or metamorphosis, and that change starts within.
Each time I read Genesis 32, I'm reminded that God longs for the moment when we allow Him to change us from the inside out. Having lived the life of a deceiver, Jacob knew how to scheme to get what he wanted, and he had a way of coming out on top. God loved him, which is why He couldn't leave him walking in the same condition that He first found him in:
This left Jacob all alone in the camp, and a man came and wrestled with him until the dawn began to break. When the man saw that he would not win the match, he touched Jacob's hip and wrenched it out of its socket. Then the man said, "Let me go, for the dawn is breaking!"
To View the Entire Article, Click Here
To Download the Entire Article Directly to Your Computer, Click Here
To View the Outline, Click Here
To View the PowerPoint, Click Here
To Order More, Click Here