The publican – the sinner – could not even life his head because he didn't have a thing in the world to tell God that he had done. All of his works had been bad. He just smote himself on the chest and said, "God be merciful to me a sinner." The Bible tells us this man got his prayer answered and the other man, God just looked at him disgusted with his kind of praying.

By T.W. Barnes
To View the Entire Article, Click Here
To Download the Entire Article Directly to Your Computer, Click Here
To View the Outline, Click Here
To View the PowerPoint, Click Here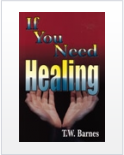 Mark 11:24: "Therefore I say unto you, What things soever you desire, when you pray, believe that ye will receive them and ye shall have them."
These are concrete words and eternal words. Jesus will back them up because He said them.
Prayer: "Father, I pray prayer warriors will be charged to pray more and those who have not caught the vision of what a prayer life really means to a Christian will begin now to pray more and walk with you. You walked upon this earth for 33 ½ years and spend many hours in prayer that we might have an example to know if we pray right and believe right, we will come out all right. Bless all who read this in Jesus name. Amen."
Prayer is one of the greatest privileges we have upon this planet earth. Before Calvary, man had to go through the priest to get to God, but since Calvary, the veil has been rent and there is nothing between us and God but a step of faith. Every person, every born again Christian can walk into the presence of God. Prayer is an invitation into the presence of the Almighty God to talk to the creator of all things. We should thank the Lord for the opportunity to pray.
We can find no better place to talk about our troubles than to the Lord. We can talk about our troubles to the psychiatrist or counselor, but so often they are unable to help us. They listen while we talk, but the problem is still there and in a few days it boils up again, so we go and talk about it again. However, when we talk it out to Jesus and He buries it under the blood, it is over if we leave it under the blood.
So often we run into people that hate themselves. They should hate the things they are doing wrong, but not hate themselves. We are all created in the image of God. When we become a son/daughter of God, we have a new father – a new relationship.
When you pray, remember what God said. "Whatsoever things you desire, believe you receive them and you shall have them (Mark 11:24)." The first part of the verse is a promise – "Therefore I say unto you whatsoever things ye desire, when you pray" – the rest of the verse is calling you to act your faith – "believe that you receive them and you shall have them."
Notice what gets the prayer answered is not the promise; it is our receiving the promise. The promise is written and thousands read it and overlook it and pass it by and never get the blessing. The man or the woman, who after they pray, believe, and do not allow visible or natural things to alter their faith, brings this invisible promise to pass right from the spirit world. They believe when they cannot see, when they cannot feel; they know it is happening.
A man stood on the banks of a natural river in Arizona looking at the beautiful clear water. He said, "It can't be; look at this desert. I see nothing but desert – no tree, no grass."
The river is saying, "I am here, I am very much alive; I am the real thing."
To View the Entire Article, Click Here
To Download the Entire Article Directly to Your Computer, Click Here
To View the Outline, Click Here
To View the PowerPoint, Click Here