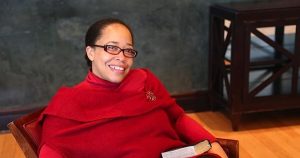 By Margaret R. Banks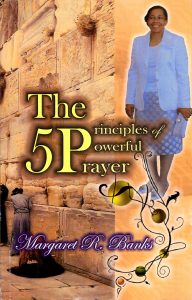 Thy word is a lamp unto my feet, and a light unto my path. Psalm 119:105.
On July 24, 2009 I woke to a text message from my sister Karen. She wrote, "Did you know the Lord can turn your life upside down in a second?" My first reaction was what went wrong. So I called and asked quizzically what happened? She heard the concern in my voice and said. -What's wrong? Girl, the Lord just spoke a word into my spirit and I am holding onto it." So, I said so cavalierly it only takes a Word from the Lord. She got so excited. She said, "That's it — a WORD from the Lord, that's all it takes."
It is so amazing how it only takes one WORD from the Lord in a split second that can facilitate a paradigm shift in your life. The Lord promised never to give you more than you can bear. In Exodus 12: 40-41 says Now the sojourning of the children of Israel, who dwelt in Egypt, was four hundred and thirty years. And it came to pass at the end of the four hundred and thirty years, even the selfsame day it came to pass, that all the hosts of the Lord went out from the land of Egypt. I want to highlight this portion of the scripture that said.. four hundred and thirty years, even the selfsame day it came to pass…the selfsame day tells me that when your trial, or tribulation comes to an end, or is declared over, and your file as it were is sealed, the prosecutor has to close his case too. He, the prosecutor, or I dare say, the enemy, cannot change or alter that final decision set forth on your behalf. Listen, I am ready, with bags packed, to get out of the situation that the enemy told me would never end. When God declares and decrees it to be over, then it is OVER! It took a word of hatred to sell Joseph in bondage, but it took a Word from the Lord to pull him out. Prophetically, it took over 20 years for Joseph's dream to be fulfilled, but when it came to pass, Joseph walked out of prison in style. I liked how
David, in Psalm 105:17-22, summarized the sequence of events:
Pharaoh, the king, sent a word to him
it loosed his shackles
it set him free
it made him a wise ruler over the kings house, substance and princes, and
allowed Israel's exodus story to be told even today.
What a WORD! What a GOD! I felt I needed to share the end of Joseph's story before I reviewed his dilemma. Joseph was a happy-go-lucky child. He knew he was daddy's boy and he would not let his brothers forget it. After many years of sibling rivalry on the part of his brothers, they planned and executed a brother's worst nightmare. Joseph was sold to slave traders, with no hope of ever seeing his family again. Joseph was now separated from all he knew to be familiar and was at the mercy of total strangers for a measly price of twenty pieces of silver. Joseph was banished to a place that was never a part of his many dreams or his own destiny.
Joseph had his father's heart. He was the son of Jacob's favorite wife. He no doubt resembled his mother, and every time saw Joseph he saw Rachel. Jacob promised he would make Rachel proud if she was around. As Jacob reminisced, and even planned Joseph's future, he would share it with his elder sons. His sons grew increasingly weary of their father talking of how Joseph was his prized possession. No doubt, they hypocritically nodded and even gave suggestions on how he would be prosperous, yet in their hearts, they only had hatred and malice for their younger brother.
In the process of time hatred was almost transformed into murder had it not been for the Lord's hand upon Joseph. His brothers conjured up a scheme of deception that fooled their father for over twenty years. One would wonder where Joseph got this conviction when his brothers exuded such deceptive behaviors.
I do not know when it all happened but one day Joseph got up and decided I am going to practice the principles of my father. He would remember the days when his father Jacob would pray to this invisible God — Jehovah by name. He reminisced of family gatherings, and how Jacob would tell of the promises of Jehovah God. He remembered how his dad mentioned how God would one day give them a land flowing with milk and honey, where they will never have to be nomadic anymore. For just one moment in time Joseph saw in his mind' eye, a place of tranquility. But those thoughts would abruptly disappear when Joseph was summoned to serve his captors.
For some reason though, Joseph had in his mind that one day his deliverance would come. David in the Psalms 126 reminded us that the Lord would one day turn again his captivity. Why, would you ask that I spent so much time rehearsing the life of Joseph? It is because I am rehearsing the WORD. The only way you will have power in prayer is to know and declare the word of the Lord. Jesus, being very God, used the word of God consistently. He (Jesus) is famous for saying… it is written. If
Jesus who had all power returned to the Word for weaponry against the enemy, how much more should we as saints of God apply the Word of God to our daily lives, and above all, in our time of prayer.
I have learned that reading the word of God during prayer is one of the most effective tools in defeating the plan of the devil. I have used the Word when I cannot find my own words to pray. The secret though to this principle of praying The Word is to take the BIBLE along with you in your time of prayer and meditation. Take a few seconds to meditate on this passage of scripture and see how you could incorporate this in your prayer time and feel the effects of praying the WORD.
Deal with thy servant according unto thy mercy, and teach me thy statutes. I am thy servant; give me understanding, that I may know thy testimonies. It is time for thee, Lord, to work: for they have made void thy law. Therefore I love thy commandments above gold; yea, above fine gold. Therefore I esteem all thy precepts concerning all things to be right; and I hate every false way. Thy testimonies are wonderful: therefore doth my soul keep them. The entrance of thy words giveth light; it giveth understanding unto the simple. I opened my mouth, and panted: for I longed for thy commandments. Look thou upon me, and be merciful unto me, as thou usest to do unto those that love thy name. Order my steps in thy word: and let not any iniquity have dominion over me. (Psalm. 119:124-133)
There is such a sweet aroma of the presence of the Lord that comes from his Word into our hearts that no human thinking can comprehend. I love His Word. In the same passage you just read, it says, "The entrance of your words giveth light." I feel impressed by the Holy Spirit as I am penning this paragraph to insert another psalm for your mediation. I would not mind if you simply stop reading my words and allow His words to have its perfect work in your life.
The heavens declare the glory of God; and the firmament sheweth his handiwork. Day unto day uttereth speech, and night unto night sheweth knowledge. There is no speech nor language, where their voice is not heard. Their line is gone out through all the earth, and their words to the end of the world. In them hath he set a tabernacle for• the sun, lthich is as a bridegroom coming out of his chamber. and rejoiceth as a strong man to run a race. His going forth is from the end of the heaven, and his circuit unto the ends of it: and there is nothing hid from the heat thereof The law of the Lord is perfect, converting the soul: the testimony of the Lord is sure, making wise the simple. The statutes of the Lord are right, rejoicing the heart: the commandment of the Lord is pure, enlightening the eyes. The fear of the Lord is clean, enduring for ever: the judgments of the Lord are true and righteous altogether. More to be desired are they than gold, yea, than much fine gold.• sweeter also than honey and the honeycomb. Moreover by them is thy servant warned: and in keeping of them there is great reward. Who can understand his errors? cleanse thou me from secret faults. Keep back thy servant also from presumptuous sins; let them not have dominion over me: then shall I be upright, and I shall be innocent from the great transgression. Let the words of my mouth, and the meditation of my heart, be acceptable in thy sight, 0 Lord, my strength, and my redeemer. (Psalms 19:1-14)
Let's pray, Lord Jesus, your words are life giving. Breathe life in your child right now. Where there is hate bring love. Where there is pain, soothe. Minister strength to the hurting, strengthen the feeble knees. Encourage the discouraged and discontented. Bring peace to the troubled heart. Restore the things that are broken, which is the source of this pain right now. Bring home a wayward child. Convert the unconverted and bind up all their wounds. Peace Speaker, Holy Father, Precious Jesus, wrap your loving arms around your child and grant him/her peace in Jesus' name. AMEN!
I remember attending one of our regular Saturday morning prayer service at my church. This particular Saturday I felt like my prayers were not going anywhere, so I decided to pray the Word. I began reading the book of Proverbs for about half an hour. Then a word that I never heard anyone shared jumped off the pages at me like lightening. My son, fear thou the Lord and the king: and meddle not with them that are given to change. (Proverbs 24:21)
The Lord started to deal with me about how He, the Lord, was not given to change. He said to me…For I am the Lord, I change not…Malachi 3:6. He further impressed on me that I should remember who He was…Jesus Christ the same yesterday, and today, and forever. Hebrews 13:8. He also reminded me that…Heaven and earth shall pass away, but my words shall not pass away. (Mathew 24:35, Mark 13:31 and Luke 21:33). The scripture emphatically states in 2nd Corinthians 13:1 that… In the mouth of two or three witnesses shall every word be established. 2nd Peter 3:9 The Lord is not slack concerning his promise, as some men count slackness; but is longsuffering to us-ward, not willing that any should perish but that all should come to repentance.
The Lord started to reassure me that he will not fail me in spite of my failures and shortcomings, because his Love is PERFECT to me, and I should not worry about him changing his love for me. God's love for us is not contingent upon if we live right today or tomorrow. No, his love is constant. We must not however spurn his love because he will not always chide, but is longsuffering to us, and will not allow our lives to be snared or taken.
When you Work the Word of God in prayer, your prayers will improve. The Word of God is creative. It is ever living, ever settling, and brings peace. John 1:1 said, "In the beginning was the Word, and the Word was with God. and the Word was God " What makes the word of God so effective is that it is living. Jesus said I am the Living Bread that came down from heaven…John 6:51, also affirms him as the Living Water… John 4:10. This means we can eat and drink of him and will not grow hungry or thirsty. No wonder the woman at the well when asked whether she would partake of the living water unequivocally said yes. Getting a good dose of the Living Water, which is Christ, will turn one into an instant believer and witness.
When you know the Word, the devil will have a hard time convincing and twisting your faith in God. I remember how in the midst of me writing this book, I was going through another of my most fiery trials yet. I remember driving home one night from service and the enemy attacked my mind in most accusatory ways ever. He said, "Don't you see God is turning your wait into a weight." He went on to let me know how foolish I was to be listening to my pastor and others who have "made it," and how their lives are "prosperous." The devil was having a field day between my ears. My mind was bombarded with every negative thought that only came from hell. I was so pressed down and frustrated I just felt like throwing in the towel and calling it a-day. But, thank God for a working knowledge of the Word of God. I will confess though that when I am at my wits end, and I feel like this God business and living for others need to go, I quickly get a reality check. The question I ask myself is who will have my heart if I let God alone and do my thing?
I have always lived with only two views as to whom we serve, God or the devil. I do not believe in living in the middle —there is no purgatory in my book. Therefore, to think that not serving the Lord is to serve the devil sets me straight every time even if it is on a subconscious level. I remember telling the devil YES my wait might feel like a weight, but contrary to your accusation, devil, I WILL wait on the Lord…But they that wait upon the Lord shall renew their strength; they shall mount up with wings as eagles; they shall run, and not be weary; and they shall walk, and not faint —Isaiah 40:31. Then I remembered how the scripture equates weight with sin, and I was not about to leverage my waiting on the Lord to sin, so the Word came with brute force against the devil's fiery dart and I heard in my spirit as it were the Angel of the Lord plundering the enemy by saying… Wherefore seeing we also are compassed about with so great a cloud of witnesses, let us lay aside every weight, and the sin which doth so easily beset us, and let us run with patience the race that is set before us, Looking unto Jesus the author and finisher of our faith; who for the joy that was set before him endured the cross, despising the shame, and is set down at the right hand of the throne of God.
I felt revived. I felt strength returning to my troubled and frustrated mind. I felt the need to fight again, all because of the living and creative Word that dwells on the inside. I would encourage every saint of God to use the Word of God as your most fierce weapon in prayer. Work it and watch it work for you!
The clarion call comes shouting down the halls of time, "For the word of God is quick, and powerful, and sharper than any twoedged sword, piercing even to the dividing asunder of soul and spirit, and of the joints and marrow; and is a discerner of the thoughts and intents of the heart." (Hebrews 4:12) Jesus and all his disciples used the word and were victorious; therefore, let us follow their lead, and let the word work for us.
Sometimes people who should "know" better in the kingdom of God can challenge your faith instead of encouraging it. Let us revisit the Elijah and Elisha story. The sons of the prophets were aware of the soon departure of Elijah just as Elisha did. But, they made Elisha work for his enduring faith. They taunted him day and night about Elijah's soon departure. But Elisha was wholeheartedly resolute on receiving what the Lord had for him, so he had to put on spiritual blinders, and like a broken record kept saying, "I know, hold your peace." Elisha's persistence paid off because not only did he get the double portion sought, but he received the coveted mantle of Elijah -­The Mantle of sacrifice, authority and prayer. This situation can be compared to Jesus leaving his disciples, but giving them hope that he will never leave them comfortless, he would send them the comforter which is the Holy Ghost. History recorded the great outpouring of the Holy Ghost on the day of Pentecost in Acts 2, and it is still being outpoured some 2000 years later upon us. This is the reason why we can pray and endure such hard contradictions and trials with such grace. I believe Elisha understood the importance of the man and his mantle or the man and his prayer life; and to get Elijah's mantel, oh what an honor that was. I would encourage you to read on the life of Elijah and Elisha in 2Kings 1-14. It will shed more light on what can become from a life given to prayer and consecration.
Prayer must also be offered in the faith knowing that God is, and that he is the hearer and answerer of prayers, and that he will fulfill his word. Here are examples of biblical characters who prayed, and I would highly recommend you read their prayers and gain strength from their approach:
Abraham's servant prayed to God, and God directed him to the person who should be wife to his master's son and heir (Gen. 24:10-20).
Jacob prayed to God, and God inclined the heart of his irritated brother, so that they met in peace and friendship (Gen. 32: 24-30; 33:1-4).
Samson prayed to God, and God showed him a well where he quenched his burning thirst, and so lived to judge Israel (Judg. 15:18-20).
David prayed, and God defeated the counsel of Ahithophel (2 Sam. 15:31; 16: 20-23; 17:14-23).
Daniel prayed, and God enabled him both to tell Nebuchadnezzar his dream and to give the interpretation of it (Dan. 2: 16-23).
Nehemiah prayed, and God inclined the heart of the king of Persia to grant him leave of absence to visit and rebuild Jerusalem (Neh. 1:11; 2:1-6).
Esther and Mordecai prayed, and God defeated the purpose of Haman, and saved the Jews from destruction (Esther 4:15-17; 6:7, 8).
The believers in Jerusalem prayed, and God opened the prison doors and set Peter at liberty, when Herod had resolved upon his death (Acts 12:1-12).
Paul prayed that the thorn in the flesh might be removed, and his prayer brought a large increase of spiritual strength, while the thorn perhaps remained (2 Cor. 12: 7-10).
(Robinson's Job – Easton Bible Dictionary)
"Prayer is like the dove that Noah sent forth, which blessed him not only when it returned with an olive-leaf in its mouth, but when it never returned at all." (Robinson Job) Be encouraged. God took the time to preserve the entire 66 books of the bible for our learning, and within its pages are unlimited prayer resources. Let us use the Bible not just as a story book, or a history book, but rather a prayer book. The old Sunday school songs are still relevant today, if we simple apply their wisdom:
My bible and I, my bible and I. what a wonderful treasure, God gave us a measure. We will travel together, my bible and I.
The BIBLE- That's the book for me. I stand alone on the Word of God — The BIBLE
Read your bible, pray every day, pray every day, pray every day. Read your bible, pray every day, and you'll grow, grow, grow.
May the Lord Jesus Christ quicken His Words in your heart and give you a fresh revelation of His power through praying His life giving and life changing Words.
Insights and Prayer Points for Praying the Word in your life
Build in quality time to study the word of the Lord as you would any other priority in your life.
Attend your local church's bible study and be an active participant.
Teach a Bible study. It is a disciplined way to force you to study to show yourself approved unto God.
Start a bible study at home. A great manual is from own Sunday School book — even your child's Sunday School hand book can be used — it is starting point, right?
Memorize a verse or two each week. Use those verses in your prayer time and apply them to your daily devotion, and before you know it you will be relying on the Word for sustenance. Oh what a marvelous experience when you find yourself hooked to the Word of God, after all, you cannot separate the Lord from his Word.
Be prepared when you go to pray. Journal your prayers. Take your bible, a note pad, a pen and use them! No matter how insignificant a word you receive in prayer, note it. It just takes a seed to grow into an old Oak.
Here is another noble idea. Keep a notepad by your bedside at nights. When you maintain a healthy relationship with the Lord, He will visit you in your dreams. As soon as you rise, write down your dream(s). I have been given messages and songs in my dreams. When I fail to note it, I lose it. Not a nice feeling I tell you.
Create your sacred place to pray and read your bible. You never know, the Lord might draw alongside as he did with the disciples on the Emmaus road. I have made a personal decision not to have a TV in my bedroom, which is my prayer closet. I tried once to bring one in there after the terrorist attack on September 11, 2001, and I would not tell you how the Lord rebuked me for it. God will honor you when you honor Him.
Psalms 62
Truly my soul waiteth upon God: from him cometh my salvation.
He only is my rock and my salvation; he is my defence; I shall not be greatly moved.
How long will ye imagine mischief against a man? ye shall be slain all of you: as a bowing wall shall ye be, and as a tottering fence.
They only consult to cast him down from his excellency: they delight in lies: they bless with their mouth, but they curse inwardly. Selah.
My soul, wait thou only upon God: for my expectation is from him.
He only is my rock and my salvation: he is my defence; I shall not be moved.
In God is my salvation and my glory: the rock of my
strength, and my refuge, is in God.
Trust in him at all times; ye people, pour out your heart before him: God is a refuge for us. Selah.
Surely men of low degree are vanity, and men of high degree are a lie: to be laid in the balance, they are altogether lighter than vanity.
Trust not in oppression, and become not vain in robbery: if riches increase, set not your heart upon them.
God hath spoken once; twice have I heard this; that power belongeth unto God.
Also unto thee, 0 Lord, belongeth mercy: for thou renderest to every man according to his work.
The above article, "Work the Word" was written by Margaret R. Banks. The article was excerpted from chapter 3 in Banks' book, The 5 Principles of Powerful Prayer.
The material is copyrighted and should not be reprinted under any other name or author. However, this material may be freely used for personal study or research purposes.