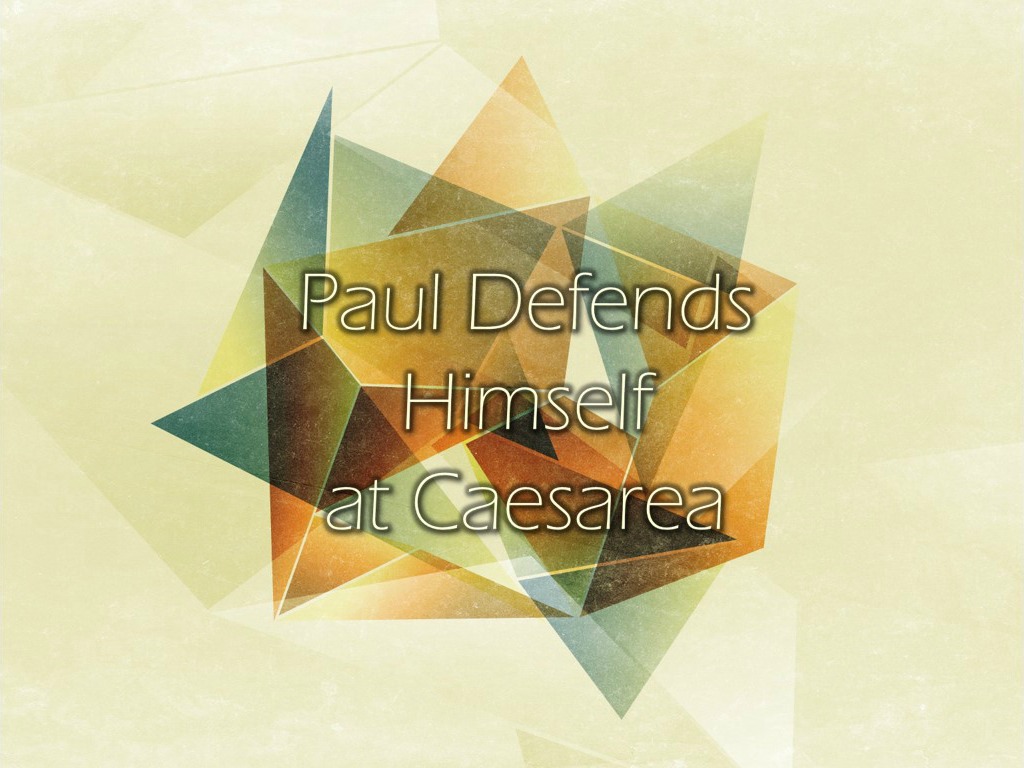 To View the Oultine, Click Here
To View the PowerPoint, Click Here
TEXT: Acts 24, 25 & 26.
STANDING BEFORE KINGS:
The Lord had told Ananias that Paul was a chosen vessel to bear the name of Jesus before the
Gentiles, the kings, and the children of Israel. In this lesson we study about Paul bearing the
name of Jesus before two governors and one king. Later he stands before the emperor at Rome.
FELIX:
Felix was liberated from slavery by Claudius by whom he was appointed procurator of
Judea. He ruled the province in a mean, cruel and profligate manner. His period of office
was full of troubles and sedition. The wife of Felix was Drusilla, daughter of Herod
Agrippa I.
FESTUS:
He was the successor of Felix as governor of Judea. Nero appointed him probably in the
autumn of the year 60 A.D. He died probably in the summer of 62 A.D. having ruled the
province less than two years.
KING AGRIPPA:
Herod Agrippa II was the son of Herod Agrippa I. He was in Rome at the time of the death
of his father A.D. 44. The relation in which he stood to his sister, Bernice, was the cause of
much suspicion. The appearance of Paul before Agrippa tells much about his character.
The pomp with which the king came into the audience chamber and the cold irony with
which he met the impassioned words of the Apostle are both characteristic traits of this
man.
PAUL DEFENDS HIMSELF BEFORE FELIX:
PAUL SENT TO FELIX:
At Jerusalem a plot was discovered that forty men had conspired to kill Paul. The captain,
Claudius Lysias, wrote Governor Felix at Caesarea a letter and sent Paul to him guarded by
two centurions, two hundred soldiers, seventy horsemen, and two hundred spearmen. Paul
was allowed to ride all the way.
Felix sent to Jerusalem for the accusers of Paul and after five days they arrived in Caesarea.
THE ACCUSATION AGAINST PAUL:
To View the Oultine, Click Here