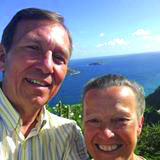 Alaska Needs Pastors
by Lorin Bradbury
Alaska is a vast state with a land mass that covers the equivalent of 20 percent of the continental United States. Slightly over one-half of Alaska's population lives on the road system, but the remainder live in areas that can be reached only by air and water. This makes Alaska very unique and very challenging for ministry. "The majority of the state is without a road system connecting towns and villages," explained Bro. Lorin Bradbury, who is the secretary of the Alaska District and North American Missions Northwest Regional Representative.
"Southeast Alaska is an archipelago, with the cities on fiords squeezed between the sea and mountains rising nearly straight up to 3,800 feet. The North Slope is a vast, treeless plain sloping toward the Arctic Ocean. Southwest Alaska has the largest concentration of villages in any of the rural areas of Alaska. Scattered across an area approximately the size of the state of Oregon are 28,000 souls living in 48 towns and villages. The Aleutian chain stretches one thousand miles from the Alaskan mainland toward the Asian continent. This region is home to the thriving city of Unalaska at Dutch Harbor, the busiest seaport in the entire United States, processing more than half of all seafood processed in the United States. It is a city begging for an Apostolic witness."
The Alaska-Yukon District currently has five buildings in five communities without a pastor and would love to fill these positions. "Delta Junction, known for barley farms and buffalo, with its neighboring communities of Big Delta and Fort Greely, has a combined population of 2,064 souls," said Bro. Bradbury. "And there are employment opportunities in the area. One new Apostolic family recently moved to Delta Junction. There are many contacts in the area, but the church is currently closed.
"The church in Haines, Alaska has been closed for more than two years. The pastor left due to retirement. There are individuals still living in that city that once attended the United Pentecostal church. Haines is a beautiful city and the seat of the Haines Borough with a total population of approximately 2,500. There are employment opportunities in the area.
"Hoonah is one of the prettiest towns in Southeast Alaska. It sits on Chichagof Island and has become a cruise ship destination. It is home to approximately 750 people. This was my first pastorate, and I still carry a burden for this community. There was a small but thriving church in Hoonah when I pastored there from 1976 to 1982. Today, this church still has a core of faithful people that need a pastor. A three-bedroom parsonage above the church is waiting for a pastor and family to occupy it. There are employment opportunities in the community.
"Southwest of Anchorage, across the Cook Inlet and on the east side of Bristol Bay, are two small towns connected by a well-maintained road. They are King Salmon and Naknek. The church and parsonage are located between the two towns. There are contacts in the community that once attended the church, and there are employment opportunities. The last pastor ran his own janitorial business.
"Toksook Bay is located on Nelson Island on the edge of the Bering Sea, 117 miles west of Bethel. It has a population of more than 650 people. This is a daughter work of the Bethel UPC. My wife and I fly there weekly, weather permitting, to serve a small congregation. As with all of these communities, we need boots on the ground to grow the churches. Employment opportunities in Toksook Bay are limited, but there is always a need for schoolteachers."
District assistance would have to be on a case-by-case basis, but anyone interested or feeling a call to Alaska is encouraged to contact Bro. Bradbury at 907-545-1945. His email is lorin192@icloud.com. "I have to believe the Lord is calling someone to pastor these churches and serve the beautiful people of these communities," said Bro. Bradbury.