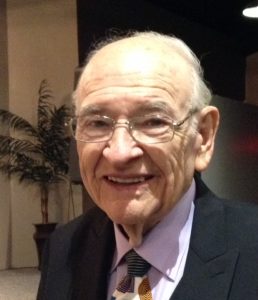 By: Fred J. Foster
To View the Entire Article, Click Here
To Download the Entire Article, Outline, or PowerPoint, Click Here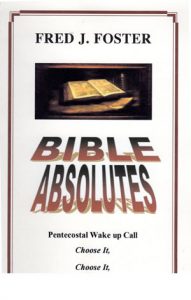 One of the interesting services being held when I came into the church was the Fellowship Meeting. This was a service where the sectional churches would meet together in one of their churches, and all the preachers would have a few minutes to preach. The fellowship was wonderful because our congregations were smaller in those days, and we enjoyed getting together with people of like precious Faith.
If our situation today weren't so serious, thinking about those days would seem more humorous. Our subject reminded me of what some preachers were called: "Clothes Line Preachers." We didn't have clothes dryers then, so we hung washed clothes on an outside line to dry. You could always expect them to preach about standards of dress from one meeting to another. I was not one of them but could be branded as such after this writing, I suppose.
The word absolute means perfect, complete, whole, not mixed, pure, positive, definite, actual, and certain. The Bible teaches certainty in the major doctrines in this writing, and it is up to every generation of leaders to continue its continuity. It is not always easy because of the strong influence of the world all around the people we lead. They work with them. We send our children to school with them. We live in the same neighborhoods. There must be deep commitment to Jesus Christ and to our church to be what the Apostle Peter challenged us: "But ye are a chosen generation, a royal priesthood, an holy nation, a peculiar people; that ye should show forth the praises of him who hath called you out of darkness into his marvelous light" (1 Pet. 2:9).
Modesty of Dress
The first absolute we will discuss is modesty of dress. No one will argue the fact that the world has gone to the extreme and has become less concerned about modesty as time goes on. Especially in the warm weather months, it is very commonly accepted to see men, women, and children or whole families appearing mostly everywhere in shorts, halter tops, tank tops, and the skimpiest attire. Some businesses have to put up signs telling what dress they refuse to serve. Men and boys go about without shirts, and women and girls wear the scantiest apparel.
The lack of modesty is not just seen and felt by Pentecostals but by other groups as well. A prominent pastor of a large denominational church in our area was preaching to his congregation recently on this subject. He used the word I used above about women's dress styles, skimpy dresses. He said, "They must be making dress sizes smaller than they used to because many of you women are wearing dresses too small for you. They are so tight, you are about to break out of them." He further said, "You need to buy a couple of sizes larger so you can fit well into your dresses." Good for him, and I certainly applaud his candor.
To View the Entire Article, Click Here
To Download the Entire Article, Outline, or PowerPoint, Click Here