By James Holland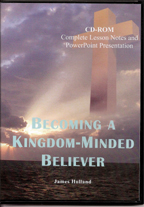 This lesson shares with us some principals, when applied, will help us to move our thinking and vision from self-centeredness to a God-view of the kingdom. When this happens we will be able to truly fulfill the mandate that God has for the church of the twenty-first century.
Psalm 67:2 says, "That thy way may be known upon earth, thy saving health among all nations." (KJV) "That your ways may be known on earth, your salvation among all nations." (NIV) "Send us around the world with the news of your saving power, Lord, and your eternal plan for all mankind." (LB)
We are living in a global society whether we like it or not. We must realize that every major event that happens on planet earth today will eventually affect each of us, regardless of where we may live. How do we as believers and as leaders approach the tremendous task that is before us of reaching this world? How do we make a positive impact on our own cities to help our local church to grow? How do we move from self-centeredness and small thinking to seeing ourselves as God would have us to see? These are thought provoking questions that are on the minds of many people within the kingdom today.
A Closer Look
From Self-Centeredness to Thinking of Others:
I must shift from self-centered thinking to other-centered thinking.
What does this mean? How do I do this? Let's consider the first question: How do I stop just thinking about my needs and me and realize that the world doesn't just revolve around me? Here are some steps that will help. I Cor.14: 20 says, "Brethren be not children in understanding: howbeit in malice be ye children, but in understanding be men." "My friends, stop thinking like children. Think like mature people." (1Cor.14:20 NCV)
The very first thing we must do is become mature in our thinking, our vision, and our concepts of God. We must get a global vision. We must realize that everything we do or do not do will either help the will of God to be done or it will hinder the will of God. The scary thing is many of the people in the kingdom do not seem to want to grow up! We like being pampered and begged to do better. We like the attention we get when we don't show up or we get offended and stay home! All of this childishness is going on while the work of the kingdom is suffering. Let's get serious about where we really are in our walk with God. Ask yourself some hard questions. Be honest with yourself. Locate your spiritual growth as measured from God's perspective instead of your own. We must be mature enough to judge ourselves by God's Word, not by our emotions, our carnal thinking, or someone else's opinion of us.
To become a kingdom minded believer, I must recognize my emotions and the place that they play in my life. However, I must also remember that I have been commanded to walk by faith instead of walking by how I may feel today. People who only live from an emotionally based relationship will never become kingdom minded. They will eventually crash and burn.
Jesus promised his disciples three things in this life. He said they would be wildly happy (have joy); they would be completely fearless (overcoming-totally victorious); and they would have trouble (we are in a war-there will be opposition from the spiritual world as well as from carnally thinking people). The truth is many are not being taught from Biblical perspectives on how to be victorious. One of the main problems with believers, especially in North America, is that we are very self-centered. The Church in North America is the last stronghold that must be broken by the power of God in order for us to experience the power of God like our brothers and sisters are in other parts of the world. The reason this is so critical is that we are still the wealthiest body of believers on the planet. So, if we are self-centered we will spend more on ourselves than on financing the kingdom of God. You see, self-centered people only give to benefit their purposes. They only pray when it benefits them. It's never about God's vision; it's about their vision. This is what splits churches and stops the flow of the Holy Ghost.
Signs of Self-Centeredness:
Always has to be right.
Always questions what you have not experienced.
Territorial- more concerned about keeping your place or position in the church rather than growing spiritually.
Always opposed to any new ideas.
When praying, using the personal pronouns "I," "me," and "mine" more than anything else.
Never have a burden for anyone other than your immediate friends and loved ones.
Move In A Little Closer:
The second question that must be addressed is. How do I change from self-centeredness to considering others and God's will for all mankind'? Since all the signs mentioned earlier exist in the thought patterns and ideas of individuals, churches, and even nations. We must identify them so that we may proceed in developing what Paul called the "mind of Christ" which he describes in Eph.4: 13, "Till we all come into the unity of faith, and the knowledge of the Son of God unto a perfect man, unto the measure of the stature of the fullness of Christ." The perfect man refers to the complete man, the grown up man, and the man of mature life or of full manhood. It is a state of strength, wisdom, knowledge and courage. We are to grow until we become like Christ. Let Christ guide our thinking as to how it applies to how we see the world, how we think, and how we respond to life. We become Christ-centered! He is the standard by which we measure our growth.
Mindsets That Must Be Addressed:
I must pray for deliverance from my self-centeredness. (God will not deliver me from what I refuse to confess).
I must develop a respect for ministry and the Word of God. (I must recognize and be willing to submit to the authority of the leaders and the Word of God that God has sent to help me become what He knows I can be).
I must pray for deliverance from the spirit of stinginess and greed. I am a STEWARD of God's possessions. They are never mine If they are mine, the blessing on them, if any, will           be very limited. If I recognize that they are His and I handle them wisely He will bless them     as well as me. (1 Chronicles 29:10-12 —Ps.50: 10 Haggai 2:8)
In I Peter 10: -11 we read, "But may the God of grace, who called us to His eternal glory by Christ Jesus, after you have suffered awhile, perfect, establish, strengthen, and settle you. To Him be the glory and dominion forever and ever." The God of Grace. This means that God is our source of all comfort, help, and mercy. The Lord becomes personally involved in using His ability for our needs. In verse 10 he says that God will perfect you; this means restore to a former condition, to repair the broken parts, to bring to a completion. Next, the word, establish means to fix, to make firm or solid, to stabilize something with support. He continues to strengthen; meaning to impart strength onto or to make strong. He concludes verse 10 by saying to settle — meaning to lay on an immovable foundation, to give a firm basis or to ground. Finally, in verse 11 Peter reminds us that God has total and eternal dominion which means "mighty power in action."
When we begin to allow the power of His spirit to break down walls in our thinking (that we have raised up on our own or have been taught by others to erect), we will see the shifting from self-centeredness to becoming kingdom minded. This, of course, is what God had in mind all the time. Then it becomes easy to obey Matt.6: 33, "But seek ye first the kingdom of God, and his righteousness; and all these things shall be added unto you."
Once we become kingdom minded, we no longer are just goal-oriented but we become purpose-oriented. Purpose takes me beyond my goals. Goals may have to be altered, changed, or even relinquished. But purpose always keeps me on track. Kingdom minded people know that their purpose is to glorify and love God as they carry out His will in this world. When we stop short of His purpose and find ourselves oriented to managing life only by goals and objectives, we lose sight of our reason for doing ministry and become mired in details, policies, and procedures. When this happens people will be sacrificed on the alter of policies, and methods will replace being lead by the spirit of God. Leaders who are only motivated by their goals have their meetings, make their plans and then pray to seek God's blessings. Those who are driven by God's purpose discover that seeking first His kingdom and righteousness will drive them to prayer. In prayer you will hear the voice of God above all else. Recall that God's voice to Elijah was a gentle whisper. Why? The voices of the world and our own selfish desires will always be louder than His voice.
God's purpose for you is infinite. His dreams for you are innumerable.
Ask yourself:
Do I set goals then ask God to bless them?
Do I set goals that will only benefit me?
Do I see the world as God sees it?
Do I pray for God's will or mine?
Do I recognize the voice of God when He speaks?
Will I really let God transform my thinking and my perceptions of what is His purpose for my life, for the church I am apart of?
From Local Thinking to Global Thinking:
We must understand from scripture that God is a global God. He has always cared about the whole world. Acts 17:26-28 declares "From one man he made every nation of men, that they should inhabit the whole earth; and he determined the times set for them and the exact places where they should live. God did this so that men would seek him and perhaps reach out for him and find him, though he is not far from each one of us. For in him we live and move and have our being." (NIV)
I suppose one of the scariest things from Satan's view point that could ever happen, would be for the church to actually realize that we have power to touch the whole world. That, from God's perspective, the church is a network of believers connected together by his name and his spirit. God never intended for you and Ito just pray and minister and give so that it would only affect the place where we are.
While it is true that the New Testament church was birthed in Jerusalem, we must not overlook the fact that it was not contained there. Everything this group of empowered believers began to do affected their world! Just think about the progression we see unfolding in the book of Acts. It starts with one hundred and twenty and expands to three thousand, one hundred and twenty and that's just the first day. As you follow the tracks of these delivered people through the book of Acts, you can only come to one conclusion. God had the whole world in mind from the very beginning.
The last time I looked into God's Word on this subject of evangelism, I noticed He had not changed His mind about this concept. We are commanded to GO, not SIT! To SEEK not IGNORE! To INSULATE not ISOLATE! To do this, we must be filled with and continually touched by the power of His spirit. In 1 Samuel 10: 26 we read about Saul going home to Gibeah after he had been crowned king. The last five words of verse 26 are especially exciting; this is what it says, "whose hearts God had touched." The potential for growth and multiplication produced by men and women who have been touched by God is without limits. Anything can happen when people whose hearts have been truly touched by the power of God's spirit surrounds them. This is exactly what happened at Pentecost (Acts 2). When two or more gather in His name, God shows up. Those who have been filled with His spirit are like kindling wood ready to burst into flame at the first touch of fire.
No Sacrifice Is Too Great For Men and Women Whose
Hearts God Has Touched!
We need to surround ourselves with those of like faith; those whose hearts have truly been touched by the Lord. Bickering and fault finding will not deceive the global minded believer. They have been touched. They see the big picture. Our nation needs to be touched by revival. Our churches need to be touched by revival. Our homes need to be touched by revival. Once we begin to think globally, we realize that everything we do will affect many more than just us!
A Closer Look:
We need to try to understand what is really going on in our world. Don't live with your head in the sand. We need a worldview. We also need to know what is going on in the Christian world as well. If we are going to reach out to the un-churched, we must understand who they are. What is their background? What makes them tick? How do they see themselves? What are some of their life issues? What are their priorities? What do they believe?
Learn to pray for global needs:
When you realize that when you pray your prayers can and will have an effect on the world it certainly brings a whole new meaning to prayer. In Colossians 4:3 Paul writes, "Pray for us… that God may open a door for our message, so that we may proclaim the mystery of Christ." There is another exciting scripture found in Ps.2:8 where it reads, "Ask of me, and I will make the nations your inheritance, the ends of the earth your possession." God wants to use us to touch the world!
Here is a short list of things to pray about:
Pray for opportunities to witness at home locally as well as for those who are believers in the other parts of the world to have the opportunity to witness where ever they may be.        Remember the command of the Lord was to "Go into all the world beginning at Jerusalem."
Pray for wisdom to witness properly. This is so important. We must always remember that you can mishandle truth and destroy people with it. Just as if a doctor abuses a medication or prescribes too strong of a dose of a certain medicine, the result can be devastating.
Pray for those who will believe. In John 17:20-21 we see Jesus not only praying for his disciples alone. He says, "I pray also for those who will believe in me through their message," Did you get that? Here is a guarantee that there will be those in every generation that will believe if someone will declare the truth.
Pray for cities. Take a map of your state, city and pray for the rapid spread and outpouring of the spirit in these areas. Pray for nations. Again, take a map and systematically pray for nations.
Pray for workers to gather this last day harvest. This is our door of opportunity.
Pray for the leaders of the nations and those who are in authority.
If we as believers are not prepared to pray the prayer of faith for revival and for the deliverance of people, then we have no right to condemn them or talk about them! Prayer links us together not only in the spirit but also with brothers and sisters all around the world.
Additional lessons in this series include:
Having the Right Perspective
From Here and Now Thinking to Eternal Thinking
Where Your Attention Goes, The Power Flows
This article was excerpted from Becoming a Kingdom-Minded Believer by James Holland. It may be used for study & research purposes only.