I must pray for deliverance from the spirit of stinginess and greed. I am a STEWARD of God's possessions. They are never mine If they are mine, the blessing on them, if any, will be very limited. If I recognize that they are His and I handle them wisely He will bless them as well as me. (1 Chronicles 29:10-12 —Ps.50: 10 Haggai 2:8)

By James Holland
To View the Entire Article, Click Here
To Download the Entire Article Directly to Your Computer, Click Here
To View the Outline, Click Here
To View the PowerPoint, Click Here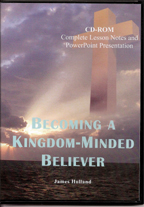 This lesson shares with us some principals, when applied, will help us to move our thinking and vision from self-centeredness to a God-view of the kingdom. When this happens we will be able to truly fulfill the mandate that God has for the church of the twenty-first century.
Psalm 67:2 says, "That thy way may be known upon earth, thy saving health among all nations." (KJV) "That your ways may be known on earth, your salvation among all nations." (NIV) "Send us around the world with the news of your saving power, Lord, and your eternal plan for all mankind." (LB)
We are living in a global society whether we like it or not. We must realize that every major event that happens on planet earth today will eventually affect each of us, regardless of where we may live. How do we as believers and as leaders approach the tremendous task that is before us of reaching this world? How do we make a positive impact on our own cities to help our local church to grow? How do we move from self-centeredness and small thinking to seeing ourselves as God would have us to see? These are thought provoking questions that are on the minds of many people within the kingdom today.
A Closer Look
From Self-Centeredness to Thinking of Others:
I must shift from self-centered thinking to other-centered thinking.
What does this mean? How do I do this? Let's consider the first question: How do I stop just thinking about my needs and me and realize that the world doesn't just revolve around me? Here are some steps that will help. I Cor.14: 20 says, "Brethren be not children in understanding: howbeit in malice be ye children, but in understanding be men." "My friends, stop thinking like children. Think like mature people." (1Cor.14:20 NCV)
The very first thing we must do is become mature in our thinking, our vision, and our concepts of God. We must get a global vision. We must realize that everything we do or do not do will either help the will of God to be done or it will hinder the will of God. The scary thing is many of the people in the kingdom do not seem to want to grow up! We like being pampered and begged to do better. We like the attention we get when we don't show up or we get offended and stay home! All of this childishness is going on while the work of the kingdom is suffering. Let's get serious about where we really are in our walk with God. Ask yourself some hard questions. Be honest with yourself. Locate your spiritual growth as measured from God's perspective instead of your own. We must be mature enough to judge ourselves by God's Word, not by our emotions, our carnal thinking, or someone else's opinion of us.
To become a kingdom minded believer, I must recognize my emotions and the place that they play in my life. However, I must also remember that I have been commanded to walk by faith instead of walking by how I may feel today. People who only live from an emotionally based relationship will never become kingdom minded. They will eventually crash and burn.
To View the Entire Article, Click Here
To Download the Entire Article Directly to Your Computer, Click Here
To View the Outline, Click Here
To View the PowerPoint, Click Here