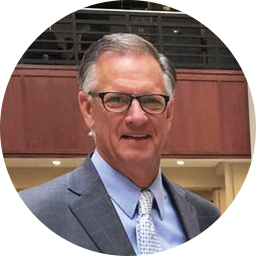 The election of Rev. Paul D. Mooney to the position of Pastor of Calvary Tabernacle came with the responsibility of being President of Calvary Christian School as well. He joined the ranks of three other pastors who had led the work of CCS, each leaving their mark in their own way but the most visible is that of Pastor Mooney.
Pastor Ray Hoekstra had the vision to start Calvary Christian School having attended a Christian school himself as a boy. In 1946, the doors of a new building and school, grades 1-8, opened to serve the families of Calvary Tabernacle and Indianapolis.
Pastor Nathaniel Urshan assumed the pastorate of Calvary and continued to support and direct the work of CCS. He provided strong doctrinal stability and the development of many young leaders that would eventually work in the kingdom of God. In 1957, a new building was erected that connected the church and school which greatly expanded the work of both institutions.
Pastor James Larson also attended a Christian school and personally understood its importance. He expanded the work of CCS when he founded Calvary Christian High School in 1980 at Fletcher Place. Also under his leadership kindergarten was added to complete the K-12 institution. Despite the genuine financial challenges of building a new church Pastor Larson determined that the good work of CCS would continue.
When Pastor Mooney was voted in, CCS was a well-loved institution but he wanted more than to simply maintain the good that was being done. He eagerly supported various moves to beautify the building, increase the technology, and unite the two separate institutions of CCS and CCHS into a single, state-accredited school.
Pastor Mooney empowered the transition from PACES to video classes and satellite classes while expanding the number of classes taught live on site. The first CCS student computer lab was assembled under his leadership.
Through the years of Calvary Christian School at 902 Fletcher Avenue, Pastor Mooney knew that a change was needed to face the challenges of an aging building that was fully occupied by students. For years, many prayed that the Lord would provide a better and larger building. The places visualized paled in comparison to the vision that Pastor Mooney would bring to life through his faith, courage and leadership. In 2007, CCS students began their first year in the beautiful, new building that honors him.
During Pastor Mooney's thirty-two year tenure he has done so much more than simply maintain the work of the school. He ensured the vision, doctrine and mission of his predecessors. He brought the dream of a new building to life. His passion for education has enabled Apostolic education to be taught all the way from prekindergarten to college at Calvary Christian School and
Indiana Bible College. His vision has become the reality that will educate and empower God's people well into the future.
Thank you, Pastor and Sister Mooney, for your legacy of education.