Are your sights focused on the destination or are you disillusioned by the problems you face?
As a leader, naturally you start out with a destination in mind. However, it is easy to lose focus when storms arise and become lost in the disillusion.
Since childhood I wanted nothing more than to be a preacher. I am the fifth generation of Pentecostal preachers. As a teenager, I had my future all panned out. I knew where I wanted to minister. I knew how I wanted to minister. I knew when I should change from one level of ministry to another. The only prerequisite was that I would not evangelize. Then at the age of sixteen, I felt the definite call of God and zealously waited for my plan to unfold. Life was moving along according to plan my plans! Then, without warning, God stepped in and called me to evangelize.
I offered a strong rebuttal as to why God's evangelical calling wouldn't work; I was young, I didn't have any money, I had no revivals scheduled, I wasn't married. Then there was the best reason of all; I couldn't preach. All these excuses didn't change God's mind so I packed up and started evangelizing. For the next nine years I traveled back and forth across America and overseas. After the first eight months in evangelistic ministry, God blessed me with a wonderful wife who willingly traveled with me the remaining eight and a half years.
Choice, Not Chance, Determine Human Destiny.
During this evangelistic outreach, we were always content accomplishing that which we felt God wanted us to do. Still, there were times when I saw MY "pre-planned" destination fading further and further into obscurity.
To View the Entire Article, Click Here
To Download the Article Directly to Your Computer, Click Here
To View the Outline, Click Here
To View the PowerPoint, Click Here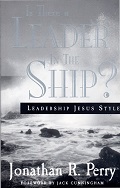 Click
Cover
To
Purchase