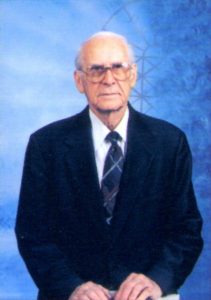 By T.W. Barnes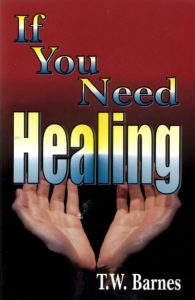 Divine health is not essential to salvation, but it is a good thing to have. No one is going to die and go to hell if they do not have divine health. In Mark 4:8: we read the words of Jesus: "And other fell on good ground, and did yield fruit that sprang up and increased; and brought forth, some thirty, and some sixty, and some a hundred. "If we can stay well sixty percent of the time it sure would be nice if we could get it up to ninety percent of the time. I would like it to be one hundred percent, wouldn't you?
It is a good thing to strive for good health. If you don't ever make it, die reaching for it. Paul said I want to be perfect, but I have not made it yet, but I am still trying. What a good attitude to have.
We find a few people down through the ages that seem to have divine health. Israel had it for a while. Moses had it. He was 120 years old, his eyes were not dimmed, and God took his life. He was not sick when he died. Joshua at eighty-five was a strong and healthy warrior. He lived to be 110. He must have had divine health. Job was probably seventy-five years old when the devil jumped on him. He got sick and lost everything he had. But he must have found divine health; after this he had twice as much as he had before and he lived 140 years. He found out how to have divine health.
Jesus had it. He would have never died. Man killed him and He let him do that. The apostles must have all had it, they all died a martyr's death except John, and he lived to be ninety. They boiled him in oil trying to kill him, but could not kill him.
God is no respect of person. If you have faith, look for divine health, believe for it, and you can have it. The spirit of the Lord will move upon you through the gift of faith when you get this revelation of divine health He will teach you to pray and to walk in His spirit. He will teach you first of all to confess your sins and forsake them. Make things right.
James 1:6: "But let him ask in faith, nothing wavering. For he that wavereth is like a wave of the sea driven with the wind and tossed." James 5:16: "Confess your faults one to another, and pray one for another, that ye may be healed. The effectual fervent prayer of a righteous man availeth much."
Once I became so dizzy, I lay in the bed with everything going round and round. When I stood up, I would have to stand a while before I could walk. This went on for some time. I did not tell anyone about it. I went to conference thinking I am not going to let this get me down. I had to be careful at conference how I lay down, got up, and stooped over. While there someone came up to me and said, "I am so dizzy and feel like I am about to faint, and I need prayer." I told him, "I am having the same problem." When I prayed for him, God healed me. That is what James is talking about; pray one for another that you might be healed.
Job got well when he prayed for his friends. We need to prefer our brother. When we are sick, we need to get on our knees and pray for someone else who is sick. Every once in a while it is good to get the old number one out of the way. He gets so big and in the way sometimes. Get him out of the way and pray for someone else. If you are having trouble with your nerves, find someone else who has the same trouble (do not tell them you have the same thing) and tell them how to get well. God can do anything. While you are talking to them, you can be healed.
Many years ago we announced a healing service. I ate something and got food poisoning. I was so sick, vomiting, etc. I could not even stand up. From my house I could see people beginning to come for the service. I saw my old superintendent, Bro. S. L. Wise. I prayed, "God what am I going to do? I am sicker than anybody—no one is coming tonight sicker than I am."
He answered, "What were you going to preach tonight?"
"Oh," I said, "I was going to preach Put Your Faith in Action."
"Why don't you try it; if it will work on you, it will work on them. If it won't work on you, it probably won't work on them."
I got out of the bed, holding on to the bedpost. By the time I got my clothes on, I was well. In the service that night the sick were healed and the crippled walked. If we put our own faith into action, it will work.
God did not give us the spirit of fear. We must not let the devil choose the battleground where we fight. If he chooses, he will choose our head—our five senses, our emotions, our feelings. That is where he wants to fight us because he knows in time we will be mentally exhausted. We will not have a chance; we will just fight him day and night and he will tell us we are going crazy. First thing we know, will be agreeing with him.
I choose the battleground—it will not be my mind, but it will be the Word of God. I talk to the devil. "Here is what the Word says, He didn't give me the spirit of fear, but a sound mind." When the devil tells me I was prayed for and am still feeling bad, I tell him, "It is written; by His stripes I am healed. It is already settled." He has to leave. The only safe battleground is the Word of God.
I remember one time I had the flu. I went to church and got healed. I started home and every symptom of the flu hit me at one time. I thought, oh, my, it is coming back on me. I caught myself, and said that is a lie of the devil. I do not have the flu; this is just symptoms of it because I got healed. I am still healed, and I am not going by these feelings. I am going by the Word of God. And it left! The devil brought it back on me. If I had received it, I would have relapsed. But I stood on the Word of God.
To have divine health, we also need divine protection. Psalms 91: 5-10: "Thou shalt not be afraid for the terror by night…nor for the pestilence that walketh in darkness; nor for the destruction that wasteth at noonday. A thousand shall fall by thy side…but it shall not come night thee…There shall no evil befall thee, neither shall any plague come nigh thy dwelling." And in verses 14-16 we read: "Because he hath set his love upon me, therefore will I deliver him…He shall call upon me, and I will answer him: I will be with him in trouble; I well deliver him and honor him. With long life will I satisfy him…" Jesus will deliver us from fear; from traps the devil sets, from accidents, and from evil men.
Daniel got delivered from the lions' den. Do you know what the gift of miracles would have done with the lions when Daniel was in the lions' den? It would have killed them. But the gift of faith just shut their mouths and they just lay down and went to sleep. That is divine protection.
We need deliverance sometimes not only from demons but also from evil men. The Apostle Peter got delivered from Herod. They planned to cut his head off the next day; the church prayed and the gift of faith in action moved God. He sent an angel and opened the prison doors.
We need divine protection from accidents. We also may need super power to be transferred here and yonder by the spirit. You say that is impossible. No. Jesus said the works that I do shall you do also, greater works shall you do because I go unto the Father. Jesus walked on the water. He ascended to heaven. He was with his disciples in the middle of Galilee, and when he stepped into the ship, the Bible says, immediately they were at the shore. So instantly that ship and those in the ship were carried to shore. We talk about the translations of the saints and Jesus coming the second time and our going up. I believe in the end time this gift of faith is going to be used more and more as we near the rapture of the church.
Faith can suspend the effects of gravity. In 11 Kings 6:1-7 we read an iron axe fell in the water. When the prophet prayed, the axe floated just like a bottle cork.
Elijah was a flying prophet. 1 Kings 18:11,12: "And now thou sayest, Go, tell thy lord, Behold, Elijah is here. And it shall come to pass, as soon as I am gone from thee, that the spirit of the Lord shall carry thee whither I know not; and so when I come and tell Ahab, and he cannot find thee, he shall slay me…" He was saying to Elijah the spirit is always transferring you around over the country. If I went and told King Ahab you were out here and the spirit picked you up and carried you off, he would chop my head off for lying.
Is this impossible today? What about the New Testament? I find in Acts 8:40 the spirit caught Philip away after he baptized the Eunuch. It carried him forty miles and dropped in another city.
Sister Robert LaFleur experienced a translation. She had been in the woods praying all afternoon. When she came in to get ready for church, she realized she would be late for church, and she played the piano for the services. She was sitting at her dresser combing her hair. All of a sudden she was on the piano stool with her hair combed. In one second she was home in front of the dresser, the next on the piano stool at the church. That happened in Louisiana. God can do anything.
Do you believe the Lord can deliver from storms? He did in the Bible. He holds the lightning in his hands, the wind—in Acts the gifts of miracles would have stopped the storm immediately, but the gift of faith enabled them to ride through the storm.
For fourteen days and nights, Paul and the men on the ship rode the storm. Paul had warned them not to go, but they went on anyhow, they didn't believe him. But by this time they believed. After praying, Paul told them, "…Sirs, ye should have hearkened unto me, and not have loosed from Crete…be of good cheer: for there shall be no loss of any man's life…for I believe God, that it shall be even as it was told me" (Acts 27:21-22,25). They made it through the storm.
After they all got to the island, Paul accidentally took up a poisonous serpent on those sticks and he just shook it off into the fire and went on with his business. Thinking Paul was an outlaw, when the people saw the serpent on his hand, they thought he would drop dead. When he didn't die, they thought he must be a god. That is like the world, they go from one extreme to another.
Many of us would be dead if the Lord had not made us immune to something we ate and stopped the poison in our system. He protects us even when we are not aware of it.
If we only believe and love one another and pray for one another, there is no telling what God will do for us. II Timothy 4:18: "And the Lord shall deliver me from every evil work, and will preserve me unto his heavenly kingdom: to whom be glory forever and ever. Amen." Sickness is an evil work. " Paul said He will deliver me from every evil work and preserve me. That promise belongs to us today.
The above article, "Divine Health" is written by T.W. Barnes. The article was excerpted from the eight chapter of Barnes' book If You Need Healing.
The material is most likely copyrighted and should not be reprinted under any other name or author. However, this material may be freely used for personal study or research purposes.